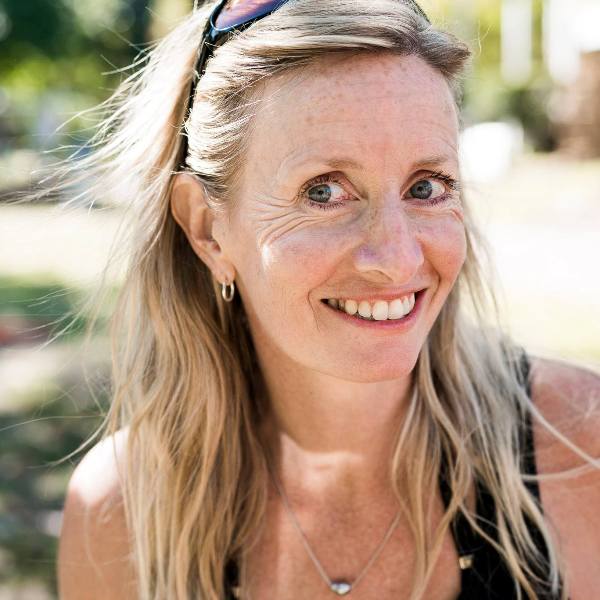 Dr. Julie Angel did her PhD thesis on parkour. I didn't know you could do PhD theses on things like parkour, but she did it. Oh, and she can jump. Pretty good at it, too, from what I hear. 
After living a sedentary lifestyle for twenty years, Julie found parkour and fell in love with movement. Twelve years later and now in her late 40s, she's a veteran of both parkour and MovNat, among other movement practices. Julie trains with a group of women in their 40s, 50s, and 60s, which is probably not the first demographic you'd associate with parkour (more on that later).
When Julie is not moving, she makes films, does photography, and other creative projects.
In her own words…
I create work I like, for, or about, people and companies that I like. I spend a lot of time documenting the current 'age of athletisiscm ' – Parkour, MovNat, buildering and much more. Films, photography, action promos, research, writing and presentations. Anything but drama. Filming and understanding what people do so I can share their vision and stories to inspire others.
I first learned about Julie's work when I watched this mini-documentary series on MovNat. I also saw that she did some work with Christopher McDougall (the author of the best-seller, Born To Run – recommended!) while on tour for his latest book, Natural Born Heroes: Mastering the Lost Secrets of Strength and Endurance (also recommended!).
Julie has also done some writing of her own. She is the author of Breaking The Jump: The Secret Story of Parkour's High-Flying Rebellion.
And most recently, she's also the founder of See & Do, where she hosts Strong Body Strong Mind workshops and courses. Needless to say, Julie wears many hats – with movement being the common theme.
Here is one of Julie's short films on parkour…
Note: there are many more great films on Julie's Youtube channel.
Continued