20 Tips to Troubleshoot Your Sleep so that you can Spring out of Bed Each Morning Ready to Dominate Your Day (a No-Nonsense, Step-by-Step Guide on Sleeping Well)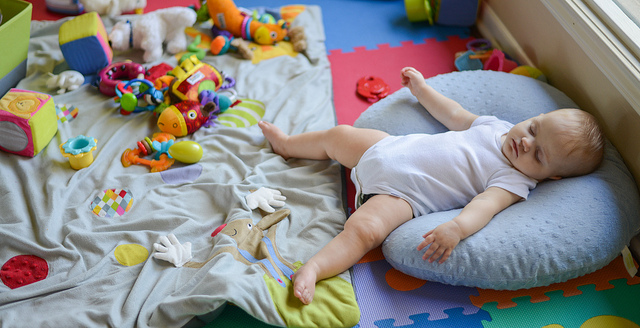 I never understood that phrase, "sleep like a baby." I mean, who in their RIGHT MIND would want to sleep like a baby? Let me tell YOU! I've had my fair share of babies in my life – and the Siffer-family has got another one coming in a matter of weeks. And I can tell you for a FACT that, many times, they wake up every hour or two – SCREAMING. So, thanks, but I'd rather not sleep like a baby. So, I don't know. Maybe I'd rather sleep like a teenager. Or heck, like a professional athlete, or a lion, anything but a baby!
All that said, by now, I hope we all know that sleep is really – REALLY – important for not only your health, fitness, and quality of life, but also for your personal effectiveness each and every day, among many other things. Basically, your entire human experience will be largely affected by sleep, or the lack thereof. And there's a very strong case for the argument that sleep is even more important than both your diet and workout program. But we rarely think twice about the commodity…I mean…necessity of sleep – even though we spend roughly one third of our lives sleeping.
We have every reason in the world to make our sleep a high priority. And if you're not convinced or you need proof, or if you think that sleep deprivation doesn't affect you – that you're fine (you're wrong, by the way, and science has proven it) – I'd encourage you to check out some of the insightful TED talks on the subject. I particularly enjoyed this one by circadian neuroscientist Russell Foster. And this is another good one by Dr. Kirk Parsley, who is a former Navy SEAL turned sleep researcher.
Needless to say, you're gonna want to get this one right. And yet, we're still struggling to get enough quality sleep. Roughly one in three Americans is chronically sleep-deprived, and about one in five Americans have a sleep disorder. And many other people struggle with sleep in one way or another.

The good news is that we not only have a very clear idea of how much sleep we need (i.e. 7-9 hours most nights for most people, but it does vary based on age and there is some slight individual variance, too) – so at least we have a target in mind – but we also know how to make it happen. And fortunately, in most cases, there are just a few things you'll have to do to start getting a good night's sleep. Oftentimes, a few changes can make all the difference. And I'd bet the changes that would make the biggest difference for you are somewhere on the list below.
So, we know exactly what needs to be done. The hard part, of course, is doing it – and making it happen on a regular basis. Sometimes, it's just not possible to get the sleep that we need, and we have to do the best we can with the time we've got.
Now, there is all kinds of fascinating information about sleep out there – not only concerning how a lack of sleep affects us, but also how a good night's rest helps us in so many ways. And it does help everything – across the board. But you know me. I'm all about the practical stuff. And so, instead of writing up an encyclopedic novel about all the ins-and-outs of sleep, and the various benefits, etc., I've simply decided to provide you with 20 reasons why you're not getting a good night's sleep, along with some actionable ideas on what you can do about it. You can think of it as your own personal sleep troubleshooting guide.
Continued