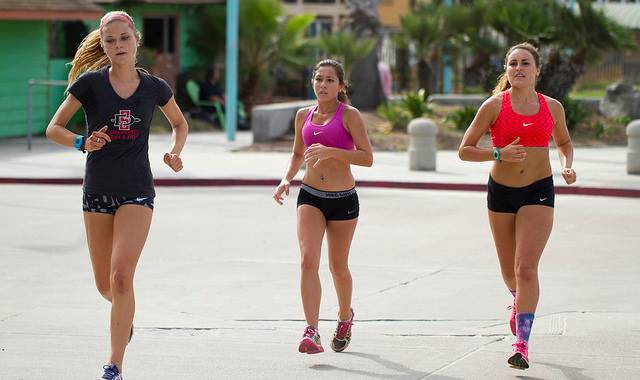 There are two kinds of people in the world of fitness and athletics: those who succeed and those who don't, the winners and losers, the achievers and the wannabes. And you can usually spot them from a mile away. Here are some hints on how to tell the difference…
They workout. We train.
They do things like drink red wine and eat dark chocolate to stay in shape. We don't believe in fairy tales.
They get about 6 hours of sleep every night if they're lucky. We get at least 8 hours because we manage our time.
They try to get a good workout in once in awhile, or when they feel like it, when it's convenient, when it's sunny, blah blah blah. We do our work daily.
They give up when things get hard. When things get hard, we get started.
They get fast food or some other junk after a hard workout. We get fuel fast after a hard session.
They drink alcohol. We drink coffee or tea.
They have a little coffee to go with their sugar and cream. We take our coffee black.
They try hard for a few days or weeks. We work hard enough for as long as it takes.
They go out and party on the weekends. We stay in and achieve our goals.
They buy into weight loss scams to help them lose weight. We don't even have to worry about body composition.
They live for the weekend or their next vacation. We live for the present and don't feel the need to escape our daily lives.
They "wing it" and never get anywhere. We plan, execute, and adjust as necessary.
They hate exercise. We love what we do and we don't even call it exercise.
They worry about what they're eating. We don't have to.
They look for quick-fixes. We look for sustainable results.
They hit the snooze button over and over again and eventually drag themselves out of bed. We don't need to.
They take off-days or "cheat days" when they need a break. We're always training, always recovering.
They eat food-like substances most of the time (e.g. fast food, junk food, processed food, etc.). We eat real food most of the time.
They drink sodas, juices, mocha-chinos and energy drinks. We drink water – just water.
They think that working up a sweat and burning some calories is the sign of a successful workout. We think progress is a sign of a successful training session.
They rarely even get the basics covered. We know that the details matter.
They are always yo-yoing with their diet and workout program. We are always sticking with our plan.
They chase after physique goals like getting abs or slimming/toning/etc. We chase after performance goals and get the looks to go with them.
They buy into the latest fads, trends, and crazes. We stick with what works – what's always worked.
They give up at the slightest hint of failure. We pick ourselves up again and again.
They fixate on unimportant details. We look at the big picture.
They procrastinate. We started years ago and we're still going.
They go easy. We go hard.
They accept defeat. We adapt.
They seek comfort. We seek out the uncomfortable.
They do whatever is easiest. We do whatever is best.
They can't win. We can't lose.
And in the end, we always win.
So, yes, there is a big difference between the achievers and the wannabes, and it's really quite simple. It all comes down to the choices we make. And the good news is that anyone can choose to improve themselves starting right now. So, who are you going to choose to be – starting today?
If you found this article helpful, please share it with your friends:

Health-First Fitness Coach
P.S. If you liked this post, then please signup for the newsletter, or follow me on Facebook or Twitter for daily updates and other interesting info.
P.P.S. Hat tip goes to ETP.