Note: maybe you've already read my TACFIT Commando Review, and you've gotten most of your questions answered from yesterday's Q+A with a hesitant buyer. This one last bit of info is about why I love this program and why you will, too.
I've been talking about it since December, and now it's finally here. The buzz has all but worn off.
Yesterday, Scott Sonnon (the co-creator) told me that this is already the most successful product launch in the history of his company RMAX International – and that was only the first DAY of being released at the introductory sale price (of the 3-day launch sale). The response has been massive, and many of my readers have made a choice in the last 24 hours to take on the TACFIT Commando challenge. I truly think that this program will set a precedent for future bodyweight products, strength training products, and even just general fitness products. It's that good.
I'm particularly excited about this program for several reasons…
5 Reasons Why You'll Love TACFIT Commando
1) It's based on the cutting-edge Circular Strength Training system – What others criticize as the "cool kids club of fitness," or "a group of blind followers baited into hyped-up, ineffective training programs" I see as a collection of principles and methods that are universally accepted as valid training advice. CST is a framework that includes all the relevant tools and strategies for achieving physical goals. It is a SYSTEM that puts them all together with a health-first focus. When you boil CST down to it's very essence and when you get rid of all the gossip-baggage associated with it, what remains is what every good coach agrees on that works for physical goals – the commonalities, not the differences. TACFIT Commando is based on this genius CST system and that's exactly why it works so well.
2) It's a cheaper, equipment-free version of the original TAC-FIT – One of my major reservations in recommending the original TACFIT program was that it required special equipment like parallettes, gymnastic rings, clubbells, etc. These are all great tools that I love using, but not everyone has access to them. TACFIT Commando requires ZERO equipment so your only investment is the product itself. Speaking of investments, this program is WAY cheaper than the original TACFIT – hundreds of dollars cheaper actually (even after the sale expires on Friday). At the 51% off sale price, you're getting a ridiculous amount of material for a very low price. It'll still be well-worth the full price when it nearly doubles on Saturday.
3) It's a bodyweight program, and therefore hugely beneficial and practical to its end-users – I've covered the benefits of bodyweight exercise many times in the past. Let alone the practical benefits of not requiring much, if any, equipment – and therefore a gym membership, you can do it anytime, anywhere, and it doesn't cost any money (unless you want to invest in specific tools like pullup bars or parallette's, for instance.) But there's also physiological benefits from training with bodyweight exercises.
You may have heard some strength coaches say that you shouldn't lift weights until you can control your own bodyweight – that's very good advice. World renowned coach, Alwyn Cosgrove is known for holding this mantra at his California facility, Results Fitness. Before you load your body with external forces, make sure you have adequate control of your own bodyweight. Bodyweight training develops inter-muscular coordination. That's a fancy way of saying "being able to transfer force throughout your entire body." It also serves as a foundation for good lifting skills (and swinging skills for you clubbell athletes).
4) It's been created for the elite men and women whom we count on every day, but it's still relevant to fitness trainee's and weekend warriors alike – TACFIT Commando is cutting-edge. No if's, and's, or but's! This is exactly what elite forces all around the world are using to train themselves for peak conditioning. Let me say that another way. The BEST of the BEST are using this program, so naturally, it must be outstanding. The great part is that it has scalability built-in to the program so anyone who is healthy enough to exercise can start it. You don't have to be a Navy SEAL to start TACFIT Commando. It was created with the intention of being used by a broad range of people like you and I (see the Q+A post for more info specifically for beginners or deconditioned folks).
5) It's going to slap CrossFit in the face – Pretty hard, too. You see, the TACFIT Commando protocol is based on the SAID Principle, which states that the body adapts specifically to the demands imposed upon it. SPECIFICALLY. There's no such thing as general conditioning. If you still think it exists, I'm sorry to burst your bubble, but it doesn't exist. That's why TACFIT Commando was created very specifically for the needs of our servicemen. It's not a general conditioning program at all. That's not to say that people won't use it to build muscle, burn fat, and build their conditioning levels with it (what we often equate with "general fitness goals"). What we must understand is that these things are by-products of training specifically for tactical fitness. They aren't the end goal, but they are some of the results.
TACFIT Commando has a lot more over CrossFit besides that. And yes, I know – THEM'S FIGHTEN WERDS!!!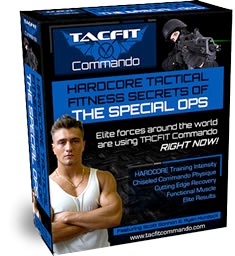 If you haven't made up your mind about TACFIT Commando yet, then I hope this brought some light to the program. If you have more questions about it, feel free to comment in yesterday's Q+A with a hesitant buyer, and you can also read my official TACFIT Commando review here.
For more information, or to purchase TACFIT Commando, please visit the official site here:
http://PhysicalLiving.com/TACFIT
To your health and success,

CST, CST-KS, NSCA-CPT
Fitness Professional