A Comprehensive Product Review of the Xero Shoes Minimalist Footwear for (Almost) Barefoot Running, Walking, Hiking, Yoga, and More! (aka "Invisible Shoes")
Note: Xero Shoes were formerly branded as Invisible Shoes. The product is one and the same, but you should know that this is technically an Invisible Shoes review because I got my sets before the company re-branded. I don't think it matters either way.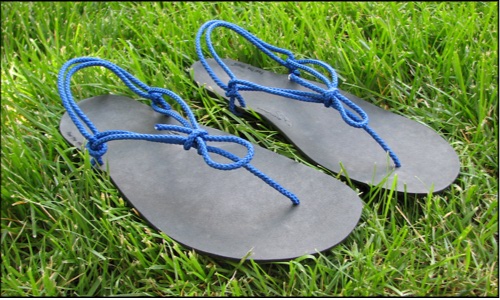 It was 10 degrees below freezing this morning, and I can't think of a better day to publish my review of the Xero Shoes, which is really more of a high-tech sandal or flip flop than a shoe. I may not be going to the beach anytime soon, but that doesn't mean I don't want to bring you this review of a superb minimalist footwear option.
I started evaluating these early this year – somewhere between the transition from Winter to Spring up here in New England. And I've put them through a lot of use in a lot of varying conditions and situations to see how they measure up.
So far, I'm pretty impressed and heartily recommend them to most people – given the right conditions. In particular, if you're at-all interested in an affordable minimalist footwear option for normal minimalist footwear reasons, and/or you'd entertain the idea of getting a set of high-tech flip flops, that in my opinion, are way – WAY – better than normal flip flops for a number of reasons, then you may be interested in Xero Shoes. However, if you live in Siberia, then I wouldn't throw away your Mukluks just yet.
All of the pros and cons of the product will be covered in this review, where hopefully, I'll help you decide if Xero Shoes are right for you.
Continue reading Review of the Xero Shoes Huarache-Style Minimalist Sandals (aka Invisible Shoes)