You've heard it a hundred different ways before from who knows how many people. You've got to…
outperform your last performance.
increase your lifts by 5% each week.
set a new personal record every time you train (e.g., #preveryday).
consistently progress to more challenging tasks.
do more sets, reps, or exercises each workout – even if only just one more rep.
train harder, faster, or dare I say, better – every single day.
And when it comes to fitness training or strength and conditioning, that's just the way that the Kaizen principle has been applied – Kaizen being a Japanese term that refers to improvement. But more specifically, Kaizen is often associated with the lifestyle practice of continuous improvement, which is a key principle of success. And if you're at all interested in fitness or strength, then applying the Kaizen principle will be absolutely necessary – whether you're familiar with the term or not. Because you and I can't get around the principles of overload and progression, which requires that we consistently seek to adapt to greater demands in order to increase or maintain our fitness results.
But here's the thing, if you really think that you're going to add weight to the bar every single week or actually set a new personal record every time you train, and do this for the long-term, then you couldn't be more wrong. And I wouldn't want to disappoint you and find out later that you threw in the towel because you thought you were a failure when you didn't measure up to your ambitious expectations.
I mean, think about it. If you added just 5 lbs to the bar every single week – in any given exercise – then in just one year, you'd be lifting 250+ pounds more in that lift. And in four years, you'd be lifting 1,000 pounds more. Now, I don't know about you, but I've been training since I was eleven years old, and my best lifts are still only three digits long. And let's just say that I can only add several pounds at a time to my lifts for so long before my progress starts to peter out. And these days, that usually happens in a matter of weeks – not months.
And if you're not a weightlifter, then let's just say that you set a new PR in some bodyweight exercise such as pushups or pull-ups every time you train. And maybe you only add one repetition to your max per workout. Do you really think you'll be doing 100+ pull-ups in one set after a year or so? I think not, but all the power to you if you'd like to try.
Now, please don't take this the wrong way and think I'm trying to discourage you because I'm not. And I'm not saying that achieving incredible things isn't possible, but I am saying that the road to success in fitness or athletics is rarely hunky-dory and straightforward. In fact, this meme sums up the process quite well.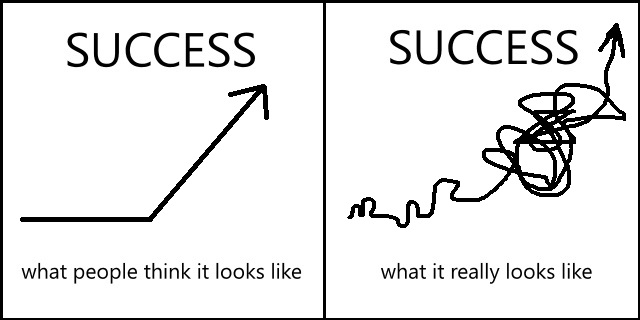 And that's usually the way things go. You'll have ups and downs. Good workouts and not-so-good workouts. Maybe even a few "I shouldn't have even done that" workouts. You might set a huge PR one day, and the next be dragging your feet, barely able to salvage any semblance of a workout.
Continue reading The One Thing They Didn't Tell You About Kaizen and Fitness Training