Discover The So-Called Physiological Reasons Why Some People Are Hard-Wired To Hate Exercise And Learn The Simple, Rarely-Acknowledged Solution To Overcome This Predicament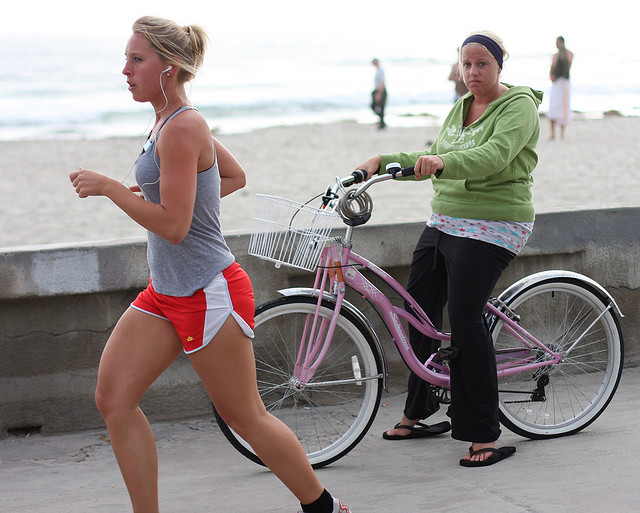 Note: that photo cracks me up every time.
I know a few people who just hate exercising. Period. And truth be told, I can't blame them. Exercise can be both boring and exciting, hard and easy. And if it's a whole new world for you, it can be difficult to make exercise right for you (so that it's both enjoyable and rewarding). In fact, I'd even go as far to say that most people who start exercising for the first time do so in both a boring and hard manner, which one could argue, predisposes oneself to a higher likelihood of failure. That's just the way it goes most of the time, and it should come as no surprise when we look at the rate of quitters in the exercise community. Don't believe me? Just join a gym around New Years and you'll see what I mean.
Now, I was reading an article in The Wall Street Journal (thanks to John Belkewitch of Day 1 Personal Training for the reference) about how certain people seem to be hard-wired to exercise, and others are not. It was a fascinating read that sheds much-needed insight into some of the inner-workings of our physically-starved culture, and even offers a simple solution for how to improve the situation we've been spiraling down into for decades.
So, what I've done is post most of the relevant sections of the article (ie practically the whole thing actually), and I've included my commentary beneath each one. This is also an exercise in transparency for me because what follows is basically an inside-look at my thought-processes while reading health and fitness articles in mainstream media sources. And yes, I do come a bit unhinged sometimes. So, prepare thyself.
But alas, I'm posting my thoughts for you here, complete with a direct explanation as to the solution for those who tend to hate exercise or avoid physical activity, in general (but that's not you, right?). You're gonna hate me when I'm done. Ok ok. Hate may be too harsh a term. You may be slightly unsettled and feel a distinct annoyance towards me after reading this. Please hold the redhead jokes.
Continue reading Why Certain People Are Hard-Wired to Hate Exercise (and what to do about it)