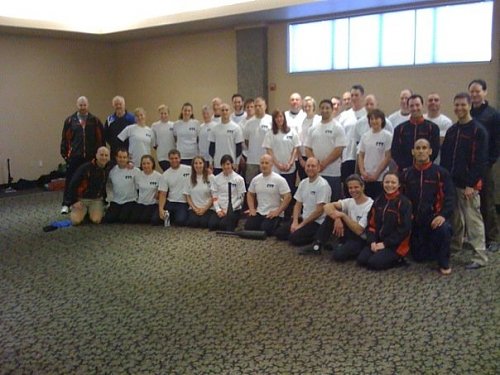 In August, I'll be flying out to Bellingham, WA to learn from and train with some of the best minds in fitness in the world. I'll be attending my first Circular Strength Training Certification Seminar. This is really exciting for me not only because I've wanted to attend a CST event for the past 3 years, but because I'll finally get to meet many of the people whom have coached and mentored me into the fitness professional that I am today.
I intend to pursue certification so that I can teach others about the value that I have received through the introduction of CST into my own training. The requirements are rigid, both physically and educationally. I'll have to demonstrate in-depth understanding of the three wings of CST: Joint Mobility, Clubbell Athletics, and Prasara Bodyflow yoga. Not only that, but I'll need to display my ability to convey these subjects to others as a coach.
There are a few physical tests as well: the Trial By Fire must be completed with 15 lb clubbells in under 30 minutes. I'll be required to complete 14 rounds of FlowFit level 3 in 14 minutes or less. I'll also need to demonstrate excellent technique using the Intu-Flow joint mobility program in breathing, movement, and structure.
The requirements are tough, and for good reason. This is not a "pay for your certification" event. This is a chance to absorb an entire coaching system that is specifically crafted for achieving fitness goals with health as the number one priority – a difficult challenge for sure. Even though I'll need to work hard to prepare for the event, I'm not worried. I've been practicing and experiencing CST over the past three years. I see this event as a way of connecting the dots in my training knowledge and philosophy, giving me the "big picture" perspective of CST. This will help me answer all the questions bouncing around my mind, and solidify the idea of how the 3 wings of CST interact with each other in harmony. I'm sure many more questions will follow.
I'll be chronicling some of my preparation for the event here on the site.
Today's Training Session – May 29, 2009
Today, I spent about an hour going through the first two levels of the Intu-Flow Longevity System DVD – beginner and intermediate levels. I did this mostly for a refresher on the materials, but also because I've been feeling a little tense lately. I always find that going back to the basics is good because it solidifies good movement qualities, including the subtleties that we sometimes gloss over in more advanced or sophisticated training. I always feel GREAT after a thorough mobility session.
I followed my mobility session with 9 rounds of FlowFit in 9 minutes, 3 rounds each of level 1, 2, and 3 – just broke a sweat. A full body vibration drill followed this.
Then, I spent about 10 minutes on some of the BodyFlow exercises, mostly to relieve some tension that I've been chasing around in my legs.
Finished with Forest Flow from the Prasara Yoga DVD.
Did I mention I feel great?
To your health and success,

Fitness Professional and CST Athlete