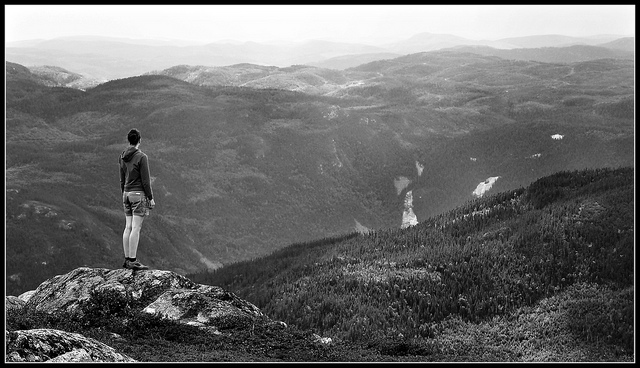 We have some friends visiting us this week from afar. The Tougas family, whom I've introduced you to before (click here for the back story), have crashed our party yet again. This is another active family. They love being outdoors in nature and participating in human-powered fun like hiking, backpacking, and running, among many other things. They are in good company, and they are good company!
Now, yesterday we celebrated Independence Day here in the USA. This is a time when we remember what our great nation is really all about – where we came from and who we are. Beneath the fireworks and amid the barbecues, we celebrate our independence and the freedom we hold dear here in the United States.
And it dawned on me this morning – the morning after Independence Day – how much we express our independence through physical activity. It's one of the most fundamental ways we practice freedom – the freedom to move. And what struck me was how normal a physically active lifestyle is for us. It's our normal.

I mean, yesterday, it was very hot and humid out – one of the hottest days of the year, in fact. And yet, Damien and I went out for a run for an hour or so – and didn't think anything of it. Seriously, here's how the decision was made…
Damien: Hey, wanna go for a run, John?
John: Sure!
And that was that. We didn't have to think about it. There wasn't any extravagant plan or agenda. We just decided to go for a run. In fact, the truth is that I had already made up my mind BEFORE he even asked me. The answer was yes, and always will be as long as I'm physically able. You see, I've decided that whenever I'm asked to go on a run, or for a hike (etc.), my answer will always be yes. It's just part of my identity since I love this stuff.
And it strikes me that this is just who we are. It's what we do. It's how we roll.
And the run was great, by the way. In the end, our whole gaggle spent the warmer-than-hot day playing Frisbee, ball, and going for a walk, among other things. Today, some of the group will be going swimming, and a day hike is planned for later in the trip, too. And all of this is made possible because of our health and fitness – something we tend to take for granted.
Now, fitness is what enables us. Whereas, health provides life, fitness provides freedom. At its most basic level, fitness allows us to do what we want.
On the flip side, poor fitness is like a cage. It hinders us and keeps us from being able to do what we love. It's a self-defeating, self-perpetuating downward spiral that sucks us dry of ambition, desire, and enthusiasm, among other things. It's a trap, and a vicious one at that.
But here's the thing. We choose our level of freedom because the health and fitness we experience comes down to choice. We choose what we eat, when, where, and how much. We choose whether we exercise or not. We choose how much sleep we get. Our choices quite literally shape our health & fitness, and consequently, determine our freedom. In almost all cases, our choices either enable us or disable us.
Some people embrace this kind of control, and some people ignore, avoid, or deny this kind of control. But no matter where you fall on the spectrum, you have a right to better health and fitness. And no, I'm not talking about medical care. What I mean is that you – yes, you – have an inborn right to live a healthy, fit lifestyle. You have a right to pursue a high standard of fitness. You have a right to create a healthier, happier you. And correct me if I'm wrong, but you have the power to do so today – right now. We all do.
So, get out there and declare your own health and fitness independence today – whatever that means to you. Make history in your life today. You'll be glad you did.
If you found this article helpful, please share it with your friends and tweeps:

CST Coach, CST-KS
Health-First Fitness Coach
P.S. If you liked this post, then please signup for the newsletter, or follow me on Facebook or Twitter for daily updates and other interesting info.
P.P.S. Photo credit: http://www.flickr.com/photos/megathoncharlie/