Find Out The Top Two Best Companies To Buy Your Pro-Grade, Competition-Style Kettlebells From
The first kettlebells I ever used were some classic Russian kettlebells from Dragon Door about 8-9 years ago. Those were totally "the thing" for awhile there. But as I got more and more into kettlebell training, I started to hear about a new kind of kettlebell. Depending on who you asked, they were either called "pro-grade kettlebells" or "competition-style kettlebells." And what made them unique was that they were made of steel, instead of iron, and also that their dimensions were universally the same regardless of weight. So, a 16 kg Pro-Grade Kettlebell would be the same exact size and shape (ie dimensions) as a 32 kg Pro-Grade kettlebell. Obviously, that's a distinct advantage that pro-grade kettlebells have over traditional iron kettlebells.
Since then, I've used several different kinds of pro-grade kettlebells, which has led me to discover that there are some minor differences from manufacturer to manufacturer, which is why I wanted to post this review today.
You see, after trying all those different KB brands, I've narrowed my most recommended pro grade kettlebells down to two manufacturers. No matter who you are or what your goals are, I think that you can be best-served by the KB's from these two companies. They've got ALL your bases covered if you want a pro-grade kettlebell, and you'll find out why in this video review.
Click here to buy Pro-Grade Kettlebells From Perform Better (best bargain pro-grade kettlebells)
Click here to buy Pro-Grade Kettlebells From the World Kettlebell Club (highest quality and best value pro-grade kettlebells)
Or, you could check out my Kettlebell Buyer's Guide (see below), which is badly in need of an update because the prices have probably changed since I first put this together in 2010…

_______________________________________________________________________________________________
Most of us would like to get the highest quality products at the lowest price possible, and that's why I created…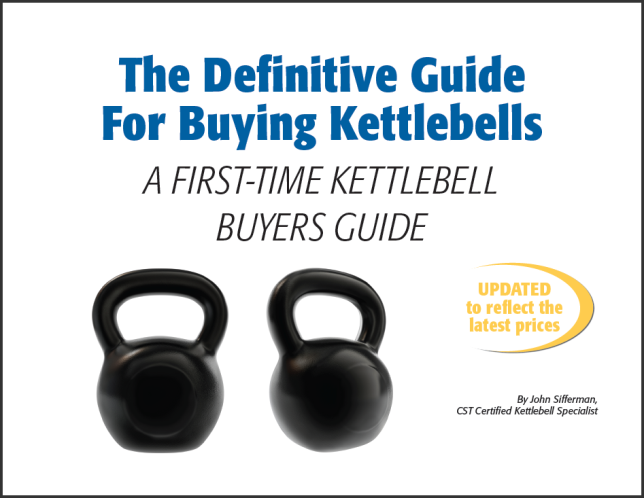 *Right Click Image and Select "Save Link As" to Download the PDF Special Report (400 kb)
_______________________________________________________________________________________________
DESCRIPTION: This is an exhaustive guide in PDF special report format that will answer all of your kettlebell buying questions. Also included is a chart of all the price points from several of the leading kettlebell distributors. I show the price of each kettlebell and the price of shipping, along with the total price – all in an easy-to-read spreadsheet. This is from personal research I did when trying to find the best deals on kettlebells for sale.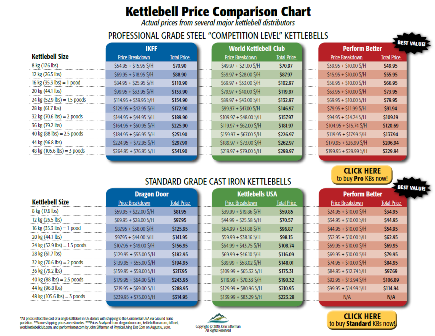 Compare kettlebell prices from several of the leading manufacturers with the Kettlebell Price Comparison Chart.
By the time you're done reading through this kettlebell PDF special report, you'll be the most educated buyer and ready to make the wisest investment with your money. You'll also know exactly where you can buy the highest quality, yet least expensive kettlebells online. If you do some snooping, you can even find out who marks up their products the highest, too!
This PDF report is free because I want everyone to know where to find the best deals on kettlebells for sale. I'd also like to get it into as many people's hands as possible because I receive a small commission on any purchases that are made through my links in the PDF. Rest assured that I only recommend products that I've tested and used myself. I've been using various types of kettlebells since 2004 and am also a certified Kettlebell Specialist through RMAX International.
_______________________________________________________________________________________________
If you have any questions about pro-grade kettlebells, kettlebell training, or anything related, just let me know – happy to help. And if you'd like to see a pro-grade kettlebell in action, here's a workout I did awhile back: 14 minutes kettlebell workout.
If you found this article helpful, please share it with your friends and tweeps:

CST Coach, CST-KS
Health-First Fitness Coach
P.S. A BIG THANKS to the World Kettlebell Club for sending me those two kettlebells to review. I'm always glad to see a company that stands behind their products, and the WKC kettlebells certainly measured up!
P.S. If you liked this post, then please signup for the newsletter, or follow me on Facebook or Twitter for daily updates and other interesting info.