You'd be crazy to buy Russian kettlebells after you've seen how much the prices are marked up. See up-to-date prices from several of the leading kettlebell manufacturers below.
UPDATE: Check out my new review of some of the best competition kettlebells from all of the big companies: 14 Kettlebells Compared: The Complete Kettlebell Review.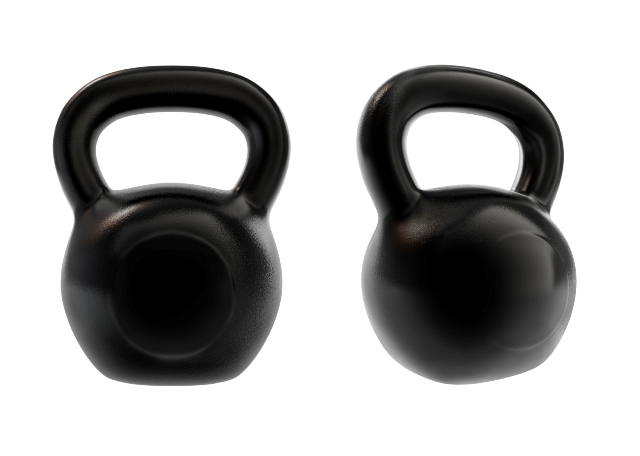 So, I was in the market for some new kettlebells and I decided to do some market research to find the best deals online. What I found was part liberating and part infuriating. After a little bit of shopping around, numbers crunching, and adding all the data to a spreadsheet, the results were downright shocking. I quickly discovered that one of the leading retailers for Russian kettlebells have their products consistently marked up over 200% from its competitors. Now, I can understand a marginal markup, but when you have the ability to offer your products at 50% off and STILL be more expensive than the competitors, something is wrong. Even shipping is more expensive than some of the competition.
One leading retailer for Russian kettlebells (I won't mention names… yet) sells a 16kg Kettlebell for $125.95. That price is for a single kettlebell shipped anywhere in the lower 48 states of the continental USA. Another leading retailer for Russian kettlebells charges $54.95 for the same type of kettlebell – and that also includes shipping.
Now, I'm no math whiz, but that's a big price difference and a LOT of money to be saved from a comparable product. Here's the math…
$125.95 (16 kg Standard Russian Kettlebell)
-$54.95 (16 kg Standard Russian Kettlebell)
————–
= $71.00 saved!
Just by choosing a different retailer, you could save $71 on ONE kettlebell! With the extra money, you could buy and ship a separate 24 kg kettlebell, and still have some cash left over.
Oh, and it gets better…
You Get What You Pay For… That's Not Always True When You Buy Kettlebells
Surely everyone knows that there are kettlebells of different levels of quality. Some kettlebells are simply manufactured to a higher level of quality than others, but did you know that there are kettlebells of different grades, too? You see, certain types of kettlebells are not allowed in professional kettlebell sport (aka Girevoy Sport) because they don't meet the specifications outlined in the official rules. In kettlebell sport, the rules dictate that only the highest quality kettlebells can be used during competitions. This is to ensure consistency in the performance testing among the athletes. They only use the best kettlebells.
Without a doubt, those kettlebells that are manufactured to the level of "professional grade" are the highest quality kettlebells you can buy.
What if I told you that you could purchase professional grade kettlebells – the highest quality kettlebells you can buy – for even less money than most standard grade, Russian kettlebells? I'm assuming you'd be about as ecstatic as I was. Let me give you some perspective.
One leading retailer for standard Russian kettlebells sells a 16kg Kettlebell for $125.95 (cost of kettlebell + shipping). Another leading retailer for Professional Grade Kettlebells charges $66.95 – also shipped.
$125.95 (16 kg
Standard Grade

Russian Kettlebell)
-$66.95 (16 kg

Professional Grade

Kettlebell)
————–
= $59.00 saved!

Not only would you be saving $59, you'd also be purchasing the absolute highest quality kettlebells money can buy – the very same kettlebells that are used in elite kettlebell competitions. You can almost buy two for the price of one!

Now, I understand that shopping for kettlebells shouldn't be done on price alone, and it would be irresponsible of me to only post the above information without also giving you more details about how I came to these conclusions. There are certainly many factors that must be considered before you make any good investment, and especially with buying kettlebells. Some people may have a very good reason for dishing out over twice as much cash for an authentic Russian kettlebell (that are manufactured and distributed here in the USA, I might add).
_______________________________________________________________________________________________

Most of us would like to get the highest quality products at the lowest price possible, and that's why I created…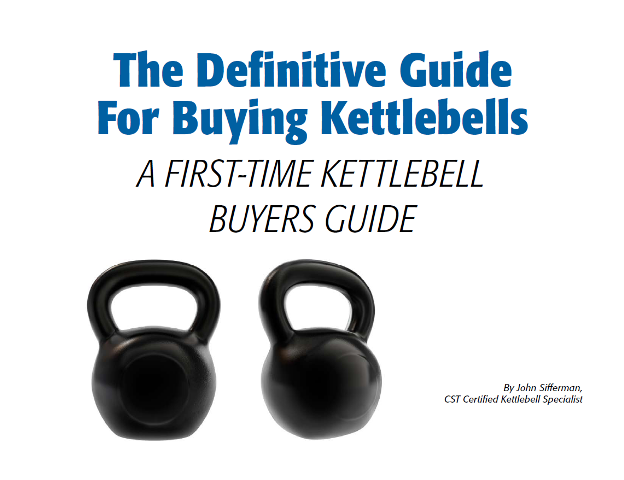 *Right Click Image and Select "Save Link As" to Download the PDF Special Report (400 kb)
_______________________________________________________________________________________________
DESCRIPTION: This is an exhaustive guide in PDF special report format that will answer all of your kettlebell buying questions. Also included is a chart of all the price points from several of the leading kettlebell distributors. I show the price of each kettlebell and the price of shipping, along with the total price – all in an easy-to-read spreadsheet. This is from personal research I did when trying to find the best deals on kettlebells for sale.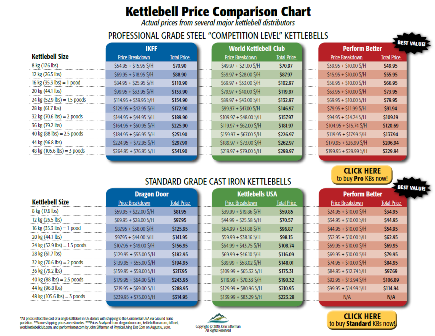 By the time you're done reading through this kettlebell PDF special report, you'll be the most educated buyer and ready to make the wisest investment with your money. You'll also know exactly where you can buy the highest quality, yet least expensive kettlebells online. If you do some snooping, you can even find out who marks up their products the highest, too!
This PDF report is free because I want everyone to know where to find the best deals on kettlebells for sale. I'd also like to get it into as many people's hands as possible because I receive a small commission on any purchases that are made through my links in the PDF. Rest assured that I only recommend products that I've tested and used myself. I've been using various types of kettlebells since 2004 and am also a certified Kettlebell Specialist through RMAX International.
_______________________________________________________________________________________________
The Bottom Line
Next time you see an ad for Russian kettlebells for sale, don't jump at the opportunity to buy right away. Do some market research of your own before you make your decision. It can save you a lot of money. You can get a big headstart by downloading and reading my kettlebell buyers guide (100% free).
If you found this article helpful, please share it with your friends and tweeps:


Circular Strength Training Instructor
CST Kettlebell Specialist
Fitness Professional
P.S. If you know someone who's looking to buy Russian kettlebells, please share this page with them before they make their purchase.
P.P.S. Don't even get me started on adjustable kettlebells.
---
Which kettlebells do I recommend?
Good question! My top two choices are the competition kettlebells from Kettlebells USA and Kettlebell Kings. Both companies offer excellent choices at great prices. But there are a lot of other good options out there, too. So, feel free to check out my new complete kettlebell review, where I showcase some of the best kettlebells from all of the top brands: 14 Kettlebells Compared: The Complete Kettlebell Review.