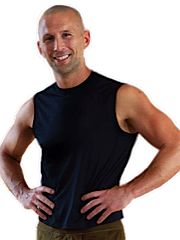 There is one thing, and one thing only, that I can point to with 100% confidence and say that everyone – yes, everyone – would benefit from including in their physical practice – whether as part of an exercise program or not. That one thing is joint mobility training.
Five years ago, I was riddled with aches, pains, and injuries that resulted from years of athletics and fitness training. Today, I'm not only in the best shape of my life, but I am also 100% injury-free – and aches and pains are a thing of the past. This is due, in part, to my adoption of joint mobility training.
It wasn't that long ago when people would stare blankly when they heard the term "joint mobility" and would ask something to the effect of: "is that like stretching?" However, in the last few years, joint mobility training has experienced a surge in popularity. It's now in vogue. Nowadays, everyone in the fitness industry knows what it is, but not everyone knows how joint mobility training really works or why we should be doing it.
Scott Sonnon does. Scott has been teaching this stuff in the United States since the 1990's. Nobody can be 100% certain, but I think Sonnon brought joint mobility training to the West. Whether or not he is the grandfather of this training method, he is without a doubt one of the world's foremost experts on the subject.
Special Offer
Today, Scott is opening the doors of his entire joint mobility system and offering a mega training package at a hugely discounted price. I got the word in an email last night, and I simply had to tell you guys about it.
There are 5 products in the package, with a retail value of $234.75. As I think back to when I purchased each one of these products individually, that's exactly the amount I've invested over the last 5 years to buy each one – and, honestly, I would have paid more.
For the next three days, you'll be able to get all 5 programs for only $49.

I think you'd be getting quite a deal if that only included the Intu-Flow joint mobility system (1 of the 5 products included in the package). Obviously, a sale like this doesn't come around everyday, and I think you'd be crazy not to jump on this offer. There are a handful of other joint mobility programs out there, and I own a few of them, but this package is by far the definitive resource on the subject. This is all you would ever need to invest in for the rest of your life.
The Bottom Line
If you want to heal your aches and pains, prevent injuries, improve your joints range of motion, strengthen all of your body's basic movement patterns, increase your coordination, and ultimately improve your health and performance potential, AND if you want the most comprehensive joint mobility training resources currently on the market, then you absolutely must get a copy of this joint mobility super-package before it's too late. Consider this my strongest endorsement.

*Don't miss out on the weekend discount – expiring 10/30/2011 at midnight!
Note: I truly believe in the power that joint mobility training has for healing aches and pains, preventing injuries, restoring your joints natural range of motion, and for improving your movement performance. I also believe in all of these specific products since I've used them myself for years. I want so badly for you to enjoy the pain-free movement that I do, that I'm willing to give you a bonus incentive just for investing in your health. If you decide to purchase this joint mobility super-package today, then I will send you an exclusive video about How to Get the Most From Your Joint Mobility Practice. In that video, I'll reveal all of my personal tips and tricks for maximizing your results from using these programs. After you've placed your order through my referral link, just forward your confirmation email containing your receipt to physical (dot) living [at] gmail (dot) com and I'll reply with your free gift. Thank you for supporting PhysicalLiving.com by investing in your health!
If you found this article helpful, please share it with your friends and tweeps:

CST Coach, CST-KS
Health-First Fitness Coach
Joint Mobility Instructor