What Scientists, Military Experts, And Fitness Coaches Think About How Many Push ups You Should Be Able To Do: Including Official And Unofficial Standards For Athletes, Soldiers, And Ordinary People, Average Push up Test Results, The Latest World Records, And More!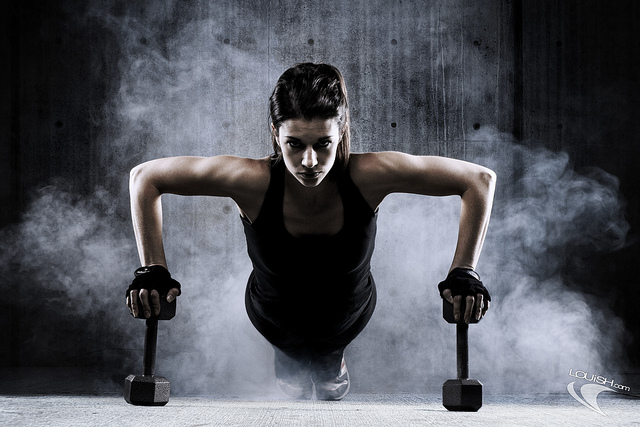 Note: this post is sponsored by the Perfect Pushup Elite.
Whenever someone has asked me "how many push ups should I be able to do?", I've always asked them if they need to perform a certain amount for their job or otherwise (e.g. for military service or something similar). And if they don't have a specific criteria that they have to meet by a certain date, I ask them, "well, then how many pushups do you want to be able to do?"
You see, there isn't a black and white answer on how many push ups is right for XYZ person. It just depends on your goals and your conditioning level, among other things. That said, there are some general push up standards that we can use to gauge our performance and also to set ambitious, yet realistic goals. And this article will cover the main ones.
How Many Push ups Should You be Able to do (According to the Experts)?
Now, there are all kinds of push up standards and charts available online – tons of them! And they're all different depending on where they're coming from. Even our military standards vary drastically from branch to branch – including differences between specific groups within each branch (e.g. special ops vs infantry). So, how do we get an objective number?
Well, Dr. Lawrence A. Golding who is a professor of kinesiology at the University of Nevada, Las Vegas, suggests that 20-40 year old males should be able to perform between 13-30 push ups, on average (yes, I noticed that that's a pretty wide range).
He even put together a report with some "push up test norms" for men and women, broken down by age and the number of reps performed. He also assigned what I consider a very subjective rating of their performance. Here it is:

Push Up Test Norms For Men
| Age | 17-19 | 20-29 | 30-39 | 40-49 | 50-59 | 60-65 |
| --- | --- | --- | --- | --- | --- | --- |
| Excellent | > 56 | > 47 | > 41 | > 34 | > 31 | > 30 |
| Good | 47-56 | 39-47 | 34-41 | 28-34 | 25-31 | 24-30 |
| Above average | 35-46 | 30-39 | 25-33 | 21-28 | 18-24 | 17-23 |
| Average | 19-34 | 17-29 | 13-24 | 11-20 | 9-17 | 6-16 |
| Below average | 11-18 | 10-16 | 8-12 | 6-10 | 5-8 | 3-5 |
| Poor | 4-10 | 4-9 | 2-7 | 1-5 | 1-4 | 1-2 |
| Very Poor | < 4 | < 4 | < 2 | 0 | 0 | 0 |
Push Up Test Norms for Women
| Age | 17-19 | 20-29 | 30-39 | 40-49 | 50-59 | 60-65 |
| --- | --- | --- | --- | --- | --- | --- |
| Excellent | > 35 | > 36 | > 37 | > 31 | > 25 | > 23 |
| Good | 27-35 | 30-36 | 30-37 | 25-31 | 21-25 | 19-23 |
| Above Average | 21-27 | 23-29 | 22-30 | 18-24 | 15-20 | 13-18 |
| Average | 11-20 | 12-22 | 10-21 | 8-17 | 7-14 | 5-12 |
| Below average | 6-10 | 7-11 | 5-9 | 4-7 | 3-6 | 2-4 |
| Poor | 2-5 | 2-6 | 1-4 | 1-3 | 1-2 | 1 |
| Very Poor | 0-1 | 0-1 | 0 | 0 | 0 | 0 |
Source: Y's Way to Physical Fitness: The Complete Guide to Fitness Testing and Instruction (3rd Edition) by Lawrence Golding and Clayton Myers.
So, if you fall into the average or above-average range on these charts, congratulations! You can probably do more push ups than the average American…and that's not saying much! It pains me to say it, but we Americans don't exactly have the highest levels of fitness in the history of mankind, if you know what I mean.
So, let's keep in mind that these are likely averages taken from survey results on all demographics and various populations of people, including both completely untrained persons, well-trained persons, and everyone in-between. Obviously, the results would be very different if they only represented trained individuals.
So, these charts probably aren't the end-all, be-all when it comes to push up standards. And so, I feel it's necessary to provide some higher standards to strive for. Because seriously, 56 push ups might be considered "excellent for 17-19 year old males," who are supposedly in or near their prime – at least, according to a bunch of researchers in lab coats. But here in the real world, 56 push ups is "good," but not "excellent" – and definitely nowhere near "peak" or "elite" levels of performance. Said another way, there are a lot of people – including plenty of "average Joes" – who can blow these numbers out of the water – regardless of their age or gender.
For instance, I was part of a push up challenge at the Burn The Fat Inner Circle, and almost all of the men who competed were in the 40-70 reps range. A handful of gents even broke 100 reps. I averaged out the results, and the mean was 69 reps – not too shabby, especially considering that most of the men were middle-aged or older! The women did well, too, with an average of 39 reps amongst them all. Both of these averages are considerably higher than the "Excellent Range" above. And so, I don't want you to set your sights too low.
So, allow me to present…
John Sifferman's Totally Unofficial Push up Test Standards
Newbie: 1-10 push ups
Beginner: 11-20 push ups
Intermediate: 21-40 push ups
Advanced: 41-60 push ups
Expert: 61-90 push ups
Master: 91-120 push ups
Wicked Sick: 121-140 push ups
Superhuman: 141-160 push ups
Olympian: 161-180 push ups
Pushup Immortal: 181-200+ push ups
Note: The women's standards would be roughly 2/3 of the repetitions listed here (in each category, respectively).
You may also find it interesting that the world record for the most consecutive push ups (i.e. nonstop) by a man was 10,507 reps by Minoru Yoshida in Japan back in 1980. (Source)
And the women's record for the most consecutive push ups (i.e. nonstop) is 302 reps, and was accomplished by Maria Tobar in Sacramento USA on August 23, 2014. (Source)
Just thought you should know.
Note: there are a TON of Guinness World Records for push ups: most push ups in a minute, in an hour, in a day, knuckle push ups, one arm push ups, two finger pushups, clapping push ups, and many more.
---

Loading ...
---

Loading ...
---
Military Push up Standards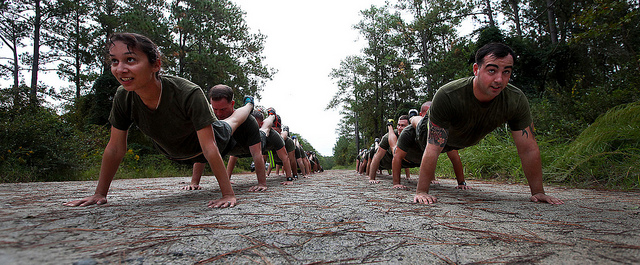 Note: military push up standards vary greatly by age, gender, and application. So, the list below barely even scratches the surface. Also, these figures represent the bare minimums required for graduating from basic training or passing a PFT, among other things. So, I'd assume that the actual averages are higher, as are the expectations.

Air Force – to graduate from basic training, males must perform a minimum of 45 push ups and females must perform a minimum of 27 push ups.
Army – to graduate from basic training, males aged 17-26 must perform at least 31-35+ reps and females must perform at least 11-13+ reps. These are the minimum standards.
Coast Guard – the minimum standards are 29 push ups for males and 15 push ups for females, which must be completed in less than 60 seconds.
Marine Corps – the Marines are apparently too tough for push ups since their test doesn't involve them! Ooh Rah, Marines!
Navy – The Navy has a point system, but it looks like 46 reps is considered "satisfactory" (i.e. the bare minimum), and all reps must be completed in two minutes. Had to one-up the Air Force, didn't they? Go Navy!
Navy SEAL BUD/S prep: If you want to get into BUD/S school and roll with the best of them, you must perform at least 42 push ups in 2 minutes (note: it may actually be 50 reps now). However, most SEAL candidates can perform 80-100+ reps in the 2 minute time frame, which is highly recommended for those wanting a chance at BUD/S. And I'm sure that there are usually some guys who can squeeze out 100-120+ reps like it's nothing.
The Bottom Line
Even though the experts point out that roughly 10-30 reps is average for most people, and that 30-50 reps is in the "excellent" range – let's get something straight. The amount of push ups that you can do has very little to do with your age or gender. It actually has a lot more to do with your attitude, beliefs, work ethic, and commitment to your goals.
So, I don't care if you're an old granny. You could probably greatly exceed what the "experts" say you can. And so, just between you and me, I think you could reach the advanced or expert status listed in my Unofficial Standards above without too much trouble. I'm just sayin'.
Now, that's not to say that everyone needs to perform a ton of push ups. And for you and your goals, you might be better off maintaining your conditioning at a lower level so that you can focus on other goals.
But when it comes down to it, I think that maintaining a level in the Excellent Range (in those charts above) year round is a good goal to work towards for most people. I also think that during specific training phases, you should set your sights much higher, to the levels of advanced, expert, or even mastery status.
Much beyond that and you're getting into the realm of world records and making a sport of calisthenics. And if you're interested in that, then all the power to you. But for me, I don't see much inherent or practical value in being able to do tons of push ups. Yeah, it's impressive, and it will result in some great strength-endurance. But if you're spending all that time working on your push ups, what are you not spending enough time on?
Important Point: the more push ups that you want to be able to do, the harder you're going to have to work and the greater the cost (and the less time that you'll have for other things). Said another way, if you want to get really good at push ups, you might have to sacrifice some of your other training time and energy to do so.
John's Recommendations
You want numbers? I'll give you numbers. I think that 50 reps for males and 30 reps for females are ambitious, yet very doable goals for most people that will give you excellent conditioning results. And if you've never been in this territory before, it will feel like a big accomplishment once you hit those levels. Plus, they're both nice round numbers!
Wrap-Up
You don't have to be a Navy SEAL to get really good at push ups. But you do have to work hard consistently over a period of several weeks and months, at minimum. So, what I want to know is, will you settle for what the "experts" say that you should be able to do? Or, will you hold yourself to a higher standard and strive for the advanced, expert, or even mastery levels?
Only you can make that choice. And by the way, whatever your end-goal is, whether it's just your first 10 push ups or 100 reps straight, I think you can do it. And if you knew me personally, you'd know that I really mean that.
And in case you're wondering, I've usually maintained the ability to do at least 50 push ups. At times, I've been over the 100 reps mark, and my all-time best was 110 push ups in 2 minutes back when I was in the U.S. Naval Sea Cadet Corps. I was a good 20 pounds lighter back then, though!
Obviously, that's nothing Earth-shattering. But I know that if I were to ever focus on push ups for a few training cycles, I could blow those numbers out of the water – easy. And I'm willing to bet that you could, too.
So, get out there and push 'em out!
Final Words
Being able to do a lot of push ups is really cool, but it's even better if you can do push ups with excellent technique.
You can learn how to do that here:
Click Here to Learn How to do Pushups with Optimal Technique For Better Results and Less Injuries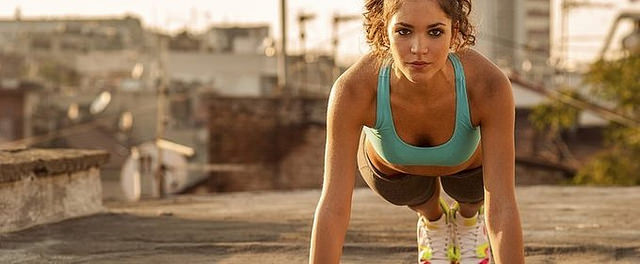 Related Posts
If you found this article helpful, please share it with your friends:

Health-First Fitness Coach
P.S. If you liked this post, then please signup for the newsletter, or follow me on Facebook or Twitter for daily updates and other interesting info.
References
http://www.exrx.net/Testing/YouthNorms.html
http://www.military.com/military-fitness/air-force-fitness-requirements/air-force-basic-military-training-fitness-test
http://www.military.com/military-fitness/army-fitness-requirements/army-physical-fitness-test-score-chart
http://www.military.com/military-fitness/coast-guard-fitness-requirements/coast-guard-basic-pft
http://www.military.com/military-fitness/navy-fitness-requirements/navy-basic-training-pft
http://www.military.com/military-fitness/navy-special-operations/navy-seal-fitness-test
http://www.sealswcc.com
(Visited 162,684 times, 167 visits today)