7 Simple Steps to Get the Body of an Ancient Spartan Warrior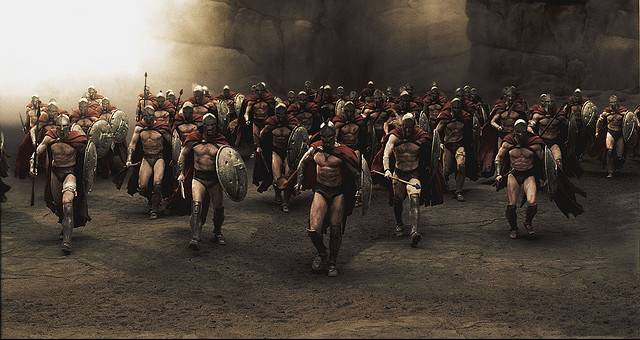 Ever since the movie 300 came out, I've run across a lot of resources on how to become a Spartan warrior. Since then, there have been many popular 300 workout routines, Spartan warrior training tips – Spartan this, Spartan that. You probably remember the huge craze following the movie's release on how all those guys got such great abs (hint: the makeup, lighting, and special effects helped). Gym Jones got some serious PR for awhile because it churned out a bunch of good-lookin' dudes. And this trend is still going on. I'm still seeing Spartan-themed workouts, events, and even programs around the web.
And so, I thought I'd put my own twist on this craze in typical Siffer-fashion.
So, here's how to actually get the body of a Spartan warrior, in seven simple steps.
Choose your [Spartan] parents wisely.
Make sure that you're born in Sparta roughly 2500 years ago.
Be male.
Don't get discarded during infancy.
Leave your family at age seven to start military training.
Endure vigorous daily training, incredible hardship, and extremely harsh disciplinary procedures.
Continue such military training until 20 years old, and if accepted into the Spartan army, remain there until age 60.
If you do all of that, then you, my friend, will have the coveted body of a Spartan warrior – the abs, the scars, and all.
What?
Did you really think that finishing a muddy obstacle race was going to do the trick?
My good fellow! It was Plutarch who said of the Spartan warriors, "They were the only men in the world with whom war brought a respite in the training for war."
So, I hate to say it, but your Paleo bacon poppers probably won't do the trick.
If you found this article helpful, please share it with your friends:

Health-First Fitness Coach
P.S. If you liked this post, please signup for the newsletter, or follow me on Facebook or Twitter for daily updates and other interesting info.
P.P.S. Photo credit 1.
P.P.S. Related post: 25 Things The Spartan Warriors Didn't Need To Get Fit And Prepare For War.