The Definitive Guide To Setting Up A Home Gym That Suits Your Unique Needs, Goals, and Preferences: Plus, The Best Home Fitness Equipment (Including 5 Must-Have Items)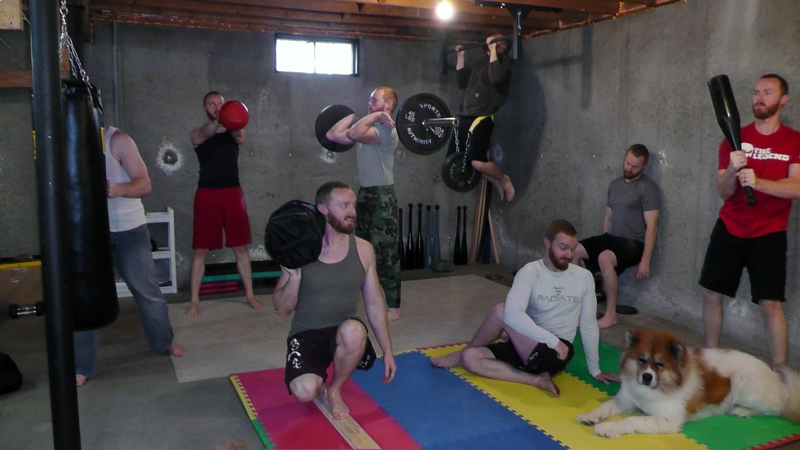 So, you want to setup a home gym? Good. You're making a wise choice. But where do you start? What equipment would be best? And what should you invest in first? Most people make the mistake of getting gear that they don't need, won't use, or that won't work for their goals. But not you. You're smart about these things and you're committed to succeeding. So, you're gonna go about it carefully. In this article, you'll learn a step-by-step system for outfitting your home gym with the best equipment for your fitness goals without breaking the bank or filling up your house with junk you won't use.

Even if you have a gym membership, it makes a lot of sense to be able to train at home, too. I've gravitated towards home training in recent years for a lot of reasons – the main one being convenience. I no longer have to commute to the gym or wait for equipment to be available. Everything I need is right where I left it (usually!). I've also saved a lot of money, too. And to top it all off, I don't have to listen to lousy music anymore, either. In this stage of my life – being busy with work and family commitments – training at home makes a lot of sense, especially since I am home almost every day.
Now, one of the best things about setting up a home gym is that it can be completely personalized to your needs, goals, and preferences. So, if you want your whole garage to be transformed into an elite training space, have at it. Or, maybe you just want to re-purpose a spare room (or your living room) with a few key pieces of equipment that you can tuck into a closet somewhere. You've got plenty of options. And this article will cover some of the best ones.
But before you start thinking about what to put in your home gym, it would be best to first identify the best location for your home gym. Maybe you have a garage or basement with some free space. Or, a spare room that rarely gets used. If not, you may just need to designate some space in your living room, bedroom, office, etc. And when all else fails, your porch, deck, yard, or driveway will work, too. Ideally, the area should have some free floor space, and be somewhere that you won't be distracted or interrupted.
Something to keep in mind is that when it comes to home gym training, the best equipment is both versatile & compact and/or portable. In other words, I want to be able to do a lot of different things with a tool that doesn't take up a ton of space. So, I'd take a single kettlebell instead of a leg press machine, any day, because kettlebells can be used for hundreds of different exercises and many training goals – and it won't take up half of my home gym like a leg press would.
After you have a place picked out, it's time to decide what you'll buy first. I think it's best to buy gear in stages, and here's the general process that I'd recommend following.
Phase 1 – Make 2-3 key purchases to maximize your training options.

In the beginning, you should invest in equipment that offers a lot of versatility in terms of the amount of exercises and training goals that it can be used for. In other words, don't drop a grand on a treadmill or a glute-ham machine just yet. Some good, versatile fitness equipment would be:
a suspension training system (e.g. Rings, TRX, etc.)
kettlebells
clubbells
sandbags
resistance bands
a weight vest
a barbell
adjustable dumbbells
They all fit in here. So, get a couple things that are appropriate for your goals and that you'll enjoy using.
Phase 2 – Fill in the gaps to get all of your bases covered.

Let's say that you've got a set of rings, a couple kettlebells, and some resistance bands. That's a great start and offers many possibilities. But what's missing? Well, some free weights would round out your collection very nicely and give you more training options. And a weight vest would complement your set of rings well. A pull-up bar and a set of parallel bars make great additions, too. So, whatever you are lacking from Phase 1 – get it here to give you a variety of tools with a broad set of benefits and uses.
Phase 3 – Add supplemental equipment based on your needs, goals, and interests.
Once you've got all of your bases covered, you may be all set. A few pieces of well-chosen equipment can provide a lifetime of service and tons of training options. But perhaps a set of parallel bars has always intrigued you. Or, maybe you'd like to invest in some plyometric equipment, or something that will help supplement your sport. There's always another knick-knack or doodad that may be helpful in addition to the equipment you have on hand. Whether it's a jump rope or an ab wheel, it may not be the most practical or versatile fitness tool, but it serves a unique purpose. Just make sure you save the novelty stuff for after you've got the basics covered. Said another way, don't buy a Shake Weight before the free weights.
5 Must-Have Items For Your Home Gym
(What To Invest In First)

Note: all of the following tools are both quite versatile and portable, making them an ideal choice for a home gym.
Some of my top picks for home fitness equipment are:
1) A suspension training system.
Suspension trainers are a superb tool for upper body calisthenics and core training. Hundreds of exercise options abound. You can use them for the basics like pull-ups, pushups, inverted rows, and dips. And you can use them for more advanced exercises like muscle ups, handstand pushups, and to assist with single leg squats. There are also many unique leg exercises and core exercises that can be done with a good suspension trainer, too. You can even do bicep curls and tricep extensions with them. A suspension training system is truly a total-body gym.
A set of gymnastics rings with easily adjustable straps would be my first choice. But the TRX system (or similar) would work just fine, too. And if you need to go the inexpensive route, a sturdy rope with a couple of loops tied at the ends would be sufficient.
2) A set of kettlebells or clubbells.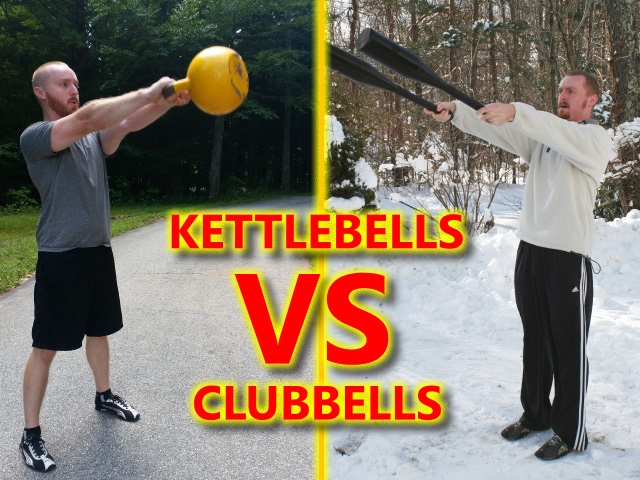 Kettlebells, and to a lesser extent, clubbells, are rapidly gaining in popularity. And it's because they're a superb tool for total body strength and conditioning. These tools are fun to use and fill a unique gap within fitness training that few other tools can. My preference is clubbells, but they're both excellent tools with unique benefits (Note: I've compared these two training tools here).
Which kettlebells do I recommend? Good question! My top two choices are the competition kettlebells from Kettlebells USA and Kettlebell Kings. Both companies offer excellent choices at great prices. But there are a lot of other good options out there, too. So, feel free to check out my complete kettlebell review, where I showcased 14 of the best kettlebell designs from 9 different brands: 14 Kettlebells Compared: The Complete Kettlebell Review.
Note: you can download my Kettlebell Buyer's Guide here.
Which clubbells do I recommend? The original CST clubbells are by-far my top choice, and you can click here to learn why: The Complete Clubbell Review.
Note: I also posted a follow-up review of the clubbell here: Clubbells (10 Years Later).
3) A heavy-duty weight vest.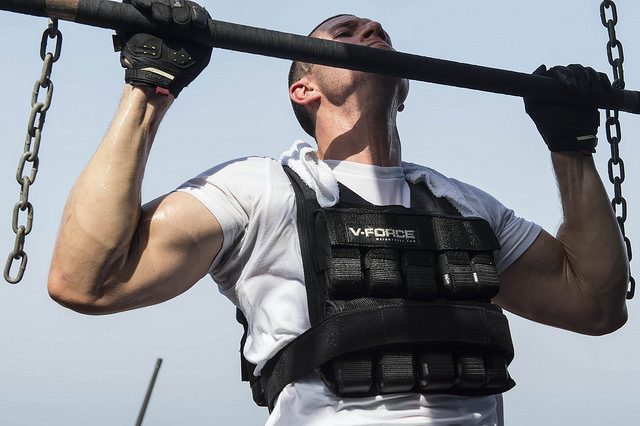 One of the best modalities for training at home is bodyweight exercise because it requires little or no equipment at all. And one of the best tools to complement bodyweight exercise is a good weight vest, and preferably one that will allow you to carry at least 25% of your bodyweight in added load.
If you want top-notch quality, and are willing to pay for it, get a Raptor Vest. For the budget-minded, this ZFO vest appears to be decent quality and a good value.
Note: a heavy-duty backpack/rucksack is another inexpensive substitute.
4) Resistance Bands.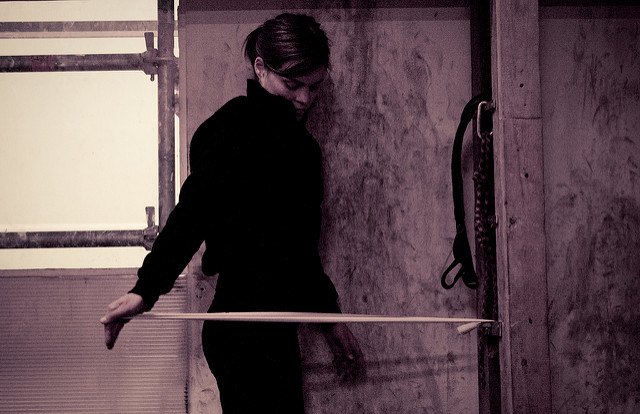 Resistance bands are a highly-underrated fitness tool. They're versatile, portable, and inexpensive. And with a little know-how, they can be used for a ton of exercises and training goals. Get 3-5 sizes to maximize your training options. I like the Superbands from PerformBetter.com, but any bands will do.
5) Free Weights.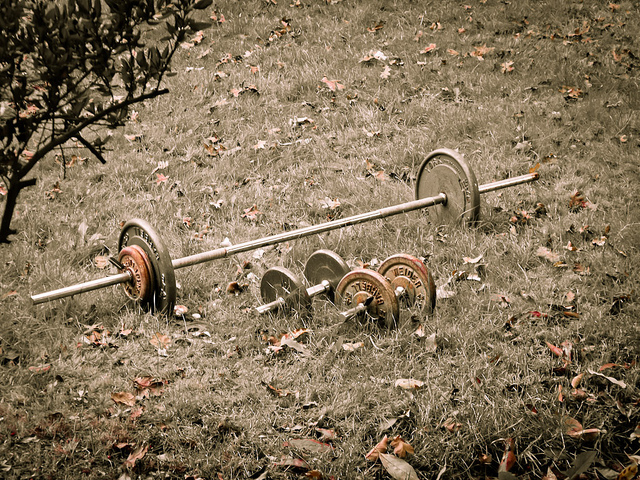 A barbell and/or a pair of adjustable dumbbells can go a long way. Add in a squat or power rack and an adjustable bench, and you've got a lot of options available to you. You can invest in a set of Powerblocks if you want the ultimate space saving option. Or, just find some used dumbbells at a yard sale (or Craigslist, etc.).
If you have the space, a quality Olympic barbell would also make a great investment. Get a squat rack or power rack if space and money allows (find a used one, if possible). Some models can not only be used for barbell training, but also as a pull-up and dip station, and as an anchor point for resistance bands or a suspension training system. If you can't get a power rack, then consider getting some heavy duty saw horses that will provide modest protection in case you miss a lift. Of course, a lifting platform and bumper plates would best.
Now, these items take up a little more space than the others on this list, and they aren't as versatile, but I still consider some free weights to be a must-have for a well-rounded home gym. There are things you can do with traditional free weights that you just can't do with any of the other equipment mentioned above.
Now that we've got the essentials out of the way, let's take a look at some "nice to have" fitness gear, too.
More Great Fitness Equipment For Your Home Gym
After you've made some key purchases, you can start considering some of the more specialized and/or novelty items. So, apart from the staples listed above, some other equipment worth considering if you have the funds and space would be (in no particular order):
Pull-up bar (click here for my top 3 choices)
Parallettes (or Lebert Equalizers)
Training sandbags (I prefer Ultimate Sandbags and Slam-N-Sandbags, but a homemade version does the job and will save you a lot of money).
Training sled (high-end models available at elitefts.com, or just get a strap/chain and load up a used truck tire with some weights)
Medicine balls (get 1-2 soft medicine balls and 1-2 hard rubber (i.e. bouncy) balls)
Exercise ball (here's a good, basic model)
Crush grippers (the Captains of Crush are the industry standard)
Jump rope (no need to get fancy here, this one will work just fine)
Ab wheel (a basic model like this one is all you'll ever need)
Plyo box or aerobics step (here's a good set, but no need to get fancy here)
Battle ropes (I've only ever used Slam-N-Ropes, and they've held up just fine)
Climbing rope (any hardware store)
Farmer walk bars (high-end models available at elitefts.com, and here's a budget-friendly model)
Cardio machines (e.g. treadmill, rower, bike, etc.)
Note: some of this equipment could absolutely be in the "must-have" list above depending on your goals.

Now, that's obviously a lot of gear – way more than most people would ever need. And there's a lot more where that came from. But there's no need to go all-out. So, keep in mind that you can go a long way with just a couple of well-chosen tools that you'll enjoy using.
One last recommendation: get comfortable flooring (or a quality gym mat for floor exercises). It's well-worth the money, in my opinion.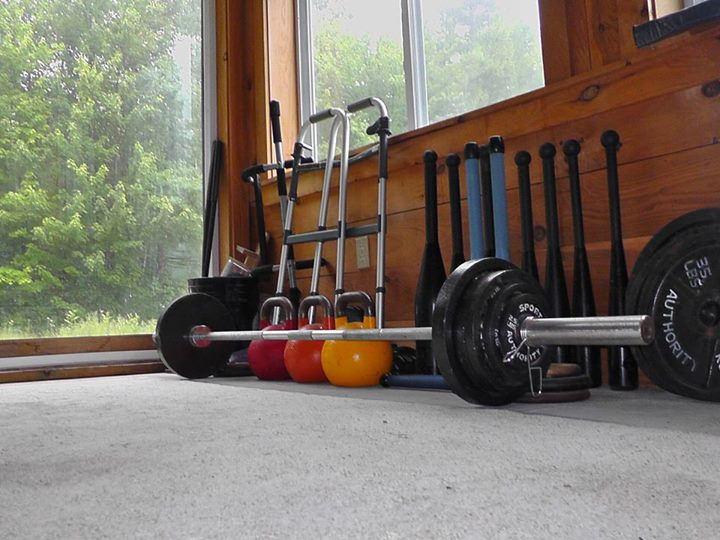 Examples Of Home Gyms (How I Would Spend Your Money)
If you have roughly $100 to spend: get your choice of a single kettlebell, clubbell, a weight vest, or a set of rings.
If you have roughly $300 to spend: get a single clubbell or kettlebell, a set of rings, and a weight vest.
If you have roughly $500 to spend: get a single kettlebell, a pair of clubbells, a set of rings, a weight vest, and some free weights.
If you have roughly $1000 to spend: get all of the above plus a set of resistance bands, a set of parallel bars, a heavier kettlebell, a heavier clubbell, and more weightlifting equipment.
If you have unlimited funds to spend: go ahead and build your own Coliseum!
No Money? No Problem.
Now, if you have little or no money to spend, you still have plenty of options available. You can do bodyweight training, yoga, joint mobility training, go walking, running, or hiking, do MovNat, or see what you can find laying around the house. There's no need to spend a fortune to train at home. And you could spend a lifetime training with little to no equipment at all. Where there's a will, there's a way. And a little education goes a long way!
Now, if you'd like to know what I use on a regular basis in my home gym, check out the video below for a little tour…
Home Gym Tour
Final Words
Take your time, do your research, and buy quality. Oh, and have fun!

Health-First Fitness Coach
P.S. If you liked this post, then please signup for the newsletter, or follow me on Facebook or Twitter for daily updates and other interesting info.
P.P.S. Photo credit: 1, 2, 3, 4.
P.P.S. Wondering where the best places to find all this stuff are?
Online stores (e.g. amazon.com, elitefts.com, performbetter.com, etc.)
Sporting goods stores (e.g. The Sports Authority, Dick's Sporting Goods, etc.)
Craigslist
Ebay
Yard sales
Gyms that are going out of business (more common than you'd think!)