Learn what I feed my dog to keep him growing healthy, happy, strong, and to keep him intelligent and alert. Traditional dog kibble is not as healthy as we once thought, and is a major contributor to the many health problems facing our animals today (just like industrialized food for people, too, eh?). If you want to feed your dog the best, then check out this quick and simple homemade dog food recipe that can be prepared in 30 minutes or less (for a week's supply of food), and doesn't cost much more than premium kibble.
Ronin is an 8 month old purebred Akita (long coat). Some of you have been requesting more footage of Ronin, so we threw some tricks in there too… We have a rule in our house: the dog needs to earn everything before he is rewarded, and that includes meals. Enjoy!
How to Help Your Dog be Healthy, Happy, Strong, and Alert Through a Nutritous Diet


We've noticed a huge difference in Ronin's behavior and energy levels when we feed him homemade dog food. His coat and eyes are shinier, and he has a certain "spring" in his step. His stools are also more consistent and more firm. He's also been more responsive during training. Plus, it's no trouble getting him to eat (he's not a very food motivated dog).
If you have the time, then homemade dog food is the way to go.
I won't list the recipe here because you really need to read the book to understand all the implications of the ingredients included. There are a lot of special circumstances that you have to consider before making a dog homemade food – again, just like with people. Each dog is unique, and leaving out certain nutrients can spell health problems down the road.
And, no, Ronin has never received table scraps or people food besides what we cook specifically for him. We consider begging the second most annoying habit a dog can have, and we don't want to encourage it (excessive barking is the first!).
Here's a link to Dr. Pitcairn's New Complete Guide to Natural Health for Dogs and Cats
To your health and success,

Fitness Professional
P.S. We also feed our dog Timberwolf kibble: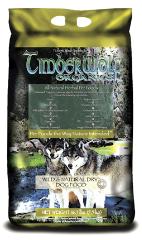 (Visited 198 times, 1 visits today)