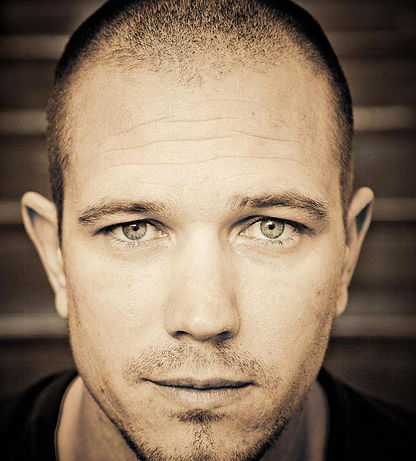 Mark Wildman is a one-of-a-kind fitness coach who does his own thing and gets his clients exceptional results using an unconventional, science-based approach to training.
Mark is also a 220 pound self-proclaimed "farm boy with no dance skills" who is terrified of heights, and yet, he specializes in aerial training, which isn't exactly known to attract big guys with no dance skills.
Hint: he's one of those guys who is proactive about facing his fears. You'd like him.
After I spoke with him for nearly 90 minutes yesterday afternoon, I can tell you Mark is a master of his trade who is definitely making a unique contribution to the world of fitness. You will learn a lot from him in this interview..
But first, watch this short documentary by one of Mark's clients, Erin Brown, to get to know him and his work…
About Wildman Athletica
"If somebody is swinging a machete at your head, you really should be mentally present." – Mark Wildman
So, as you can see, Mark is a pretty cool guy who specializes in a wide variety of disciplines.

His expertise includes Circular Strength Training (i.e. health-first fitness), TACFIT (i.e. tactical fitness), clubbell and kettlebell training (i.e. picking things up and putting them down…after swinging them around), civilian hand to hand combat and armored (i.e. full-contact) self defense training, sword fighting with machetes, firearms instruction, and aerial training. In other words, fitness, fighting, and making pretty shapes with one's body while hanging from silk.
And we talked at length about all of this stuff. So, if you're interested in any of those topics, you'll get a lot out of this interview just like I did.
Mark seems to align with the late Bruce Lee's advice, "Absorb what is useful. Reject what is useless. Add what is uniquely your own."
That's got Mark written all over it. He is most definitely NOT a blind follower of any one way of doing things. He is a pioneer who adapts and overcomes challenges using science-based strategies.
So, a couple weeks ago, Mark popped up in my Facebook feed after he was featured in Men's Fitness magazine for his work training actor, Chris Pine, whom most millennials now know as Captain James T. Kirk from Star Trek. Yes, Mark is a trainer to movie stars and professional athletes, along with circus performers, stuntmen, elite gymnasts, models, firefighters and other high-performing people.
Yes, he's a celebrity trainer, but you wouldn't know it from talking to him. He's actually one of the most humble and down-to-Earth people I've ever interviewed.
And as he told me during this interview, he trains his "elite" clients almost exactly the same way that he trains everyone else – maybe 1% differently. He didn't tell me what that 1% was, but he did cover the other 99% in great detail! And in this interview, we talk all about his unique approach to training.
So, if fitness is a way of life for you – or if you'd like it to be – listen in to this interview and learn from one of the "good guys" in fitness.
Interview with Mark Wildman
Interview with Mark Wildman – MP3 AUDIO FILE (80 minutes, 73 MB).

Interview Topics
Just look at this list of topics we covered:
Mark's background [0:55]
The story of how Mark got involved in fitness [2:10]
Why Mark started Wildman Athletica [5:10]
How Mark discovered Circular Strength Training and the impact it had on his training [8:20]
How Mark uses CST and TACFIT to get the best results for his clients [12:30]
Fitness lessons that Mark has learned from his background in martial arts [18:30]
The most important thing to know about martial arts training [24:13]
What to look for in a martial arts school [25:12]
Why you need to be multi-disciplinary when it comes to self defense training [27:20]
The 7 basic self defense techniques that all beginners should master [28:12]
Why and how to be your own master [29:58]
How aerial training is the perfect complement to martial art or CST [32:05]
The three categories of physical training [32:29]
Why better conditioning doesn't always translate to better performance [33:00]
Why Mark doesn't believe in training for fitness benefits and what he does instead [35:39]
How aerial complements parkour & the differences between aerial, Barstarzz-style calisthenics, and circus athletes [37:18]
How to cultivate mental and emotional preparedness [38:35]
How to train and prepare for unpredictable, chaotic, and dangerous situations [39:42]
How to get started with aerial training [45:15]
The biggest mistakes most fitness enthusiasts make (and why some of the strongest athletes get dominated by a little 10 pound clubbell) [47:25]
The story of Mark destroying his knee from a bad fall and the road he took to recover after doctors told him he'd never be active again [51:00]
The greatest rehab, prehab, and strength training tool [59:00]
Why Mark doesn't use barbells [59:55]
How mark prioritizes his training [1:01:47]
What Americans can learn from other cultures about fitness [1:02:15]
Does Mark train his celebrity clients any differently than his non-celebrity clients? [1:06:33]
The one thing Mark wished he knew about training when he was just getting started [1:09:53]
High-frequency training VS the minimum effective dose [1:13:04]
Decoding the process of mastery [1:15:08]
More Info On Topics Mentioned:
Wrap Up
I want to offer a big thanks to Mark for taking the time out of his schedule for this interview, and sharing so much, so willingly. I had a great time chatting with you, and I'd love to do it again sometime.
Mark told me that the best place to follow his work is on his Mark Wildman Instagram page.
Here are some highlights from his page…

And here's are some video highlights (CLICK TO PLAY)…

This is what's missing from most martial arts – full contact training.
Innovation: Here is a reverse mill with a clubbell on a balance/wobble board. I'm going to have to try this.
Strength, grace, and poise – no doubt, rooted in the basics.
Just another day at the office. Right, Mark?
If you enjoyed this interview, please share it with your friends and sign up for my free weekly fitness newsletter.
If you found this article helpful, please share it with your friends:

Health-First Fitness Coach
P.S. If you liked this post, then please signup for the newsletter, or follow me on Facebook or Twitter for daily updates and other interesting info.