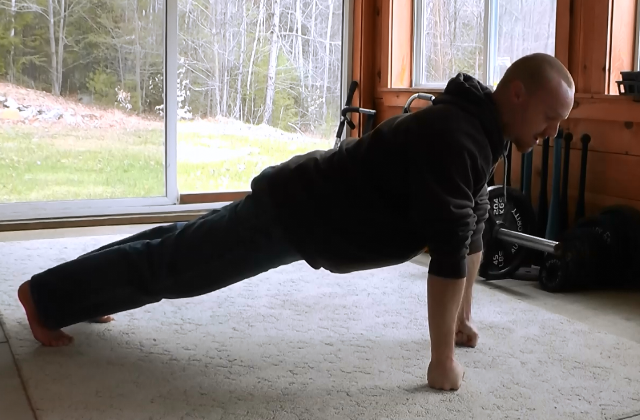 Are knuckle pushups really all they're cracked up to be, and are knuckle pushups actually tougher than regular pushups? Which is better? Is one better? I answer all of those questions in this video…
Knuckle pushups. They're the subject of many heated Internet discussions. And nobody invited me! Apparently, some people simply think that knuckle pushups are better than traditional pushups, and I don't know why. Maybe they have big egos and small…err…nevermind. Anyway, since one of you asked me a couple weeks ago, I thought you'd like to know that they're both great exercises – each with their own unique advantages – and I think it's silly to say that one is simply better than the other.
That said, there are some things you might want to know if you're considering the knuckle pushup. They do have their perks, and I have my reasons, which you can learn all about in the video below…
Summary of Key Points
Knuckle pushups are totally identical to regular pushups except for the hand configuration and placement.
All other pushup technique components are the same for both knuckle pushups and traditional pushups (click here for detailed instructions on pushup technique).
Clench the fists by curling the fingers and and wrapping the thumbs around the outside of the index/pointer and middle fingers.
Fists should be clenched firmly, but not a deathgrip – just enough to maintain solidarity and support the bodyweight.
Arms should be perpendicular to the ground (ie vertical), with each joint stacked on top of the next from the fists to the wrists, elbows, and shoulders (ie like a pillar).
The neutral-wrist position is particularly important during knuckle pushups and should be maintained throughout the full ROM.
You may get slightly deeper into the pushup range of motion when using knuckle pushups (with a greater stretch on pecs and anterior deltoids).
If performed regularly, knuckle pushups will toughen up not only the skin on your fingers/knuckles, but also strengthen the musculature, connective tissues, and even the bones of the forearms, wrists, hands, and fingers.
Knuckle pushups are a great alternative if traditional pushups aggravate your wrists
Knuckle pushups and traditional pushups are both great exercises, and if you can, I recommend using both of them in your strength training routine.
Final Words
So, there you have it. My two cents on this extremely important discussion topic. Thank goodness there is a rational voice in the world of pushup variations. What would you do without me? *gag*
But in all seriousness, let's get back to what's really important, folks: training. Speaking of which, I mentioned a few times in the video that knuckle pushups and traditional pushups are exactly the same exercise except for the hand configuration.
So, if you're the type of person who wants to optimize your pushup technique in order to maximize your results and minimize the risk of injury – whether you're doing regular pushups or knuckle pushups, then check out my extremely detailed tutorial on proper pushup technique here: How to do Pushups with Optimal Technique for Better Results and Less Injuries. You'll be that dweeb that knows everything there is to know about proper pushup technique, and it'll show every time you're reppin' out sets of 30, 50, or more…with excellent technique, I might add.
If you found this article helpful, please share it with your friends:

Health-First Fitness Coach
P.S. If you liked this post, then please signup for the newsletter, or follow me on Facebook or Twitter for daily updates and other interesting info.