Everything you need to know about the Lebert Equalizer Parallel Bars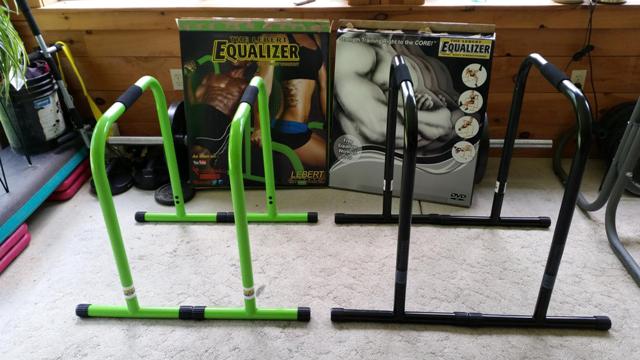 Note: This is a review of the Lebert Equalizer and Lebert Equalizer XL parallel bars, as pictured above. This is NOT a paid review. I asked Marc Lebert if I could have a set of his bars in exchange for a fair, and HONEST product review (i.e. And of course, I NEVER guarantee a positive review!). Marc happily agreed and actually sent me two sets of his product.

The Lebert Equalizer is a premium set of portable parallel bars that can be used for a variety of different exercises and training goals such as fitness training, strength and conditioning, and athletic performance enhancement. I've been using these parallel bars off and on for the past decade, and this past summer, I got two sets of my own to officially review.
The short version of the review: I really like the Lebert Equalizer. I think it's a great product that is well-worth the money and will serve you well if you do your part. For a set of portable and versatile parallel bars, you can't do much better than this for the price from what I've seen. That said, this doesn't necessarily mean that these p-bars are right for everyone, which is why I'm writing this review – to help you figure out if the Lebert Equalizer is right for you.
Here's a video of me training with the Lebert Equalizers this past summer to show you some of the exercises they can be used for.
Training with the Lebert Equalizer Parallel Bars


Lebert Equalizer Review
Before we get to my review, here's the official product description from the good folks at Lebert Fitness:
"The Lebert Equalizer™ is a simple, portable, yet multi-purpose and versatile piece of strength training equipment that works arms, chest, back and core muscles like no other can, using your own body weight as resistance.  Created by personal trainer and Taekwondo Black Belt, Marc Lebert, the Equalizer™ is now being used by athletes of all levels and ages, in bootcamps, group fitness, sports conditioning classes, martial arts clubs and home gyms everywhere." – Source.
The Lebert Equalizer is probably the most popular set of portable parallel bars out there, and for good reason. They are a compact, versatile training tool that can be used for a lot of different purposes (e.g. fat loss, muscle building, athletic conditioning, etc.). They are particularly useful for upper body strength training (e.g. dips, rows, hand balances, etc.), core training (e.g. knee and leg raises, l-sits, etc.), and certain agility exercises (e.g. jumps, shuffles, etc.).
From basic calisthenics to more advanced bodyweight training and gymnastics moves, these p-bars can be used for a lot. There are dozens of rudimentary exercises that can be performed with the Equalizers, and hundreds more if you use your imagination (note: there are many ideas on the Lebert Fitness Youtube Channel). You can use the Lebert Equalizer for straight sets, supersets, circuit sets, drop sets, pyramid training, grease-the-groove training, high intensity interval training (HIIT), high-density training, escalated-density training, combo training, hybrid training, flows, movement-skill training, endurance training, strength-endurance training, and much more. You see, the Lebert Equalizer is just a tool, and you get to decide how you'll use it based on your goals.
Now, before we get to the pros and cons, here's a video review where I cover the most important points about this product.
SHORT VERSION: Lebert Equalizer Review (Quick Summary)

LONG VERSION: In-depth Review of the Lebert Equalizer Parallel Bars

What you get when you buy a Lebert Equalizer set
When you buy a set of Lebert Equalizers (assuming you get them from Lebert Fitness. I can't say for 3rd party companies), you'll receive a pair of parallel bars, disassembled (assembly instructions and an allen wrench are also included – took me about 5 minutes to put each one together). It will also come with a poster that has a list of exercise photos and descriptions and a workout DVD that will teach you proper technique for some of the basic exercises. I didn't find these educational resources to be super-helpful, myself. But if you're a beginner, you'll have some ideas on how to get started from the get-go. And besides, there's a lot more information available online for free.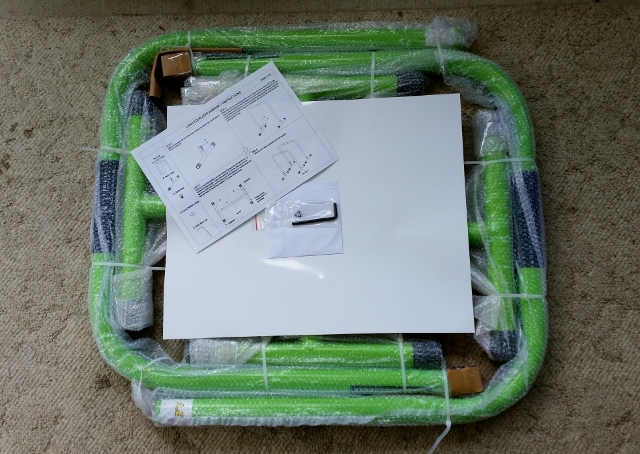 Lebert Equalizer PROS – What I Like About Them
1. They are a, simple versatile and effective training tool – You can do a ton of different exercises with the Lebert Equalizers – upper body, lower body, core, agility, and stretching. There are way more possibilities than I showed in my compilation video. And the exercises span in difficulty from beginner-level calisthenics to really advanced bodyweight exercises, too. So, you'll have a lot of options available to you regardless of your skill or fitness level. Plus, most of the exercises you'll be doing with them are really effective for common fitness goals like fat loss, muscle gain, and strength training, among others.
Question: can the Lebert Equalizer REALLY be used to train your legs? Yes, absolutely. The Equalizer is primarily an upper body strength training tool, but there are a lot of different squat and lunge variations among others that you can perform with them, too. Now, is it the best tool for training your legs? Absolutely not! Are there better tools for training your legs? Yes. But you can absolutely use the EQ to train your whole body – legs included.

2. High quality construction, outstanding grips, and just the right height – These things are built very well. I noticed that right out of the box. They're rugged, durable, and they will last a long time. If you take care of them, I suspect that they'll serve you well for a lifetime. They are also just the right height to maximize the number of exercises you can do with them. If they were much taller or shorter (e.g. parallettes), you wouldn't be able to perform as many exercises with them. I found the height of the XL model to be just right for me. They also have one of the best grips I've ever used on a set of p-bars. The bars are thick enough for a solid grip (not skinny and uncomfortable like some other bars I've used). And the foam pads are high density foam that will last a long time before showing any wear.
3. They are lightweight and portable – They can be stacked together and tucked away in the corner of a home gym or closet. Or, they can be easily transported elsewhere around your home or even in your car if you'd like to bring them to the gym or park.
4. Short learning curve and easy to adjust the difficulty level of the exercises – Most of the exercises you'll perform with the Lebert Equalizer are very easy to learn – even some of the more advanced ones. Plus, you can adjust most of the exercises slightly and "self-spot" yourself when a particular move is too easy or too hard to match it to your skill and conditioning level.
5. They are fun to use – This is why they're so popular in boot camp workouts around the world. They offer a unique challenge and a lot of variety that will keep you interested and stave off boredom.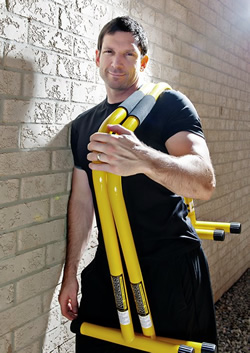 6. They have a really good reputation – These things have been around for a long time. They can be found in many gyms across the world and thousands of personal trainers and group fitness instructors use them in their programs. It also has hundreds of reviews on Amazon.com with a rating of 4.4 out of 5 stars, and the only real concerns I saw in the reviews were tippiness (see CONS section below for more info) and not being tall enough for some people, which is why I recommend the XL model because it's three inches taller (see below for dimensions). Otherwise, most of the comments were very positive, which is reflected in the high rating.
7. Great company, fast shipping, and a good warranty – All of my dealings with Marc and his team at Lebert Fitness have been very positive. Marc is also a great guy who walks the talk. His team has been very kind, professional, and timely, and they've offered great customer service so far. The Equalizers were packaged well and shipped fast. And they offer a 1 year warranty.
8. Reasonable price and outstanding value – I mentioned in my video review that the price was a downside, and I would have said the same thing here until I looked up some other parallel bars for sale online. And let me tell you, these things are a bargain compared to the other ones I found. In fact, most of the parallel bars I found on Amazon.com were in the $175-600 range (and parallettes were mostly in the $50-100 range). Since the Lebert Equalizer is a premium set of parallel bars that's priced around $100, they're a steal for how much value they provide.
Click Here to Save $20 When You Order the Lebert Equalizer from the Official Website*
Lebert Equalizer CONS
1. They can be tippy if you don't use them correctly – I had zero issues with the Equalizers tipping while I was training on flat, level surfaces. However, I did notice a tendency for them to tip slightly while I was training on the bumpy ground in my backyard. This can be mitigated by attaching the two Equalizers together at the support bars (i.e. the bars at the base) with either a pipe or dowel rod. Or, I suppose you could lay some heavy objects over the supports (e.g. sandbags).
Of course, the best way to avoid this issue would be to always perform exercises with good technique (i.e. smoothly and under control), which will avoid 99% of all problems. Needless to say, this might not be the best tool if you're planning on doing clapping handstand pushups on bumpy terrain. But for those of us who aren't planning on doing highly advanced circus moves, we'll be just fine. And I should reiterate that this wasn't a major issue for me at all. They're just not as stable as some other p-bars I've used at gyms and playgrounds, for obvious reasons!
2. More expensive than a homemade DIY version – If you are the do-it-yourself type, you could certainly save yourself a little money by building your own set of parallel bars. There are many plans available online using PVC pipes and other supplies you can get at your local hardware store. For me, I'd rather invest in a quality tool that I know will last and won't fail on me. The last thing I want to be worrying about when I'm upside down, repping out, or loaded up with a weight vest is that my equipment might malfunction. Plus, I know that the Lebert Equalizer will last a lot longer than any set built with PVC pipes or similar. This is one case where I ascribe to the idea of "buy once, cry once." But if you want to save a little bit of money, all the power to you. I hope it works out!
Lebert Equalizer Benefits: what kind of results can you expect to receive from using them?
Since the Lebert Equalizer is primarily a fitness training and strength and conditioning tool, you can expect to receive the following benefits from using it:
Fat Loss
Lean muscle gain all throughout your upper body
Improved upper body and core strength
Improved grip strength
More endurance, power, agility, and other conditioning attributes
Athletic performance enhancement
In other words, you'll be looking better, feeling better, and performing better. Those are the main benefits. Obviously, all of the other benefits of exercise will also come along with regular use of the Equalizers: more energy, stronger bones, improved heart health, better cardio-respiratory function, and a stronger metabolism, among others. But you probably don't care about those things, right?
John's Overall Product Rating
After considering all of the PROS and CONS, and given the outstanding quality, professionalism, and value of this product, I'd give the Lebert Equalizer 5 out of 5 stars.

The Lebert Equalizer VS Other Similar Tools
So, now you know why I really like the Lebert Equalizer. Let me share with you some specific reasons why I like it more than some other parallel bars…
Parallettes – I really like parallettes, and I think they're a great tool for certain exercises, especially hand balances. Being lower to the ground certainly has some advantages, but the height does greatly narrow the exercise selection. You'll be able to do a lot more exercises with the Lebert Equalizers simply because they are taller.
Gymnastics-style parallel bars – These are another great tool, but they tend to be heavy, bulky, or fixed in place. So, they aren't as compact or portable as the Lebert Equalizer is, and thus, you can't take them with you anywhere. They also tend to be much more expensive – generally falling in the hundreds of dollars range.
Homemade (i.e. DIY) versions – As I said before, I'm all for saving money and doing things yourself. However, for me, a homemade tool is too risky to the user and their surroundings. If the equipment fails, there's a greater chance of injury in the form of a torn, strained, or pulled muscle, or worse. I'd rather invest in a quality product that I can use confidently, especially when I'm hanging upside down.
With the Lebert Equalizer, you get a compact, versatile, safe and high-value tool that will last and won't break the bank. That's why I recommend you invest in an authentic Lebert Equalizer.
Who is the Lebert Equalizer best-suited for?
I think that there are two types of people who would really love the Lebert Equalizer.
If you are a fitness enthusiast who trains at home and you like high quality equipment that will last (i.e. durable), won't take up much space (i.e. compact), and will offer you a lot of different training options (i.e. versatile), then you'll probably love the Lebert Equalizer. These bars fit right in with my kettlebells, clubbells, resistance bands, and barbells, among other tools.
If you're a fitness professional, and/or you own a gym or training studio, and want to offer something unique, fun, and challenging for your clients to keep them engaged and motivated, you'll probably love the Lebert Equalizer, too.
So, if that's you and you're looking for a high quality set of portable parallel bars, I highly recommend investing in a set of Lebert Equalizers.
Which Model Should I Choose?
There are basically two models available, the original model and the taller XL model, and each one comes in different colors.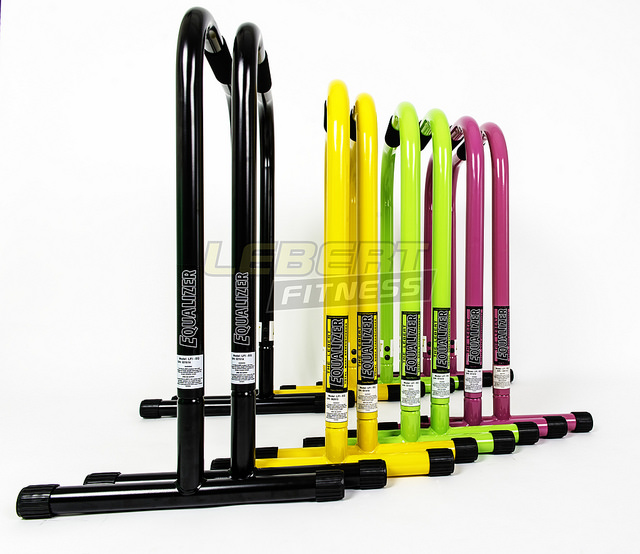 Here are the Lebert Equalizer Dimensions:
a) Original model (i.e. in yellow, lime green, pink) – Each bar weighs about 8 pounds and is roughly 28″ high x 25″ long x 16″ wide (i.e. the two support bars) with a 400 pound weight capacity.
b) XL model (i.e. in black, chrome) – Each bar weighs about 8 pounds and is roughly 31″ tall x 25″ long x 18″ wide (i.e. the two support bars) with a 400 pound weight capacity.
Most people will probably want the XL model, myself included, because it's three inches taller – making it a better option for all but the vertically challenged. With the XL model, you'll be able to descend a little deeper into your parallel bar dips, and get lower in your bodyweight rows, among other things. Plus, there is a slightly wider support base (i.e. the feet are 2″ wider), making them a little bit more stable than the original models. So, I think that most people will be better-served by one of the XL models.
The Bottom Line
The bottom line is that this is a great tool at a great price. And I think that if you invest in them – and use them – you won't regret spending the money at all. They will serve you well. Check out the link below for more information about the Lebert Equalizer.
*Marc Lebert gave me a $20 Off coupon code to offer you guys! Just enter "LFI20" when you check out.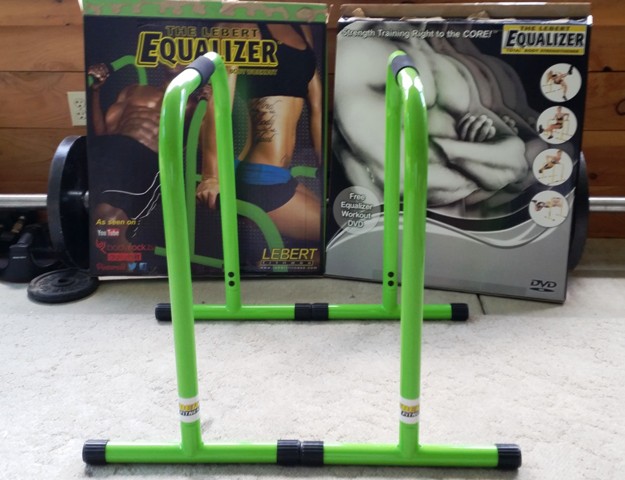 Before I wrap things up, I'd like to extend a big thank you to Marc Lebert and his team at Lebert Fitness. I really appreciate the opportunity to review your equipment, along with your enthusiasm, professionalism, and helpfulness throughout the process. I admire a company that stands behind it's product, and I hope this review does your Equalizer justice! Thank you.
If you found this article helpful, please share it with your friends:

Health-First Fitness Coach
P.S. If you liked this post, then please signup for the newsletter, or follow me on Facebook or Twitter for daily updates and other interesting info.
Learn how to use your new Parallel Bars from the best: If you decide to invest in a set of Lebert Equalizers, and you want to learn how to use them safely and effectively, check out the Parallettes 1 and Parallettes 2 programs from GMB Fitness. They are both outstanding training programs for the parallel bars!

Note: This Lebert Equalizer review reflects product research and testing done during the dates of June 2015 to September 2015. The author also occasionally used the product throughout the decade prior.