Last weekend, somebody thought it would be a good idea to randomly climb the largest mountain in the Northeast United States, home of some of the worlds harshest weather conditions, all on a whim. The idea didn't even come up until the night before (July 4th party), about eight hours prior to our departure. I'm all for spontaneity!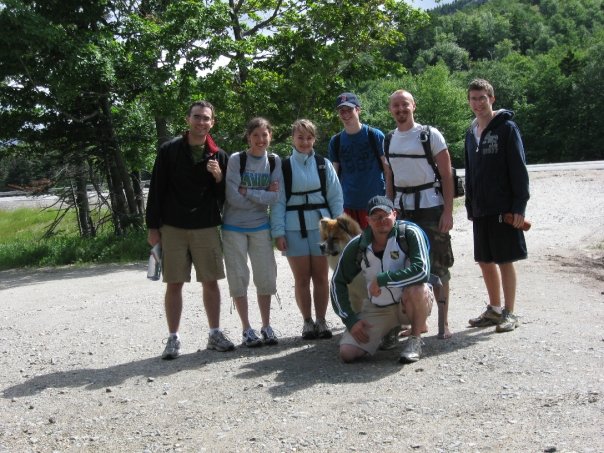 Mt. Washington (6288′), and the entire Presidential Range of the White Mountains, are known not only for some of the worlds harshest weather conditions (Mt. Washington holds the world record for highest wind speed ever recorded on Earth at 231 mph), but for rapid changes in weather, and we experienced a taste of that on our trip. Most of our trip was covered in dense fog, visibility at about 25 feet. But there were a few moments when the clouds cleared up, and we got a majestic view of the surrounding lands and the deep blue sky.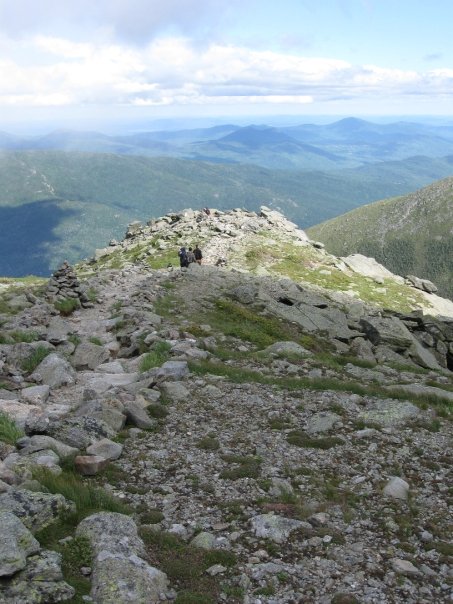 The wind was heavy, between 40-75 mph that day, and the temperature on top was about 40 F, with a wind chill much lower.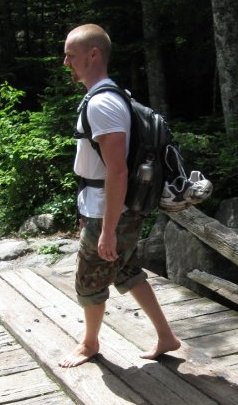 There were 7 of us climbing (8 with the dog), and we all enjoyed the trip immensely. We saw waterfalls, a beautiful river, and more rocks than I'd like to remember. Best of all, I got to do the entire ascent barefoot (I wore shoes on the way back down). Obviously, this drew a LOT of attention. I get enough attention from going barefoot just walking my dog in my neighborhood, and climbing Mt. Washington without shoes turned more than a few heads. I probably received between 20-30 comments about going barefoot, and a few people were really interested in why I was doing it. One of the forest rangers asked me about it and told me that he knows some people that have done the ENTIRE Appalachian mountain trail barefoot – crazy!!! Someone even called me their hero. The novelty went away pretty quickly, but I'm glad to have challenged some people's perceptions about physical living.
The other highlight of the day was that this was our pup's first mountain hike. Ronin is 11 months old now and about done growing up, so his body is ready for more strenuous work. With only one moment of hesitation all day, Ronin climbed every section of that mountain, with some human help in the difficult areas. Actually, I think he climbed the whole mountain twice with all the running back and forth to check on us throughout the day. He did very well, and made his momma and dad proud :)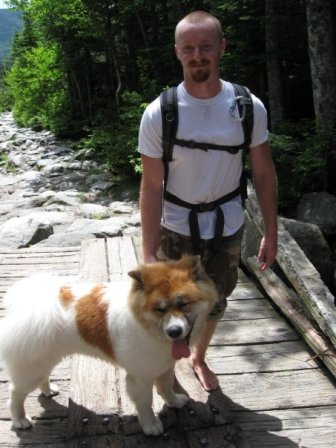 Ronin ate about double his normal food intake that day – most of it on the peak of the mountain. I've never seen him eat so much or so fast (he's a picky eater!) Some of his claws did start bleeding on the way down, we had just trimmed them, and it seems he filed them down a little too far on the rocky terrain. He didn't complain a bit though. After climbing back into the car, he was out like a light for the 3 hour car ride home – during which we saw a beautiful moose buck.
As it turns out, our trip could have been quite different because the SAME exact day we climbed, a body was discovered on the SAME trail we hiked, at around the SAME time we were hiking at that spot. There was a notice at the bottom of the mountain with a picture of a Canadian man who had gone missing on his day hike last month. Anyways, this body was found very close to where we were hiking. We took the Tuckerman Ravine trail up until it branches off to the Lion's Head trail. We used the same route on the way back down. This is exactly where the body was found – we walked right by it (local news article here).
The body was found somewhere around here, in the very rocky terrain of the Lions Head Trail…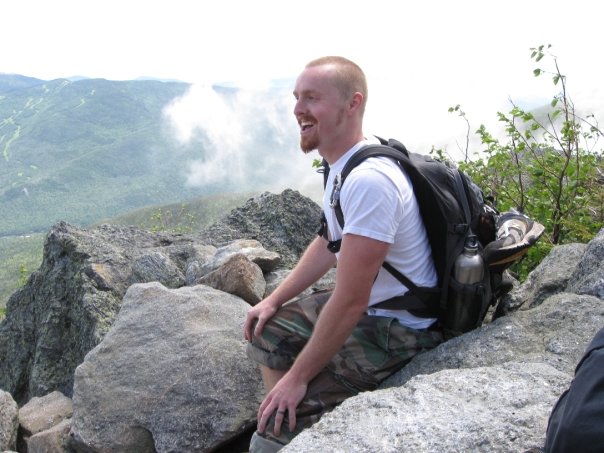 It's ironic because this was one of the least fatiguing trips I've ever taken. It's ironic because this was Mt. Washington – one of the most difficult climbs within driving distance. I'm not exactly sure why this is, but here are my hypotheses:
1) I'm in fairly good condition for hiking this summer since I've been taking more walks lately (first summer having a dog to walk with).
2) I decided before leaving that I wouldn't rush the climb, I wanted to enjoy every step, even if that meant lagging behind a bit. I wanted to slow life down for a day, to forget about timing and schedules, and just experience the mountain for a day. I've done too many hikes where it felt like a race to the top, and these are always the ones where I'm exhausted every step of the way. I think the purposeful peacefulness of this hike is what really contributed to my energy levels and enthusiasm.
3) The other possibility is something along the lines of barefoot magic. Taking off your shoes DEFINITELY changes the way you walk, but does it also contribute to better movement efficiency and energy allocation? I'm fairly certain it does. I found that I wasn't just using my legs and feet to walk. I was using my entire body to walk, if that makes any sense. It was a completely different gait. "Walk 'with' the mountain, until you walk 'as' the mountain." comes to mind.
No doubt, it was a combination of the three main reasons above that I enjoyed the walk so much, barely noticing any fatigue.
At the top, everyone was smiles. Ronin received a lot of compliments, and I had a picture taken with some Japanese tourists who liked Ronin and my bare feet :)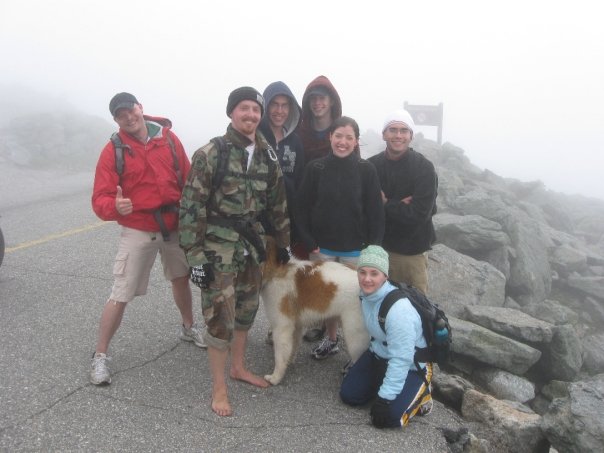 It was a great trip, enjoyed by all!
Update: Check out my 2nd Mt. Washington hike here: Climbing Mount Washington – Barefoot & Fasted.
To your health and success,

Fitness Professional
P.S. If anyone's in New England and is up for a day/weekend hike, hit me up!