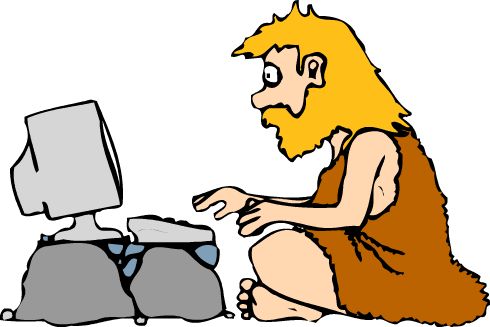 I'm sure you've heard of primal fitness lately. Fitness guru's all over the blog-o-sphere have been talking about it, and it's picking up quite a bit of attention. All over the web, you'll find pictures and videos of people training in nature, climbing trees, doing interval sprints, and lifting stones and logs. But is primal fitness all that it's cracked up to be? Is this just an emerging trend that will die away in a few years, or is it the start of a revolution that will forever change the fitness industry? Are there any flaws in the philosophy or actual practice of primal fitness? What are the primal fitness guru's NOT telling you?
I've never completely subscribed to the primal fitness philosophy, and I think I've got a few good reasons why.
What is Primal Fitness?
Although there is no single, accepted definition of primal fitness, those that teach about it tend to hold some of the same beliefs. Primal fitness is the idea of exercising as our ancestors did. It's a mimicry of the hunter/gatherer lifestyle, which many people still live today. Now, I doubt our hunter/gatherer ancestors had time specifically for exercise (exercise is a modern innovation based on new cultural needs). However, there is no doubt that people who live primitively lead a much more active lifestyle than we do today. Daily physical activity would be a way of life, probably for almost everyone in the community.
So, primal fitness is a modern solution for exercise based on the physical activity of the hunter/gatherer lifestyle. The problem when defining primal fitness is that everyone has a different interpretation of how hunter/gatherers lived. And on top of that, everyone has a different interpretation about how to train based on how hunter/gatherers lived.
So, it makes primal fitness a pretty broad and vague subject to discuss. On one hand, you have someone that is doing primal fitness out in nature – lifting stones and logs, climbing trees, trail running, etc. And on the other hand, you have someone that is doing primal fitness in the gym, with their mp3 player, on the treadmill, and with barbells. There's quite an array of interpretations based on the various beliefs held about primal fitness.
Primal Fitness Pro's
Primal fitness is a cultural movement that is encouraging trainees to take their training outdoors, which has a ton of health benefits. Plus, it gives us an opportunity to explore our environment, and get outside our comfort zones. I think going outdoors is one of the single greatest changes any trainee can make in their program, and I'm all for anything that encourages this.
Primal fitness is generally movement-based, instead of "muscle-based," meaning it is more functional than popular bodybuilding-style programs. In this regard, I think it's a step in the right direction, even if it's not optimal yet.
Primal fitness training is new and fun. Not only is it a different, and thus, a fresh training style, it's also fun to imagine running away from a tiger or climbing safely away from a wild dog (or is it? – I think most people would be terrified!).
Primal Fitness Con's
The biggest disadvantage about primal fitness is that it is still largely open to interpretation. As I alluded to above, there is no standard definition of what primal fitness actually is. Guru's tend to make up workouts based around what they think a hunter/gatherer might have done – but it's all theory. Sure, a caveman may have needed to sprint as fast as possible to avoid becoming catfood, but did this really happen 3 times a week for 30-60 second intervals lasting 20 minutes? It's speculative theory, meaning that the end-result workouts don't necessarily reflect what true primal fitness really entailed.
We really cannot know if the average primal man experienced chronic pains or injuries, and we don't really know the functional capacities or true functional movement patterns. We don't even know how long they lived or how stressful their lifestyles were, which leads me to my next point.
The fitness of the primal man is somewhat glorified, and presented as the pinnacle of what we should strive for in health and function. When in reality, hunter/gatherers may be in much better shape than your average American, but that doesn't mean they were/are in excellent condition by any stretch. The guru's like to proclaim that the cavemen were able to outrun cheetahs, outclimb monkeys, and outswim dolphins. Well, maybe that's an exaggeration, but seriously – I keep reading about how the primal man would easily climb to the tops of trees, could run for miles and miles, and be able to lift humongous logs and stones (due to the HYUUUGE guns, no doubt).
Primal fitness is put on a pedestal, like a holy state of vitality that is virtually non-existent anymore. These romantic notions just don't match reality. We have the most advanced training tools and systems ever, and it's foolish to think that we have to revert back to primitive training disciplines while ignoring modern innovation. Even though human bodies are incredible adapting machines, the basic physiology hasn't changed in the last several thousand years. The body is still the same, with the same potential today as  it was back then. If anything, we're better equipped and prepared to push the limit of physical potential today because of the knowledge we've acquired throughout the generations.
So, my main point is that primal fitness rests on a shaky foundation at best.
Training in nature, without modern technology, doesn't mean you're exempt from the laws of conditioning.
The law of outcome states that whatever we do produces an outcome (everything we do, even inaction, is an act of conditioning). So, if we use an inefficient or poor movement technique, a negative outcome will always occur. If we continue to do this over a period of time, the body will change in a self-regulating attempt to produce homeostasis, meaning an even worse negative outcome. If a certain behavior is continually repeated, the principle of progression tells us that those activities will become more easily repeatable in the future – even if we don't desire that specific conditioning.
Also, the human body cannot differentiate between different forms of resistance. It doesn't know if you're throwing a rock, a kettebell, or swinging a clubbell – it only knows resistance, not where that resistance comes from. It's up to us to create a safe and sustainable training environment that allows for proper adaptation, without conditioning ourselves into injury.
I can't tell you how many times I've seen a youtube video demonstrating a "primal workout" that is chock-full of horrible training practices. Just because you're lifting a giant log instead of a barbell, doesn't mean you have an excuse to use poor technique. I've seen some AWFUL movement techniques demonstrated by highly regarded coaches, in the name of primal fitness. If you can't use proper technique when sprinting, jumping, or lifting, then you shouldn't be doing that in your training. Training is meant to improve your health and fitness, not increase your chances of injury or worse. If you can't train safely, you need to drop down a skill or difficulty level because everything is an act of conditioning and you don't want to condition an improper and unsafe movement pattern.
Without coaching, it's difficult to sustain a primal fitness plan safely and effectively long-term. I began to understand this first-hand at the recent MovNat training seminar I attended. People don't necessarily move well naturally unless they have been coached to do so – even if the movements are labeled as natural (like walking, which is a perfectly natural human activity). Our bodies are wired to find the most effective method to accomplish a physical task, even if it isn't an efficient expression of that movement. This is great from a survival standpoint, when we may need to do anything it takes to accomplish a physical task quickly. For lifelong training, however, this isn't ideal because a "natural movement" can be naturally good technique, or naturally bad technique. Over time, poor technique will lead to inevitable problems.
This is getting back to the first disadvantage of primal fitness, that there is no foundation for the training discipline to rest on. There is still no such thing as a "primal fitness coach" who has stood the test of time to prove that their methods are safe, effective, and sustainable long-term.
Final Thoughts
When it comes to using primal fitness "as is," I think the con's far outweigh the pro's. Nevertheless, I think it's important to draw on those things that are useful and beneficial for us. I think some aspects of a fitness program can and should be primal (like training outdoors, for instance), but the entire program shouldn't be based on a primal man living in a modern world. It's just not practical. We aren't living in caves or out in the bush, and our needs are drastically different from those who are. Our nature hasn't changed, just some tangibles like our environment, technology, food availability, etc.
In conclusion, my advice is to be careful who you listen to when it comes to primal fitness training (even me). It's a gray area, and everyone has their own differing opinions about it. Use what you already know to be true about training – there is so much excellent knowledge available, and we don't need another romantic idea skewing our perception of reality. Movement is movement, and it doesn't change anything when it's labeled "primal."
I think what most people are looking for is to be stronger and healthier, and able to perform most physical tasks pretty well (like lifting, carrying, running, etc.). If you're interested in a training method that incorporates the primal nature into its practice, but still addresses our modern needs in a comprehensive fashion, I highly recommend checking out MovNat for some "True Nature" training.
Review of a 5-Day MovNat Training Seminar
And no offense to my many enthusiastic primal friends. I still love many things about the primal way of life – especially on the nutrition side of things. I just think the training department leaves much to be desired.
To your health and success,

CST, CST-KS, NSCA-CPT
Fitness Professional and MovNat Alumni