Sorry for the poor picture quality. I'm standing 7th from the left.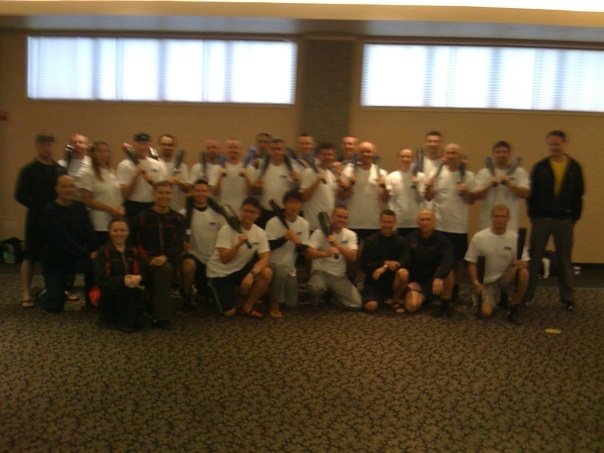 Last Thursday, I flew out of NH across to the Pacific Northwest for my first Circular Strength Training Instructor Certification Seminar. From Friday morning until Sunday night, I spent the days being coached, trained, and working hard (both physically and mentally). Coach Sonnon said that all of us would be changed by the end of the weekend, and I can confirm that he was right. I am changed, but not in the way I had expected.

I arrived in Bellingham having studied most of the CST product line, and had prepared for the Intu-Flow joint mobility, FlowFit, and Clubbell Trial by Fire exams on and off for the past three years. I think I was about as prepared as I could have been without having received any personal instruction, which in hindsight would have helped a lot. The seminar was literally the next necessary step in my own personal development. I felt stuck until I could get the full CST experience in person.
WHAT DID I LIKE ABOUT THE SEMINAR?
The seminar itself was well-structured with a good balance of work to rest. We did a lot of work over three days, and it was evenly spread throughout the weekend to allow for fatigue management and recovery. It's obvious the CST Faculty and Coaches have figured out the secret formula for getting near-maximum physical output without destroying people over 3 days. Although, I'm sure they would say the fine-tuning is still a work in progress.
There was also a very good balance of education and practice.
We spent day one mostly learning a new vocabulary of human movement, with regular work that focused mainly on joint mobility, both standing and floor exercises. Everyone had their kinks in movement. For instance, I couldn't seem to isolate any lateral movement of my upper spine when on my hands and knees. In CST-speak, that's a "closed chain thoracic sway." This new vocabulary is of paramount importance to fully understand CST, and we spent many hours studying it.
By the end of the weekend, I had a few notes about what I specifically need to focus on in the next several months of my personal practice – and that right there is one of the major benefits of attending a CST seminar. If you don't find your weaknesses, the coaches will. Having an extra set of eyes (or several eyes) on your technique is one of the fastest ways to progress rapidly in new or learned skills, especially when those coaches are some of the best.
When you get accustomed to your daily personal practice, it's easy to gloss over little hitches in your movement. It's tempting to think, "I've done this before, so I know what I'm doing." When you have a coach present, they will show you the subtleties in your movement that you couldn't feel on your own. The lesson here is that we must treat each session as if it were our first, because in reality, it is the first. A constant refinement of the basics should be our approach to movement mastery.
I think another major benefit of the CST seminar is that we experienced first-hand as a group the "hard" side of CST. Anyone who has practiced CST diligently and with effort will be the first to admit that it can be brutally challenging if you make it so. Of course, there's some irrational idea out there that CST is a "softer" training system and that it doesn't really require hard work. I've received the questions before, too.
"all that joint mobility stuff is great, but do you ever go HEAVY?"
"I agree that yoga is useful, but it looks a little fluffy to me…"
If you want to know how hard CST can be, go to a seminar and find out. They will work you hard. It's not extreme by any means, but you will be tired, sore, and dreaming of a long rest break. It wasn't unusual to see some people hobbling around by the end of the day, limping with zombie-like grace while trying to maintain their reputation and CST-approved posture.
In the same breath, even though it was hard work all weekend, the work was fun. For many, it was obvious that it felt more like play than gut-wrenching agony, and the coaches have a knack for keeping the event lighthearted – especially the wise cracks between Scott Sonnon (grappler) and Joseph Wilson (stand-up fighter) whose life goals revolve around demeaning the others chosen sport.
There was a big team atmosphere, a unity among strangers that is unlike any other conference or event I've attended. We all had something in common – we're all CST followers, and that united us in a common bond. It was no trouble getting comfortable with the group. Everyone was positive, helpful, and open to instruction and correction.
Another major benefit is that they not only sent us away with homework, they sent us away with coherent programs that can be applied to our own training and that of our clients. As I said earlier, I had practiced the various elements of CST for about three years, and the seminar brought all of those elements into a holistic method that can be repurposed for specific goals. Days 2 and 3 were spent doing the FlowFit and Clubbell Trial by Fire exams, along with working through individual training programs.
More important than having excellent training program templates to bring home, we also received a working knowledge of how to craft our own programs in the future. Having just received a full frontal assault of CST, I realize that I will need to deepen my own practice before I'm comfortable designing CST programs that involve good poise analysis and compensatory movements. But I have all the tools necessary to do that now, and I know that with practice, the skills will improve over the next several months.
WHAT DID I DISLIKE ABOUT THE SEMINAR?
Most of my dislikes could actually be reworded to answer "how could the CST seminar be improved?"
Firstly, I think it's mandatory for any weekend seminar to have a syllabus – no matter how much you could stray from the schedule. Just knowing what to expect and when can help with your preparation. I would definitely recommend this for future CST seminars.
Going into the event, I thought I had a thorough understanding of the materials needed to benefit completely from the three days of instruction. I did not. While I was physically prepared for the event, I wasn't necessarily ready for all of the educational aspects. Maybe I'm just slow, but learning a whole new vocabulary isn't something I can do overnight. It would have been nice to have a thorough introduction to the CST movement jargon prior to arriving. Looking back, CST-speak is interwoven into all of their instructional materials, products, online information, etc. It's just hard to absorb it from so many different sources. Having a seminar-prep handbook for this would be a big bonus.
Another area where I felt under prepared was that of learning Compensatory Movement (CM). While I understood it perfectly well in theory, putting it into practice was another story. Prescribing proper CM is both art and science, and I don't think we were expected to "get it" completely by the end of the seminar. It's something that we'll come to understand more and more in the future. Again, it would have been nice to have a systematized introduction to CM, including specific examples, prior to arriving.
The only other "dislike" for the seminar were the hundreds of consecutive repetitions of double clubbell leaping rock-its (forward, backward, lateral). Although I didn't enjoy the pain, the work brought our group together, having suffered as a team. It was textbook team building, and in the end I'm glad we groaned together – it was good suffering that left many jello-legged and many-a-thighs sore. I didn't like it at the time though…
Other tid-bits of interest:
-A bed has rarely felt so nice.
-Don't "switch sides" while performing a demo example for Coach Scott Sonnon.
-Coach Joseph Wilson is hilarious (and very talented, too!).
-Coach Ryan Murdock has freakishly strong wrists.
-Coach Mike Locke will tell you what you don't want to hear ("lock your elbows, John!")
-Coach Camron Wilson is an excellent yoga teacher and has cool shoes.
-I've finally confirmed that Coach Adam Steer isn't human. ;)
-Don't accidentally pack a folding knife in your carry-on when hurrying to drop weight in your checked bags (I lost a great knife!)
Kettlebell Seminar Mini-Review
The CST-KS is a younger certification event, and much smaller-scale than the CST-IC seminar. We had a much smaller group, and worked directly with Scott Sonnon who was assisted by Adam Steer. We went over the fundamental lifts in order of how they could be presented to a fitness client. We covered the swing, rack position, cleans, presses, jerks, half-snatches, and snatches along with some less conventional kettlebell training techniques. Scott presented them incrementally and with appropriate notes about whom each exercise is best for as well as how to modify them for given needs.
I have very little experience with kettlebells, and have never received professional instruction prior to this 3-hour workshop. Right at the beginning of the workshop, Scott told us to forget everything we've been taught about kettlebells and just focus on the movements we would be taught that evening. Due to this, I think I was at a relative advantage having nearly zero experience with KB's.
My foundation in CST definitely had a profound impact on how quickly I was able to absorb the basic techniques. Of course, there is definitely major room for improvement in my performance, but I was very happy with my technique by the end of the training. Even after only three hours, I think we all had a solid foundation for basic kettlebell lifting, and I would recommend this workshop to anyone who has an interest in kettlebells.
Conclusion
Overall, it gets 9 out of 10 points for a hands-on training seminar. I would absolutely do it again, and I think the second time through would be much more enlightening than the first. The number one thing I took home from this event is that I have so much to learn, so much to explore, and so much to improve upon. If you're thinking about attending a CST Instructor Certification, do your best to prepare as much in advance as possible. I also HIGHLY recommend meeting with an instructor or coach to get some feedback on your preparation as soon as possible.
Thank you Scott, Joe, Camron, Ryan, Adam, Mike, Jeanne, and Nikolay for all of the positive energy and support during the weekend. It was an honor to learn from one of the best coaching teams in the world. I also wanted to offer a big thanks to my roommates Steve and Dean for being totally awesome! And of course, to everyone else in the Pi Cadre who made this weekend truly remarkable and memorable.
To your health and success,

Fitness Professional and CST Athlete
P.S. For more information about upcoming CST Instructor Certification Seminars, visit the official page here:
http://www.rmaxi.com/om/cst-cert.php
P.P.S. If you just want to get started with CST, then I recommend the Intu-Flow Complete Package as the foundation for all of your CST training: