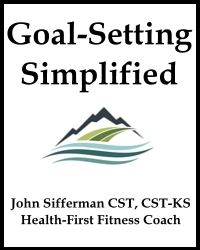 Thank you for subscribing to the Physical Living Newsletter. I'd like to offer you a free gift as a quick thank you for subscribing.
Below you'll find a link to download a special report in PDF format called:
Goal-Setting Simplified: How to Set Clear and Compelling Goals That Will Drive You Towards Your Desires Through Diligent and Consistent Action
Having been a fitness coach since 2006, I've had to teach goal-setting to many of my personal training clients, and I've found this skill is integral to success. Once you learn to set appropriate goals, you provide yourself with direction for taking action. It's the first step of any successful endeavor – including the endeavor to change your body and lifestyle through physical living.
Please enjoy reading (and hopefully applying!) this gift. You may download your copy by clicking on the image. Or, right click, and select "Save Link As…"
You can also click here to download your copy.