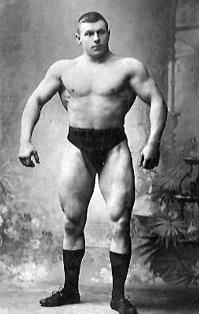 Physical culture is a difficult concept to relate to in our day and age. As civilization advances, we are becoming less reliant on our physical nature to accomplish everyday tasks and less aware of physical culture as a whole.
In our physical culture… instead of walking to work, we drive a car or ride a bus. We take the elevator or the escalator instead of the stairs. Instead of playing games outside, we play games inside. We are more inclined to lift metal plates and ride a cardio machine than compete in a sport, build a stone wall, or enjoy a walk or run outdoors. We even ride ATV's, dirtbikes, and snowmobiles on walking trails instead of WALKING on them.
The motivation to write this article about physical culture came as a surprise to me. I actually looked up the keyword "physical culture" in a google search, and clicked on the first result – a Wikipedia entry. I was looking forward to a thorough analysis, and to possibly learning something new or at least understanding a different perspective. What I got was not only disappointing, it was downright infuriating. Here is the exact Wikipedia entry that I pulled up on February 23, 2009.
"Physical culture is the promotion of muscular growth, strength and health through various physical exercise regimens like resistance training, bodybuilding, sports, stretching, and posture correction techniques. Eugen Sandow, William Muldoon, Bernarr Macfadden and Edmond Desbonnet were among its earliest popularisers.
Macfadden's magazine Physical Culture, whose first issue appeared in March 1899, became the foundation[citation needed] of his publishing empire."

Without going into too much detail, here is my brief critique of that definition of physical culture.
Firstly, "muscular growth" should not be the first thing on that list. I'm getting disgusted with the volume of instances where I hear that getting big muscles is an essential pursuit. It's definitely not, and a lot of people are worse off because of that widespread heresy that pervaded the American physical culture when bodybuilding erupted as a sport a few decades ago. Secondly, both bodybuilding and sports are listed, yet bodybuilding IS a sport – why the distinction? Thirdly, the term "stretching" is included – yet stretching is quite vague and misleading with all of the current research. If you include the practice of stretching, you should also include items like joint mobility traning, proprioceptive neuro-muscular facilitation techniques (PNF), dynamic stretching, static stretching, corrective exercise, all the different forms of yoga, and every other recuperative or preventative technique that physical therapists, coaches, and trainers use everyday.
I'll give the author(s) a little credit as I understand the nature of Wikipedia entries, and I won't hesitate to say that I've been disappointed with Wiki articles in the past. However, I could NOT stand to have this definition permeate the world wide web alone. I consider it my moral imperative to share what little I know about physical culture to help you know that it's not limited to bodybuilding, muscles, and old-time strongmen.
Physical culture is everywhere, and it is as vast as you and I will imagine it to be. Physical culture is an idea that is created when a community (micro) or society (macro) joins together to establish a philosophy, regimen, or lifestyle seeking maximum physical, mental, spiritual, and social development through methods such as fitness, diet, athletics, martial art, and mental discipline – among others.
The physical benefits for being a part of a physical culture include improvements in health, appearance, mobility, strength, endurance, and other general fitness attributes as well as greater proficiency in athletic activities. Although, the benefits are much more far-reaching than that when you factor in the mental, spiritual, and social development that can take place.
A strong physical culture is also confident, bold, and assertive. It is mentally clear and intellectually strong. We know that strength of health and body correlates with strength of mind – they are connected.
A strong physical culture is able to focus, meditate, sacrifice, and foster humility among other things. Simply put, a physical culture is better able to seek and serve God.
A strong physical culture is a close-knit group, sharing a common bond much like a brotherhood. Groups of people that have shared challenging experiences together form strong relationships that accept and encourage individuality as well as share the common vision, purpose, and goals of the whole. Relationships are made stronger by participating in physical activity, whether recreation, competition, or work-related.
That's not to say that everyone experiences holistic benefits from the participation in physical culture.  Some choose to enhance their mental, spiritual, and social life from their physical activity, but not everyone does.
Something else to consider is that everyone has a unique perspective on physical culture. While I think most people can agree that the above points are generally true of physical culture, the expression of those points can be drastically different from person to person. Some people enjoy the pursuit of fitness by lifting weights and running. On the other hand, this could be pure torture for someone else who wouldn't want to do anything else other than climb a mountain or attempt a white-water rafting trip for pure physical enjoyment.
The Bottom Line
You can't put physical culture in a bottle – it's too vast, too diverse.  Trying to exclusively define physical culture is like trying to exclusively define art or poetry.  It just can't be done.  Sure, you can point to something and say, "that is art." I think anyone with a mind which creates their own world-view can establish what is or is not art to them personally. But the trouble arises when you say, "that is art, and only that." The same can be said of physical culture.  There are as many definitions of physical culture as there are people expressing it.
For many, a gym membership is the only connection they have to a physical culture – and as a society, we tend to compartmentalize our lives. It seems we are so distanced from what a true physical culture really should be. If you're not involved with organized sports, you probably don't grab your friends for a game of baseball or hockey on the weekends. It seems we're so busy that we just don't think of things like playing games, having fun outdoors, enjoying competition, or seeking personal development alone or together.
The good news is that it doesn't have to be that way. I want to encourage you. You are the lifestyle that you walk out everyday. All it takes is a choice to take one step closer to what you truly want and you can have it.  It's so simple, just not always easy.
Your Question of the Day is: what does physical culture mean to you?
I want to hear from you, please post your comments below.
To your health and success,

Fitness Professional and Student of Physical Culture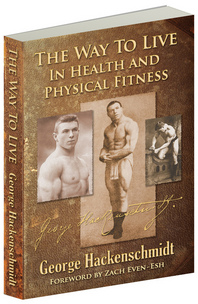 P.S. George Hackenschmidt (AKA the 'Russian Lion' pictured above) was a master student and teacher of physical culture – and one strong guy too.  I read his book "The Way to Live in Health and Physical Fitness" last year and was very impressed with his down-to-earth philosophy of physical culture and living. He makes the goal of health and strength so simple to understand and implement in your life, it gives you no excuse not to take action immediately.  I highly recommend it: