Note: I received some questions from a hesitant buyer about TACFIT Commando this morning. They graciously allowed me to republish my response here on my blog. Their name has been left out for anonymity sake.
QUESTION:
Hello John,
Thanks again for your responses to all my questions! I wonder if I could ask you a few more questions, this time about Tacfit Commando. One of the things that has impressed me so much about CST is its extensive vocabulary of bodyweight exercises. While many of these movements are not absolutely unique to CST, they are thoughtfully put together all in one place, with accompanying forms of joint mobility, compensation, etc. One of the challenges of being a newcomer to CST is sorting through all the different products, and trying to differentiate them from each other and determine their distinctive value. I am delving into Flowfit and Intuflow. I think I can already appreciate (and more importantly feel) their commonalities and differences. To me, being able to move in a sophisticated manner is much more compelling than increasing my bench press!
Tacfit Commando looks like a very interesting product. I tried the Israeli Challenge and truly enjoyed it, even if movements like the quad squat, springing tripods, and swinging planks were not entirely new to me (for example, they are all in Flowfit). The marketing of Commando, however, has me very wary. Frankly, I think it is packaged in a hokey manner that makes me feel like I'm being sold snake oil. This comment has nothing to do with the goal of training soldiers, the sincerity of Commando's creators, etc. It is simply a comment on how
it is all packaged. I feel as though the approach can stand on its own without all that artifice (i.e. Intuflow has little artifice and amazing content), and the artifice makes me wonder about the value of its actual content!
I know you do not endorse products lightly. In fact, your endorsement is encouraging me to give Commando a chance. As there are pros and cons to any approach, I wonder if you could suggest some of the weaknesses in Commando. What kinds of athletic goals and plans would it not be particularly well suited for? Could you give me a sense of how it differs from products like BER? Can it be incorporated with other forms of resistance or endurance training? Is there a substantially new vocabulary of movement in Commando as opposed to
what has come before?
I'm not expecting you to say anything negative about your colleagues, or put you in a bind, but I thought it might be helpful to get feedback from one person who thinks the packaging is a real turn off (i.e. Sonnon's statement that the enemy is not honorable enough to do the workout- I mean c'mon…). I will probably end up purchasing Commando before the initial deal expires, but hoped your feedback could help me make an informed decision.
Many Thanks,
Anonymous
ANSWER:
You're very welcome. I'd be happy to assist you in your buying decision. Times are rough and money is tight, so I want to make sure you don't feel like you're getting scammed into something that isn't right for you.
I hear you on the marketing, but as I said in my email newsletter… If you take away all the marketing, all the shiny signs and fancy sales copy, and leave ONLY the program, I think it stands alone as an excellent product, which is why I gave it an endorsement. If I were in charge of releasing it, I'm sure I probably would have done it a little differently, but let's get to your questions.

you wrote:
What kinds of athletic goals and plans would it not be particularly well suited for?
TACFIT Commando was created specifically for tactical fitness, but it can be used for a variety of training goals such as fat loss, muscle building, general strength and conditioning, among others.
Where it would be least appropriate is as a strength and condtioning program for a very focused athletic activity. Some athletes would benefit directly from the TACFIT Commando program – martial artists, MMA fighters, etc. Other athletes, like soccer or tennis players, for instance, would experience benefits, yes, but not specific to their sport. In these cases of competitive athletes with very specific needs, I would generally recommend against it – there are wiser ways to spend your money.
But if you're not a competitive athlete and you're looking for a fun way (fun for you maybe – not everyone will be into the "tactical" nature of TACFIT) to get in great shape, then TACFIT would be appropriate.
you wrote:
Could you give me a sense of how it differs from products like BER?
The formatting is basically the same. It's downloadable in digital form – ebooks and videos that you will store on your hard drive.
The actual program itself shares a lot of similarities with other CST bodyweight programs like the Bodyweight Exercise Revolution, which was created by Ryan Murdock and Adam Steer. TACFIT Commando could be considered an upgraded training program from BER, it's more advanced and contains new material.
You'll find with all CST programs that there is overlap. For instance, practically every bodyweight CST product that I own contains instructions about the spinal rock exercise. It's a great exercise and it's great to get perspective on how it can be used for different purposes, but it's true that some of what you pay for is rehashed material. In TACFIT Commando's case, it's the collection of the materials and the SYSTEM that is most valuable. The system is nearly identical to that of the original TACFIT program, and differs a little bit from other CST programs.
One way to look at it is that TACFIT is an outgrowth of Circular Strength Training (the parent system for which all RMAX products are created). TACFIT Commando is then an outgrowth of the original TACFIT. So, there will naturally be overlap in materials, but it's been organized for a very specific purpose.
you wrote:
Can it be incorporated with other forms of resistance or endurance training?
Absolutely yes. It comes with a stock program that can be followed verbatim, but there's no reason it needs to be. You can supplement TACFIT Commando sessions for your regular strength training, cardio, or strength endurance work. There are many different ways to do it.
you wrote:
Is there a substantially new vocabulary of movement in Commando as opposed to what has come before?
Yes – much of it has been seen before (ie in Scott's training videos), but never in a RMAX product – that is, it's never been taught before. And some of it has never been seen before and will be truly unique to TACFIT Commando.
Given the discussion we had before, I think it would be a great fit for your situation, but perhaps used as a supplement to your current training program rather than the only program you follow. The main advantage is that it's comprehensive, and at the sale price it's probably the most CST material you can buy for that price.
Let me know if you have any more questions, I'd be happy to help.
*Update: Read the official review here:
The Complete TACFIT Commando Review

Pick up your copy of TACFIT Commando here:

http://PhysicalLiving.com/TACFIT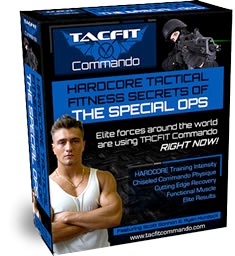 To your health and success,

CST, CST-KS, NSCA-CPT
Fitness Professional