The Complete Clubbell Review
Everything you ever wanted to know about clubbells – the world's best club swinging tool for strength training.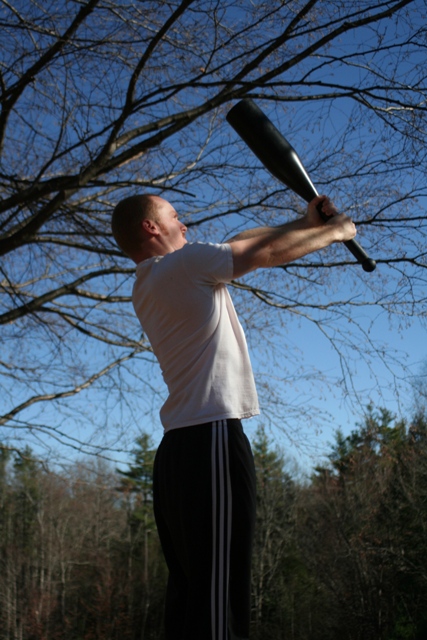 The clubbell is a club swinging tool that is primarily used for strength and conditioning, fitness training, and athletic performance enhancement. I've been using clubbells regularly since 2006, and it's about time that I give this great piece of equipment the attention it deserves. I've seen what they're capable of, and to tell you the truth, I'm very impressed.
Given that clubbells are not cheap, you should probably know the whole story before making your first purchase. I know what it's like being a first-time buyer – you're skeptical. I was too. Back when I first learned of clubbells, I was a fresh out-of-college, soon-to-be married personal trainer with very little disposable income. Every penny counted, and I wasn't about to blow a bunch of money on a scam product that would collect dust in my home gym. I needed to know if it would be worth the investment BEFORE I spent my hard-earned cash.
The RMAX organization makes some bold claims concerning the clubbell. Truth be told, I think some of them are way over the top, but that doesn't mean I would discourage anyone from looking into purchasing a clubbell. It's just important to educate yourself and understand the TRUE advantages, disadvantages, and proper applications before you pull out that credit card.
This review is meant to help you in two ways: 1) learn all about the clubbell training tool itself, and, 2) decide if it's right for your situation. I'd also like to offer you a free gift if you do decide to invest in the clubbell.
Clubbell Review Components:
1) Learn all about the Clubbell equipment itself in the Product Review (videos): This is where you'll get all of your product-related questions answered, including detailed information about what the clubbell is, what it's made of, quality and design considerations, what makes it unique, and who the clubbell is best suited for (and not best suited for).
2) Determine if the Clubbell is the right training tool for you: This section will deal specifically with who can benefit from the clubbell, and who cannot. If you're trying to make up your mind about whether the clubbell is right for YOU and your circumstances, then this section will provide you with the answers you need.
You're about to get an inside look at what clubbells are REALLY all about. This is a long product review, as I wanted to err on the thorough side and try to cover everything. So, let's take a detailed look at the clubbell, the world's best club swinging tool.