I know what you're thinking. Do we really need another Clubbell VS ______ debate? I wish we didn't. I really do. But apparently, there are more people in this world that still don't get it. So, for anyone who is still wondering…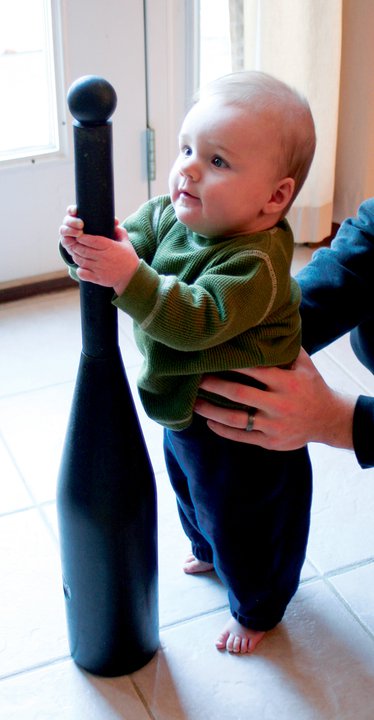 Yes. It's true. Clubbells are superior to Indian clubs, and all other weight swinging tools, for that matter. When you look at the big picture – the whole shebang – you just can't beat them because of all the reasons I mention in my comprehensive review of the clubbell (that I won't reiterate here). Let it be known that I have maintained and will continue to maintain that clubbells are the world's best weight swinging tool – and will remain that way until something better is invented.
Note: be sure to brainwash your children at an early age to make sure they know clubbells are the best (see left).
Now, what could possibly initiate such a spontaneous expression of praise and admiration? Well, not too long ago, a man who has a lot more training experience than I do commented on my Clubbell Review. He was kind and cordial, but I thought he held and shared some common misconceptions about clubbells, particularly concerning their relation to Indian clubs. So, I wanted to post our discussion here to clear up the confusion.
If you need even more reasons to invest in and use your clubbells, read on.
Here is the comment Jack Stanton left me…
Your presentation on Clubbells was well done. You appear to be quite a Clubbell enthusiast. I watched your two videos, and as said your presentation was outstanding. Unfortunately it was very biased and followed Scott Sonan's questionable statements regarding Indian Clubs etc. Before I specifically comment on some of yours and Sonan's erroneous statements here is my experience in physical training. I have trained with barbells, dumbbells, swingbells, and kettlebells for over 53 years. I have also been using British style Indian Clubs as well as heavy Persian and Indian Clubs for around 10 years. Also I have an undergraduate minor in physical education. That being said, I do not have a problem with the use of Clubbells as a training tool. My problem is the distortions of the facts relating to Clubbells.
Ok so here I go: The protective coating on Clubbell will minimize injury if you hit yourself with the club during training. This statement is not true. Given the same force of impact the resulting damage (injury) will be significantly the same. This is to say a 10 pound Clubbell, a 10 pound Wooden Indian or Persian Club, or a 10 pound steel club will result in a similar injury or damage.
You said the tether on the Clubbell is a safety feature preventing the club from flying into the air and damaging property or hitting another person. First, tethering any relatively heavy weight to your arm, wrist, and or hand is foolish at best. Assuming the tether works as intended you are looking at potential shoulder, elbow, and wrist damage if the club goes flying. Second, I have noticed most people who use Clubbell do not use the tethers.
Both you and Scott Sonar have stated or implied that the in effect the larger size of heavy wooden clubs have very limited use or are almost impossible to swing. Here is what you neglect to mention. There are basically two styles of clubs that are swung in more or less a circular motion. These styles are British Military Indian Clubs and Persian / Indian Clubs called Meels / Jori. British Style Clubs range in weight from a ¼ pound to upwards of 100 pounds. Generally the lighter clubs (under 7 pounds) are often swung simultaneously while the heavier clubs usually are swung with one hand and passed to the other hand to complete the movement. Meel(s) and Jori (s) are normally swung into the ready position and then swung alternately in a circular pattern. The circular movement patterns are similar for metal clubs (solid or loadable).
On one of Scott Sonar web pages he comments on the superiority Clubbells to wooden and other clubs. Since this post is somewhat lengthy I am not addressing his comment here, but I will be more than happy to respond to any of the statements. The link is: http://www.clubbell.tv/superior.php
To conclude I personally do not care for Clubbells, that does not make them a bad tool. But contrarily to the implications in your video that wooden clubs are inferior to Clubbell is simply not true. In fact from a physical training standpoint heavy wooden clubs are superior. It quite simply takes more grip, wrist, arm, and should strength to swing and control a heavy wooden meel or jori of the same weight as a Clubbell. If you question this statement try, shield cast your 24 inch long 15 pound Clubbells then shield cast a 31 inch 15 pounds meels or jori(s).
-Jack Stanton
Continue reading Why Clubbells Are Superior to Indian Clubs