Have you ever seen those guys or gals at the gym doing an exercise with a partial range of motion? Maybe they were doing 1/4 squats or even the dreaded half pullups (I call them "sissy pullups"). If you're like me, then this probably drives you crazy. There have been times when I just wanted to grab someone by the scruff of their sweaty tank top and yell, "you're doing it wrong!" But are they really? Do they know something that we don't, and is there something to partial rep training that we could all do well to draw on? Well, a new study shines some light on this issue, and we're going to take a quick peek in a minute.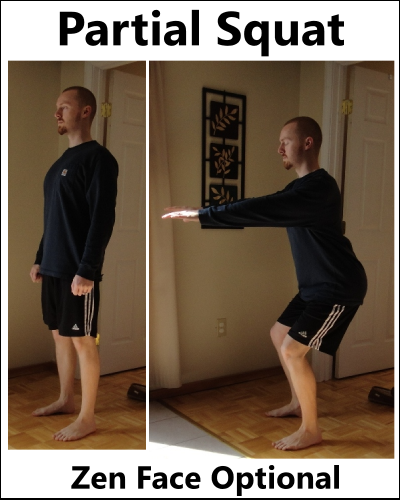 But first, let me be clear that there are two kinds of people who use partial reps in their programs. First, you have the advanced weightlifters – the guys who may or may not be competitive strength athletes, but at the very least, have been at the iron game for years. These are the guys who will plug some partial rep training into their routines – usually to help improve a weak portion of a lift (like the rock bottom position of the squat, or the lockout portion of the deadlift). For example, you might see one of these guys doing deadlifts with an barbell that is elevated on pins in the power rack so that he's only doing the top half of the range of motion, or he may be using resistance bands to make the very last portion of the ROM the toughest. So, that's your first category of partial rep trainees. These guys are the elites and they know what they're doing.
Then you have the next category, which is just some person who knows hardly anything about training and generally uses sloppy technique in all of their lifting exercises, usually because they are trying to lift with way too much weight. You thought 1/4 squats were bad? Try watching someone do 1/8 squats with twice their bodyweight on the bar! Needless to say, it doesn't take a strength and conditioning coach to tell the two categories of trainees apart.
Now that we've gotten that out of the way, let's see what this new study (abstract here) has to say about training with partial repetitions versus full range of motion repetitions.
Continue reading Are Partial Reps Better For Strength and Hypertrophy Than Full ROM?