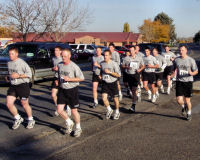 The phrase General Conditioning has problems in and of itself because we don't know what we're talking about. There isn't a world-wide definition of what general conditioning entails. Certainly, general conditioning is different from one person to the next. The general conditioning of an olympic swimmer is very different than the general conditioning of a traveling businessman. The U.S. military has a different definition than the Chinese military. Even U.S. colleges have different definitions of what general conditioning is.
Think about it…
Is being able to run a 10k in 50 minutes good general conditioning?
What about being able to do 10 pullups, 30 pushups, and 50 bodyweight squats?
How about being able to carry an 80 lb rucksack through moderate-difficult terrain for a weekend?
Aren't those all qualities of general conditioning?
So, the first problem is that general conditioning requires a definition – which immediately makes that conditioning SPECIFIC. Even if you make the definition of general conditioning very broad, you still have specific means of obtaining it.
Continue reading General Conditioning – does it even exist, and if so, how do we improve it? Plus, the *BACK BURNER STRATEGY REVEALED* teaching you how to master several different physical skills or fitness qualities simultaneously