How To Stay Fit When You Have a New Baby In The House
I got a message the other day from a regular reader who was wondering if I had any advice for those who want to stay healthy and active with a newborn baby in the house. As you can see in the screenshot below, I gave him 3 tips in exactly 140 characters.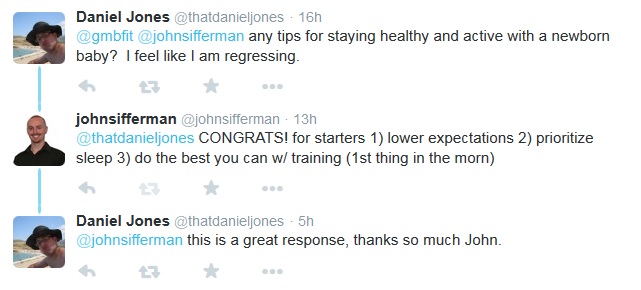 But you didn't think I'd leave him hanging like that? Not ol' blabbermouth, John! You see, I've got a few kiddos of my own, and I know that a few bullet points delivered in less than 140 characters may not exactly cut it. So today, I'm going to expand a little bit on those responses.
Granted, my advice will vary from person to person – and this post is mostly geared for new Dads – but here is some general advice that will apply to most new parents.
Continue reading 9 Fitness Tips For Brand New Parents