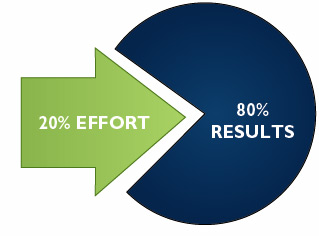 The Pareto Principle (aka paretos law) states that 80% of the results come from 20% of the effort. Italian economist Vilfredo Pareto came up with the 80 20 rule when discovering that most wealth is accrued by a minority of people (20%). I think paretos principle can be applied to health and fitness as well because at least 80% of fitness trainees aren't reaping excellent results. I think less than 20% are, and probably closer to less than 5% in my experience with fitness trainees.
Let's take a look at Paretos Principle as applied to fitness compliance. I see people as landing in 4 different categories of fitness compliance ranging from inconsistently working out to a lifestyle fitness approach.
Continue reading The Pareto Principle and Fitness Compliance – The Difference Between Working Out, Focused Training, and a Lifestyle Integration Fitness: where do you fall on the spectrum?