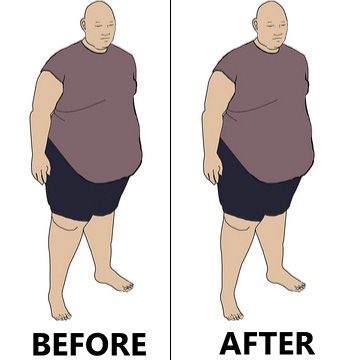 It's no secret that losing weight, and more importantly, losing fat is tough business. There are many variables in play, and sometimes, it's easy to get lost in all the confusion. Fortunately, the solutions usually aren't that complicated, and oftentimes, it only takes one little tip for a light bulb to go off and get you back on track towards your goals.
So, just off the top of my head, here are 25 reasons why you might not be losing weight…
Keep in mind that although many of these may apply to you personally, there are probably a few that really undermine your progress more than the rest of them. So, while you're reading through this list, make a mental note of the top two or three that are most likely to make a difference for you personally.
1) You eat too much. I'll get this one out of the way in the beginning because it's probably the most prevalent issue at hand. In a culture where practically any food you could ever want is available within minutes, it's no surprise that we have an over-eating problem. The bottom line is that if you are eating more food (ie calories) than you're burning on a daily and weekly basis, you will NOT lose weight. You must – and I repeat – you MUST have a calorie deficit to lose weight. So, if this could even possibly be an issue with you, then I'd start right here because nothing else will work until you achieve the calorie deficit – nothing. That's right. And the rest of these tips are null and void if you don't adhere to this one right here. Let that sink in for a minute.
2) You're completely sedentary most or all of the time, and if you do exercise, it's not hard enough or often enough. Pair up an over-abundance of food with historically unprecedented levels of inactivity and sedentary behavior, and you have a recipe for health disaster, and weight loss becomes exponentially more difficult. There is no direct (ie causal) link between exercise and fat loss that I'm aware of, but there are tons of indirect (ie correlative) reasons to prioritize physical activity if you want to lose not just weight, but fat – which leads me to my next point.
3) You focus too much on losing weight rather than losing fat. Outside of extreme ranges, total weight is not an indicator of health and fitness. Your body composition is a much better indicator, and too many people pursue weight loss rather than fat loss because they like the simplicity of using the scale to track progress. But the truth is that the best course of action is always to specifically target fat loss. It's not just the most effective strategy; it's also the healthiest one. And health is important for things like survival, quality of life, and longevity, just to name a few. But you probably don't care about those things, right?
Continue reading 25 Reasons Why You're STILL Not Losing Weight And What To Do About It