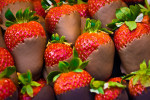 Three Unconventional Strategies To Enjoy the Holidays Without Packing On The Pounds – Even if You Occasionally "Stuff Your Face"
Every once in awhile, usually around the holidays while I'm eating something delicious at a social event, I receive a comment like this one:
It must be nice being able to eat all of that and not get fat.
So they say with a playfully-despising look. Or, maybe it's a well-intentioned, "are you really going to eat ALL of that?"
Why, yes. Yes, I am. Oh, and would you be a dear and pass the butter, please? Thanks.
Seriously, that kind of conversation has happened more than a few times over the years. And get this. Despite my seemingly "binge-like behavior" as it may be described by the casual observer, I'm still healthy, fit, and lean. And that doesn't change over the holidays. So, yes. It is possible to "stuff your face" and still not get fat. And in this short article, I will show you how to do it.
***
Continue reading 3 Old-School Strategies to Enjoy The Holidays and Stay Lean Into The New Year