TACFIT Survival is a comprehensive, plug-and-play fitness training program that will help you develop a high standard of fitness by burning stubborn fat, building functional muscle and improving your conditioning level using a variety of movement skills and training protocols that were specifically created to improve performance in high stress situations such as competitive fighting.
Note: I just got a copy of TACFIT Survival this morning. So, naturally, I have not used the entire program, and this TACFIT Survival Review is based on my first impressions.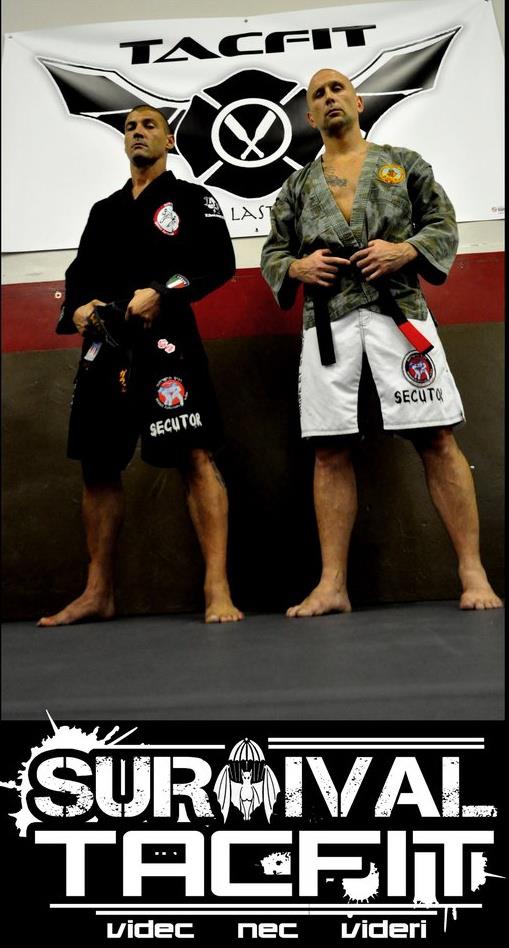 The TACFIT entourage just released a new training program called TACFIT Survival. Truth be told, I have been looking forward to this for a number of months, but I didn't know it was being released today until this morning when a few of you wrote to me about it (thanks!). I have not used TACFIT Survival before, but in my travels, I've spoken with a few people that have attended a TACFIT Survival seminar, and I've heard comments ranging from "it's freaking awesome" to "I thought I was going to die, and then I was done!" Needless to say, I've gotten mixed feedback, but overall, everything has been really positive.
Anyways, I just downloaded the entire program a few hours ago, and have had a quick looksee at all the materials. I took one session through a test drive (video forthcoming). As can be expected from a TACFIT program, it's good stuff as far as I can tell, but it's not necessarily RMAX's finest from a product quality standpoint – in my humble opinion. That said, there's no doubt in my mind that this is a solid program and I bet many of you will enjoy using it as I will in the future. I thought I'd give you my initial thoughts while the launch sale is still running (31% off until Sunday, April 15. Yep, that's THIS Sunday!). So, hopefully, this review will help you figure out if TACFIT Survival is right for you and your goals.
In case you're already familiar with the other TACFIT programs out there, TACFIT Survival is very much like TACFIT Commando. So, if you've enjoyed TACFIT Commando (I know that at least several dozen of my readers have from all the messages and comments I've received over the years), then you'll also enjoy TACFIT Survival. They are certainly not one in the same, but they are quite similar in many ways. So, in that case, if you want more training materials to work through, TACFIT Survival will be right up your alley.
But for those that aren't familiar with the other TACFIT programs, what's all the fuss about TACFIT Survival? What's inside the program, what do you have to do, and most importantly, what can it do for you? Well, now that you've asked, let's have a look.
Continue reading TACFIT Survival Review – First Impressions