Flatten Your Stomach and Carve Your Abs With this Head-Turning, Fear-Inducing, Posture-Improving, Advanced Plank Exercise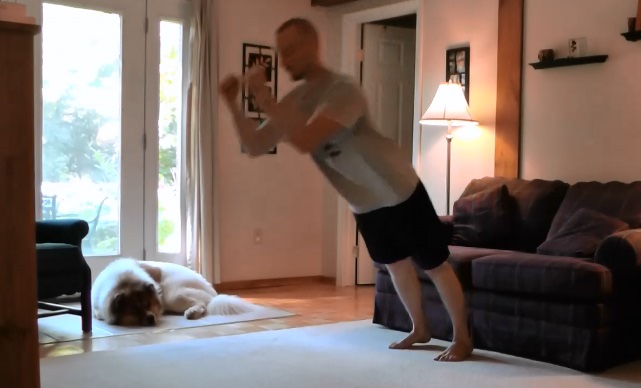 You want core strength. Good. You want spinal stability. Good. You want six pack abs that turn heads so quickly that necks are breaking left and right… Err, nevermind.
But seriously, if you want core strength, spinal stability, and abs built like a brick wall (good visual, eh?), then let me introduce you to the ballistic plank exercise. I personally guarantee that not only will you develop serious core strength with this, but you will also turn heads with this exercise – lots of heads. No matter who you are or where you train, if there are other people within eyesight, they will be staring at you while you do this. They'll be thinking "what on Earth is that guy training for. I don't think I could do that if I tried." So, I hope you don't mind the extra attention because the ballistic plank is an attention-GRABBER. Fair warning.
Before now, I've only taught this particular exercise to a handful of people. And after showing my clients a quick demonstration, every single one of them was hesitant to try it – at least, the advanced version. There was some serious fear-reactivity going on. And so, I told them they needed to trust in their own ability and in their coaches wisdom. And then I showed them the beginner-level version, and each one of them said something to the effect of, "oh, that's easy. I could do that."
And that's exactly what I'm going to do today – provide you a blueprint for working your way up to the ballistic plank exercise. You see, after you've spent some quality time with the standard plank exercise, it's time to step things up a bit, in a big way – and that big way is the ballistic plank. You'll see why in a minute.
Note: This is an advanced exercise. Beginners should start by learning the basic plank technique here: Plank Exercise Technique. Then work up to a 5 minute plank before attempting the ballistic plank exercise: The 5 Minute Plank Challenge. Also, please do not attempt this if you have any pre-existing injuries or chronic pains, especially in and around the shoulders, elbows, neck, and lower back. And I mean that! These problems usually don't respond well to high-impact, ballistic training. Healthy, fit persons whom have their doctor's clearance only, please. Any questions, see the medical disclaimer. Capeesh?
The Ballistic Plank Exercise For Rock-Hard Abs
note: Exercise intro starts at 1:30, Exercise Instruction starts at 4:00.

Continue reading The Ballistic Plank Exercise For Rock-Hard Abs