Important: Before I say anything else, let me just say that I think we need a lot LESS talking and arguing over issues like "which pull-up is better," and a lot MORE doing of what we already know we should be doing…more Pull-ups!
So, before you even read this article – if you haven't already – get yourself a good pull-up bar (my recommended Pull-up training gear is here), read through my top tips to get started with proper training (also see here: Pull-up Training 101), and check out my free Pull-up Training Program that thousands of people have used to rapidly increase their pull-up numbers. In other words, STOP this endless search for information/validation/whatever you're here for, and start doing the work!
And if you're really serious about getting better at pull-ups, and you want to start seeing results as soon as this week – instead of getting nowhere or yo-yoing between plateaus and failure – then sign up for my new 5-Day Pull-up Training Crash Course (FREE). My pull-up training systems work like a charm, and will keep working for anyone who is willing to put in THE work. Okay, back to your regularly scheduled program…
---
Note: If you have not read the first part of this article, or if you don't know the difference between kipping and deadhang pullups, then please read part 1 before moving on: Kipping Pullups VS Deadhang Pullups (Part 1).

A couple years ago, I posted a brief article comparing kipping pullups and deadhang pullups. Little did I know that it would become one of my most popular posts of all time. It seems that people are very passionate about this subject, and truly want to know which technique is better. I've even received "hate comments" from hardcore fitness trainees who felt compelled to defend their chosen exercise. I find this ironic because in that first article, I argued that both pullup techniques have value in the right context. However, I did not explain what those contexts were. In fact, I never said that one technique was better than the other, although I did point out that the kipping pullup is the more efficient movement of the two. It seems that even the most intellectual keyboard warriors are susceptible to emotional indiscretion in times of weakness. So today, in an effort to clear up any confusion, I'm going to explain when each technique would be best employed.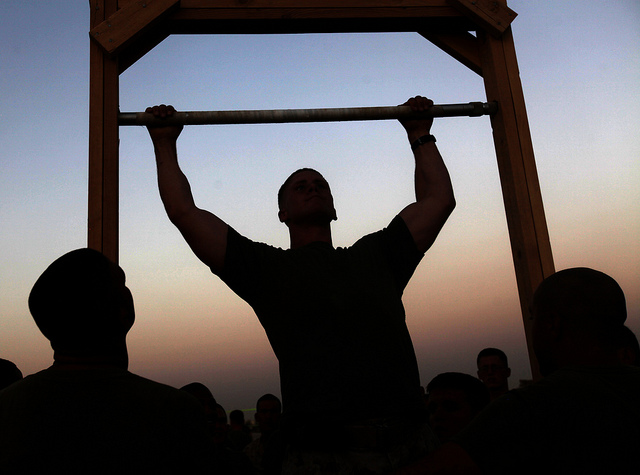 The problem arises because although the pullup is simply one strength and conditioning exercise, it has many different uses. On top of that, athletes, coaches, trainers, and trainees are usually loyal to one technique over the other. Bodybuilders and powerlifters are usually fond of the deadhang pullup, and defend their classic exercise with zeal. Olympic weightlifters, on the other hand, will often stand behind the kipping pullup because it's a great assistance exercise for the barbell snatch. Other athletes can go either way depending on their sport or coaches disposition, and some coaches and athletes draw on both techniques (e.g. gymnasts and rock climbers). So, in an attempt to be objective, I'm going to cut past all the emotional dogma when relating my opinions.
Honestly, I'm starting to feel like a broken record because I say this all the time: all exercises are just specific movements that can be used in any way, shape, or form. Exercises don't have opinions, and your body doesn't care how you use them. Everything is an act of conditioning, and your body will condition itself based on the stimulus you provide it with – irrespective of what that stimulus is and whether or not you want the conditioning effects of it. Therefore, the coach, athlete, and trainee must decide which exercises they will use based on WHAT their goals are, WHY they have those goals and what is the best way for HOW to achieve them. It's narrow-minded to think that one exercise is always the solution for every situation, which is why I take the middle ground on this particular issue.
So, even though all exercises were not created equal, in this case, neither exercise is unconditionally better than the other. It's just that, in general, some exercises are better suited for certain goals than others, and I'm going to explain this in more detail below.

The Deadhang Pullup and why it will always be a King in the Conditioning World
We know that the deadhang pullup, while still a compound exercise, is a less integrated movement as a whole than the kipping pullup – which is truly a full body exercise. This isn't a bad thing – it's just the way it is. In fact, we should use this to our advantage in a strength training program. Here are some situations where the deadhang pullup should be employed.
If your goal is…
Improving raw, upper body vertical pulling strength (e.g. strongman competitors)
Preparing for a bodybuilding competition
Increasing muscle hypertrophy, in particular, the lat and bicep muscles
Getting started with basic gymnastics (beginner level)
Improving general rock climbing conditioning
Or preparing for another sport which requires upper body vertical pulling strength
…then the deadhang pullup is the more suitable technique of the two options.
The Case for the Kipping Pullup
The kipping pullup is also a superb exercise, and certainly another King in the world of strength and conditioning. Just because it's technically a more efficient movement, doesn't mean it's necessarily better than the deadhang pullup in ALL cases. It's just a different movement with different uses. Here are the cases when the kipping pullup would be better suited than the deadhang version.
If your goal is…
Improving your ability to climb rapidly
Improving full body strength and coordination
Improving advanced-level rock climbing conditioning
Improving advanced-level gymnastics conditioning
Improving hip snap for the barbell snatch exercise (Olympic weightlifters)
Improving advanced-level sport-specific performance
…then the kipping pullup is the more suitable technique of the two options.
Wrap-Up
So, you see that there are different tools for different jobs. Some exercises are better suited for a task than others, and this is obviously true of kipping and deadhang pullups. Even with all that outlined, there are always exceptions to the rule, and there will be cases when the above recommendations aren't appropriate. But for the vast majority of people, you can count of the above recommendations to be suitable as a starting point.
In summary, if you're training for muscle hypertrophy, physique development, general athletic conditioning, or strength-building purposes, then the deadhang pullup is probably the best technique for your goals. On the other hand, if you're training to improve functional movement patterns, sport-specific performance enhancement, or the development of a practical skill (e.g. climbing), then the kipping pullup is probably more appropriate for your goals.
If you want the benefits from both techniques, then quit your arguing and include both in your program. Too many people waste time and energy arguing over petty issues that make very little difference in the grand scheme of things. There's a lot more to training than exercise selection, and there's a lot more to life than exercise. Figure out what's best for you and then take action on it – end of story.
John's Advice
Regardless of who you are, what your goals are, or what your conditioning level is, I always recommend that you learn, practice, and master the deadhang pullup BEFORE even attempting kipping pullups. There is a very important reason for this. The deadhang pullup, although somewhat intricate, is a much simpler movement overall, and is performed at a much slower speed. This means it's easier to learn and precedes the kipping pullup as a movement skill. This also means it's a lower risk exercise, because the risk of injury increases anytime you increase the complexity of a movement and also when increasing the speed at which it's performed. Said another way, you're much more likely to injure yourself from kipping pullups than deadhang pullups, and thus, you should build a base of skill and conditioning with the deadhang pullup before attempting the more advanced kipping pullup. So, regardless of your situation, if you haven't already mastered the deadhang pullup, you need to start there.
Update: Want to do more pull-ups? Check out my free 5-day Pull-up Training Crash Course. I'll hook you up with a free program, some special reports and tutorials, and my very best tips on mastering the pull-up and chin-up exercises. If you want to improve your pull-up strength and performance as soon as this week, then Click Here to learn more about the free course.
If you found this article helpful, please share it with your friends and tweeps:

CST Coach, CST-KS
Health-First Fitness Coach
More Information:
The Pull-up Training Crash Course
How to Achieve Your First Unassisted Pullup
How to Increase Your Pullup Numbers With Pyramid Training
9 Different Types of Pullups (Demo Video)