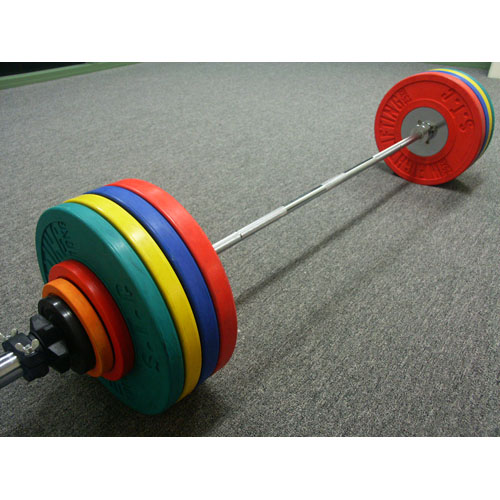 Note: if you're going to train with a barbell, do yourself a favor and read this. You can thank me later.
This past weekend, I pulled out my old 300 lb olympic weightlifting set because my brother wanted to start lifting weights on top of his bodyweight training routine.  So, I helped him set it up and decided to test out the bench press exercise for old times sake. Now, I haven't used a barbell in my own training for almost three years, and haven't practiced the bench press exercise in over 4 years, back when I was experimenting with a musclebuilding style strength routine with my training buddy.  It was no surprise that my technique was spot-on, as it's a fairly simple exercise, but I was shocked when I realized I had only dropped back by 10% of my former best lift. With a few days of rest and a proper warmup, I may have been able to meet my former personal record (article on how to prepare for a one rep max strength test).
I wasn't testing in ideal circumstances, by any means – I had already completed a moderate intensity workout that day, I was already fatigued, tight, and didn't perform any warmup other than a few sets. And yet, I came so close to a former PR. This got me thinking about barbell training, and I wanted to share with you why I have dropped the barbell as one of my tools of choice in the past few years.
Disclaimer: I am not against barbell training at all. I place this training tool on a hierarchy of value with all other training tools, and it is above and below other tools depending on the training goals. It may sound like I'm anti-barbell, but that's not true. I'm anti-barbell for MOST training goals, especially since I believe the barbell is one of the most misused and abused training tools in fitness culture. If you use barbells regularly, I challenge you to question why you use them and consider the idea that there may be a better alternative depending on your training goals.
In my forthcoming article, The Hierarchy of Training Tools, the barbell is ranked number 9 on my list of 15 training tools.
9. Barbells
Defined: A barbell is usually a steel bar that is 5 to 7 feet long. The diameter often varies from thick to thin, but it is usually about one inch, and is engraved with a knurled crosshatch pattern to help lifters maintain their grip. Weight plates are slid onto the outer portions of the barbell on either side to obtain the desired total weight. These weight plates are usually secured with collars to prevent them from sliding off during the exercise (which can result in injuries). A barbell is used in weight training, Olympic weightlifting and powerlifting.
Barbell Training is Best Used For:
The barbell shines most bright when used for heavy weight training. Thus, it is the tool of choice for competitive powerlifters, olympic weightlifters, and to an extent bodybuilders. There is no better tool for measuring the body's ability to lift raw weight up and down than the barbell. The best barbell exercises are compound lifts such as back squats, front squats, overhead squats, zercher squats, deadlifts, rack-pulls, stiff-leg deadlifts, sumo-stance deadlifts, bent-over rows, bench presses, overhead presses, cleans, jerks, snatches, power cleans, push presses, and power snatches.
Advantages of Barbell Training:
The barbell is very simple tool, so it is easy to learn the basic lifts quickly. With proper coaching, anyone without any debilitating pre-conditions can learn most barbell exercises in under an hour. The olympic lifts may be an exception for some, but I was taught each one in about an hour's time.
The weight is fixed and stable, so the tool itself is less likely to deviate from a normal range of motion. This is an advantage for the barbell because, when under heavy load, you do not want the barbell to deviate at all, as this could result in immediate injury. This could also be seen as a disadvantage, because intelligent training should have components programmed in that will take the trainee outside the scope of their sport or activity – effectively training extreme ranges of motion as a safety-valve for when a movement does deviate from what is expected.
Another advantage of the barbell is that unlimited progression is possible because you can always add more weight to the bar. Of course, every lifter has their own genetically pre-determined maxes that they can handle. So, in theory, one could reach a point in their training where further progression is impossible. Being able to add more weight easily makes progressing with this tool very simple.
The barbell is just a tool, and often incorrectly used as a system itself, instead of the other way around. As part of an effective training system, one can use the barbell to reach a variety of training goals.
Disadvantages of Barbell Training
The greatest disadvantage of barbell training is that the only ultimate way to progress with this tool is to increase weight on the bar. By lifting heavy loads, the body is placed under extreme stress. This sounds like a good thing, because without stress there can be no adaptation. No pain, no gain, right? Not exactly.
In simple terms, lifting heavy weights can provide enough stimulus for the muscles to grow larger. On the other hand, lifting heavy weights dangerously compresses the joints, and this is often overlooked in a training program. If one compresses the joints regularly without actively decompressing them and releasing the tension in and around each joint, then injury will always occur (after diminishing returns, then a plateau in performance, then a regress in progress, then pain, then injury, etc.). This isn't solved by taking a day off of training, or a week off every 12 weeks. One must regularly practice techniques that are meant to improve health, and counter-condition the damaging effects of heavy weightlifting. By regularly, I mean daily being the preferred choice. Doing some weekly exercises will help, but may not be enough to balance out the effects of rigorous lifting.
*For more information about the effects of compression-creating activities, listen to my interview with Scott Sonnon here: http://physicalliving.com/?p=1043
Put bluntly, the only way to elicit a training adaptation with a barbell is to lift moderate to heavy weights that place a lot of stress on the body. This stress, while adequate from a musclebuilding standpoint, is damaging to overall health, and will limit the amount of progress you can achieve long-term.
We see this most obviously when powerlifters and many olympic weightlifters need to retire early from their sports because their bodies simply cannot take the injury anymore. Those nagging, little injuries that popped up every now and then were signals that should have been heeded. Instead of paying attention to the warnings the body sends, a lifter may train around them, and not only ignore the problem, but exacerbate it. There comes a point, when taking a week off from training isn't enough and an injury progresses to being incapacitated to lifting weights.
Lifting weights is one of the highest risk activities when it comes to getting injured – even higher than martial arts and football. I've read horrifying statistics, that say 80% of all new trainees need to quit their exercise programs due to injury in the first 6 weeks! No doubt, many of these trainees were compressing their joints without releasing the accumulated tension. All training must be balanced to be successful and repeatable, and it's a difficult balance to achieve with a program that relies heavily on barbell training which is exclusively hard-style in nature.
The other major disadvantage to barbell training is that it is only performed in one plane of motion. The barbell is only lifted up and down. You don't lift a barbell forwards or backwards, or left or right. Gravity is the only means of resistance, and it's common sense that everyone encounters resistance in all 6 degrees of movement freedom. We see this most obviously in sport, but it rings true for everyday life activities as well. Not only does training exculsively in one plane of motion create strength deficits from a movement standpoint, it also creates imbalances throughout the body. This could be a whole article in and of itself.
Furthermore, there is plenty of research and evidence that strength adaptations from barbell training don't even transfer to other activities. Improving your strength under the iron, only improves that specific strength, which will not necessarily improve your strength on the field, the court, the mat, or in the ring. This is true because of the law of specific adaption to imposed demands. So, while a lifter may be getting stronger in the gym, that strength is basically useless if it cannot be transferred in an applicably athletic way.
Common mistakes:
• The most common barbell mistake is using it excessively, for purposes other than competitive lifting. This will often lead to injury due to the heavy loads being placed on the body which compresses the joints. The impact this has cannot be understated!
• Not compensating for barbell training in your program. Compensating can take the form of active recovery, corrective exercises, joint mobility, or even yoga if performed properly (yoga can actually hurt you more than it can help you if practiced improperly).
• Trying to lift too much weight for your skill level, or trying to progress too quickly.
• Rounding your back or tilting your head backwards during most compound lifts.
• Not sticking with the same exercises for long enough to allow adaptation.
• Performing near-max lifts (1-3 rep range) if you are not competing in powerlifting or weightlifting.
• Not using a spotter when needed.
• Using barbells to assist with improving your range of motion at a joint – such as getting deeper into a squat. If you can't do a rock-bottom squat without weights, you have no business doing it with weight, and you're welcoming an injury.
Best place to find: Yard sales, classified, or online auctions are usually the best inexpensive sources for a basic barbell. If you decide to get a barbell, I do recommend that you purchase an Olympic barbell set. A 300 pound set will usually retail at around $100-150 at your local sports or fitness equipment store.
So, what's a better alternative for those who do NOT compete in powerlifting, weightlifting, or bodybuilding?
First off, if you do not compete in powerlifting, olympic weightlifting, or bodybuilding, then you have no business training like one of these athletes. If your goal is to build muscle, and you think heavy barbell training is the only way to do it, then you've been misinformed or deceived. Muscle only knows resistance, it does not know where that resistance comes from – whether it's a barbell, kettlebell, clubbell, or a resistant opponent.
If we're talking about a hierarchy of training tools, I think a much better alternative to the barbell is the dumbbell. The kettlebell would be the next step up, as it can be used for both compressive and traction-based lifting/swinging. I think the clubbell is an even better training tool than that. Of course, the king of all strength training tools is the body itself.
John's Advice: If you are not a competitive powerlifter, bodybuilder, or Olympic weightlifter, I highly recommend you steer clear of most barbell training for strength purposes. In my experience, the risk of injury is far too high to utilize the barbell as a regular training tool for people whom are interested in general fitness and strength training. You won't become a powerlifting champion without touching a barbell, but you can become VERY strong without ever touching one. There are much more effective and safer alternatives for building real world strength.
Now, if you're going to get into barbell training, I highly recommend this book by weightlifting legend, Mark Rippetoe. I don't agree with Mark on everything, but I'm 100% sure that you'll save yourself a lot of trouble if you follow his advice.
To your health and success,

Fitness Professional and Barbell User For 10 years
P.S. A far better alternative for the pursuit of functional strength is the clubbell, which naturally decompresses the joints by pulling away from the body. Learn more about it at the official site here: http://clubbell.tv


The kettlebell is also a great tool for compression-based exercises, yet being a much lighter weight that can produce equivalent adaptations in the body. I recommend only professional grade kettlebells.