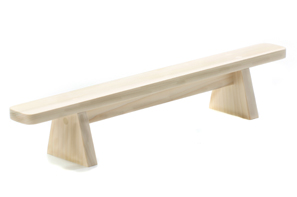 The pushup is one of the oldest recorded strength training exercises. Martial artists, yogis, and athletes have been cranking out reps of pushups for thousands of years. Without a doubt, the pushup has stood the test of time and is an invaluable addition to many strength training programs. But is the pushup all there is? Could there be, dare I say, something better? Some people would have you believe there is, and we're about to explore that notion while we take a close look at the pushup board training tool.
The pushup board has been touted as an "ancient tool for the modern warrior," receiving praise from many strength coaches including Steve Maxwell, a world champion in Brazilian Jiu-Jitsu. I met Steve back in 2006, and was quite impressed with his movement skills and coaching abilities. So, when Steve puts his seal of approval on a training tool, I pay attention. I'm also one to rigorously evaluate everything I endorse, and if a tool just doesn't cut it, you're going to know where I stand on the issue (even if well-respected coaches like Steve disagree with me). The pushup board has distinct practical purposes, but it also has a number of drawbacks, which I cover in-depth in this video review.
The Pushup Board – Review of the Pros, Cons, and Alternatives


Note: a similar tool that will yield better results would be rotating pushup handles or a set of parallel bars (or parallettes, AKA p-bars), which will be much more versatile. These have a few unique perks, and I'd be much more inclined to recommend them than a pushup board. You can click here check out the set I use on Amazon.com. There's also a newer model here.
So, as you can see, not all tools are created equal and not all tools serve a variety of purposes. The pushup board fits a very specific need in the fitness industry, but is relatively unnecessary apart from that purpose. You would do just as well using the ground or a couple of blocks in most situations.
Of course, there are always exceptions, but the bottom line is that if you're having trouble maintaining shoulder stability during your various pushup exercises, then the pushup board may be just what the strength coach ordered. Order yours from Steve for $49.95 or make your own with some scrap wood, screws, and sandpaper. Otherwise, there's really no need to use this tool, and there are much more effective ways to train shoulder stability.
Two of the best tools for training shoulder stability, in my opinion, are gymnastic rings and clubbells. You can train using all 6 degrees of freedom and in all planes of movement using these tools. Thus, there's a lot more versatility in terms of training options – meaning they're more useful and more fun.
Before you run, check out this cool video by CST Coach John Belkewitch showing off both the rings and clubbells (and keep an eye out for the shoulder stability component, which John demonstrates flawlessly).
Clubbells and Gymnastic Rings Demo by John Belkewitch

If you haven't already, be sure to check out John's guest post, where you can Learn the Eagle Press (the last exercise demonstrated in his video)
So, have you used the pushup board? If so, what did you use it for, and what did you think of it?

CST, CST-KS, NSCA-CPT
Fitness Professional
P.S. I should not neglect to mention that a set of parallel bars (or parallettes) make a great training tool for predominantly pushing-based exercises. There's a lot more versatility with a set of p-bars, versus a pushup board (and you can just as easily make your own set or parallettes for a meager investment).