One of the things I love most about the internet is connecting with people that have similar interests, life philosophies, and goals.  Although, while I do cherish the many relationships I've built over the net, there's simply nothing like meeting somebody in person for the first time. It just doesn't even compare to an online relationship. Plato was right…
You can discover more about a person in an hour of play than in a year of conversation. –Plato
Likewise, you can learn more about a person in one day of "real life" hanging out, than in one year of online communication. I experienced this first-hand just the other day when I met Damien and Renee Tougas and their three wonderful children, for a hike in Crawford Notch, NH. I had just recently become aware of the Tougas family as both Damien and Renee have blogs of their own:
Adventure in Progress: Encouraging Families to Get Outdoors and Experience Adventure
Damien put together a very thorough Case For Minimalist Footwear, which drew me to his site.
My wife and I enjoyed meeting them for the first time, and I think we "hit it off" very quickly. We spent the day hiking through the woods while being continually pelted with heavier and heavier rain (Damien and I decided to go barefoot). I saw this as plain old "miserable" fun, but also as a test of our new relationship. We were immediately placed into a situation outside of our comfort zone with people we had literally just met, and our shared hardship only strengthened our initial bond.
Damien and I also got a chance to play around with some clubbells that I brought up for the day. He was waiting for his clubbells package to arrive in the mail any day, so I offered him a taste of what they would feel like – we used 10's, 15's and a 45 lb single. We practiced many exercises for about an hour and a half. It's truly amazing how quickly one can learn a new exercise when applying the 7 Key Components of Structure. Damien picked up on the movements very quickly for a beginner.
Some other highlights were visiting the Weather Museum and learning about the most extreme weather on Earth atop Mt. Washington (recent trip report here), sipping coffee and smoothies at NH's Best Small Coffee Shop in North Conway (according to NH Magazine), sampling a wide array of tasty vegetarian fare, having the Tougas children thank us for "bringing a delicious salad" (children who like salad – I love it!) and having Ronin perform tricks for the kids…
"Gah-huh, look at my goofy face…"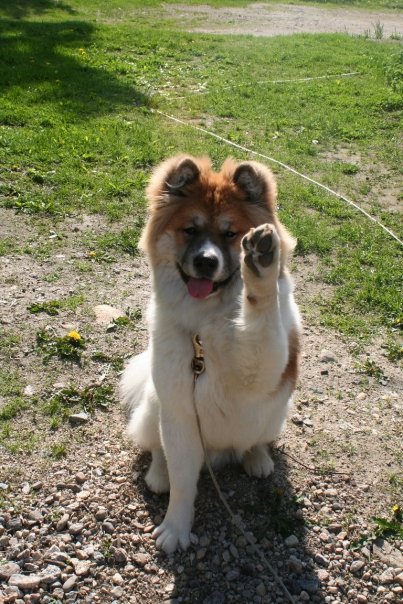 I brought my video camera with me, but it didn't seem right to "spoil" the experience with a video. I just wanted to soak it all up, to forget about trying to "capture the moment" and just live in the moment all day long. If you want to know what our trip was really like, you're just going to have to get out in the woods yourself! My writing talent just won't do it justice :-)
WRAP-UP
One of the long-term goals for my site is to help people connect with each other in their local community. The internet is great and all, but nothing beats personal contact in every day life. It meant a world of difference to be able to share a full day with Damien and Renee. I don't know how I'll accomplish this with the site in the future – whether it is a forum or something else, but for now I do want to encourage you to get "out there" and enjoy physical living with others, in any way possible.
For those in the New England area, we're planning a trip up Mt. Katahdin pretty soon. This will be a "difficult" level hike, and all of my readers are invited for the day. More details forthcoming.
I also want you to check out Damien and Renee's sites about family, fun, and adventure:
Adventure in Progress: Encouraging Families to Get Outdoors and Experience Adventure
We have so much to learn from each other!
To your health and success,

Fitness Professional
P.S. I know a lot of my readers are interested in the Circular Strength Training System. Damien has just recently decided to "do a cannonball" into the ocean of CST. He has sold all his traditional weight equipment and purchased a collection of CST materials to get him started. If you have a minute, stop by his blogpost about this transition and wish him well on his new journey:
http://www.adventureinprogress.com/change-in-routine