A couple weeks ago, I competed in the Mad Dog (Mudder) Fitness Challenge, which according to the hosts, is the "toughest 5k you'll ever run." Basically, it was a 5k race at a local ski resort, in which one runs up and down the mountain's ski slopes while also traversing a variety of obstacles like walls, balance beams, monkey bars, etc. On this particular Saturday, it was raining, windy, and unseasonably cold, but the race was a lot of fun nonetheless (at least, for crazy people like those pictured below). I would do it again given the opportunity, but honestly, I wouldn't pay to do it again unless some things were improved upon.
What follows in this article are two things:
1) Thoughts about participating in this type of event, and advice for those who have never done one before, but have been thinking about it.
2) My review of the event itself, what I liked and didn't like, and how I would improve it, if it were up to me.
Background Story
First things first, I've never done this type of race before. I've run dozens of road races, trail races, and track races, but never any type of adventure race (I realize that's vague because there are many different types of adventure races). I've always been intrigued by events like the Tough Mudder, Spartan Run, Warrior Dash, and perhaps even the Death Race, but it wasn't until now that I actually did anything like this before. I suppose this was a good entry point into the realm of adventure racing.
First Impressions
Now, I'm no expert, but as far as adventure races go, I think this was more of a entry-level course. Yes, it was tough running up the steep ski slopes (aka walking for most), but honestly, the race was over pretty fast. When we rounded the last bend, I was actually surprised when I saw the finish line right in front of us – could hardly believe it was already over.
Granted, it was definitely tough. You can't exactly squeak by when you're running up a mountain. But I wouldn't consider this a hardcore event by any stretch. That said, the kinds of people who show up for this race aren't exactly of the same caliber of your typical town/city road race. My mother came to watch my brothers and I, and she said it best while surveying the participants in my race heat when she said "This isn't a normal race, and these aren't normal people." I couldn't have said it better myself! It does take a certain level of character flaws to not only pay money to run a race like this, but to actually enjoy the process, too.
I remember one group of young ladies who were wearing T-shirts that read in big bold print: "TRAMPLE the Weak and HURDLE the Dead." I found that slightly humorous in a disturbing sort of way.
What I did and didn't like about the Mad Dog (Mudder) Fitness Challenge
When I signed up for this event, it was called the Mad Dog Mudder. And at some point before race day, the name quietly changed to the Mad Dog Fitness Challenge without anyone telling me. Please note the absence of the words mud, mudder, muddy, muddier, and muddiester-than-other-mudder-races. As if that wasn't bad enough, they even used photos of other mud racing events in their advertising, but alas, there was no mud to be found. Actually, that's only half true because I did step in a small puddle of mud amidst all the grass and brush at some point on my way up to the Eagles nest (at the summit). So, I did get some mud on the outside of my right shoe for about 15 seconds. Maybe that's the mud they were talking about.
Needless to say, I was a bit disappointed. The prospect of getting filthy while running a 5k is the primary reason why I signed up for the race, and it was a letdown when I showed up for the race and there wasn't any mud in sight (just a lot of really wet grass).
I was also expecting more extensive obstacles to maneuver over, around, and through. There was a good number of them (of course, there can always be more), but the majority of them didn't meet my grandiose expectations. For instance, there was one obstacle where we had to climb under a netted rope. It was 10, maybe 15 feet long, and took 4, maybe 5 seconds to crawl under – and then that was it. Honestly, I felt like I needed to do it again – it was so trite. I guess I was just expecting more monumental obstacles than that. Oh well. I shouldn't have gotten my hopes up.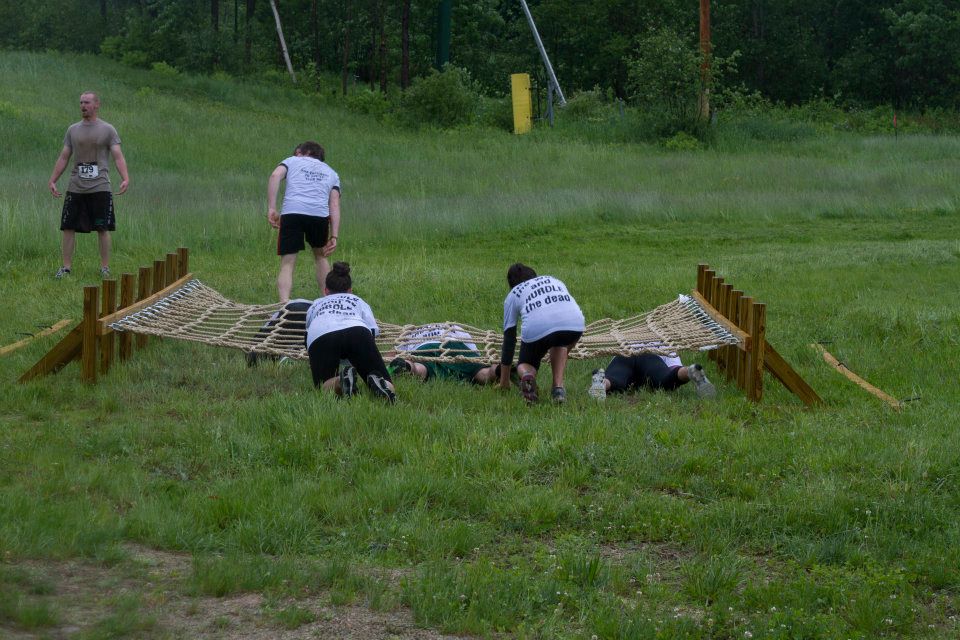 All those disappointments aside, I did still enjoy the experience and like I said before, I'd do it again. It was fun running a race with friends and family in the cold, and feeling somewhat accomplished at the finish line. I'd do something like this any day!
Advice For Prospective Adventure Racers
If you're thinking about doing this type of thing, then hopefully this review hasn't deterred you. On the contrary, that is not my goal! I think there's a lot of benefit and fun to be had from adventure racing, and I'd encourage anyone to pursue it if there's even the faintest hint of desire. My guess is that the good will often outweigh the bad and you'll be happy you went for it in the end. I know I am.
This is exactly the type of event that most people think they cannot do, but with a little bit of preparation, they absolutely can. While the competitors were mostly young, fit people, there were some older competitors, too. And there were at least a handful in my heat that looked as if they had never done anything like this before. But as far as I know, everyone finished and I didn't see anything but smiles from the finishers. So, don't think for a second that you're too _________ to do something like this. You could do it. It just takes a little bit of preparation, and the earlier you start, the better.
So, I'd encourage anyone to sign up when one of these events comes to your area. Give yourself a goal to work towards and an impending deadline to achieve it. It may just be one of the best decisions you ever make.
Funniest Moment Of The Day: After finishing the race, our group was huddled up beside a building with the rest of the finishers yucking it up for awhile. We were all freezing our butts off and someone offered my brother, Jeff, a hot drink to which he immediately replied, and I quote, "No thanks, I want something HOT to hold up against my body!" Needless to say, laughter ensued, mostly from a group of young lasses standing nearby.
Wrap Up
Well, their slogan definitely rang true because it was indeed the toughest 5k race I've ever done (mostly because of the hills and the weather). But now that I think about it, I can't really think of a time that I've done a 5k that was tough at all. Running 3.1 miles is about as tough as… well, running 3.1 miles. So, in the end, I think I would classify this event as a hill-centric 5k race with perks, one that has a lot of potential to flourish with a bit of refinement in the future.
Now, before we finish up, I'll take this opportunity to admit that while I did manage to make the "Wall Run Up" obstacle on the first try, I fell off of the balancing logs right before the finish line. Feel free to point and laugh like all the other spectators probably did. Total. Newb. Mistake.
But I'm over it.

Loading ...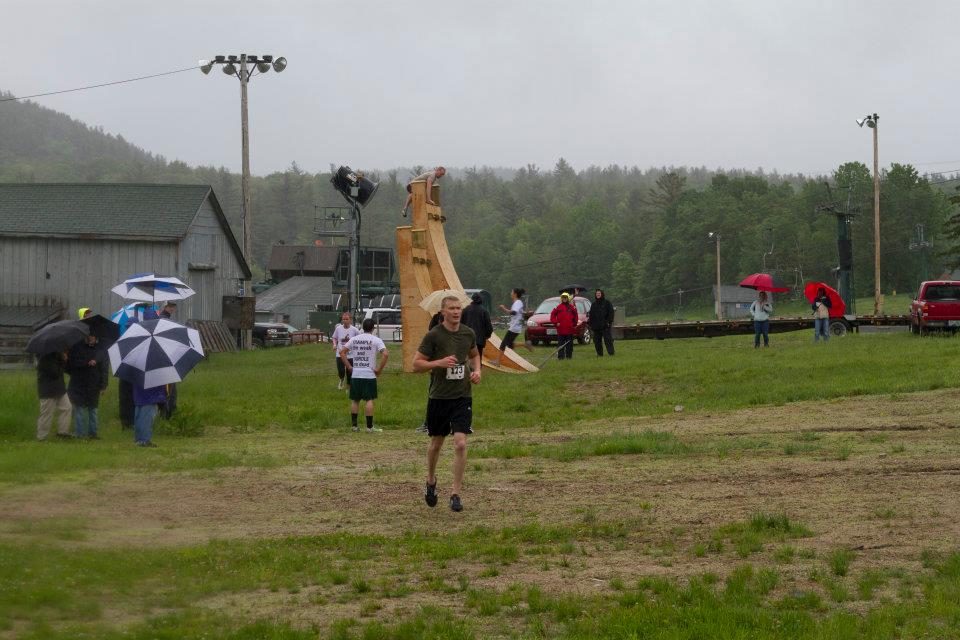 Further Reading:
How to Run Every Single Day For One Year
A twisted ankle, questionable bullfrog hallucinations, a swamp beaver rescue squad, and how it relates to your health and fitness
If you found this article helpful, please share it with your friends and tweeps:

CST Coach, CST-KS
Health-First Fitness Coach
P.S. If you liked this post, then please signup for the newsletter, or follow me on Facebook or Twitter for daily updates and other interesting info.