Note: BodyFlow is no longer available. It has been superseded by the Tactical Gymnastics Program.
QUESTION: john
great info… thank you
my question…
would like to purchase the flowfit series or the body-flow series…
what is the difference ? what would you recommend ?
thank you

ANSWER: Flowfit is a Bodyflow program, specifically created to elicit the neuro-immuno-endocrine response.  It is a fantastic full-body conditioning program and I have enjoyed using it.  There are 7 exercises, each with 4 levels of difficulty (really 28 exercises).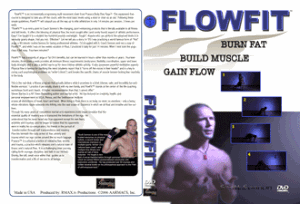 If you want a structured conditioning program, go with FlowFit – there's no guesswork involved, you just follow Sonnon's instructions and watch the results come in.
BodyFlow is great too, there are about 30 exercises, but more importantly, BodyFlow will teach you about how to create your own exercises for your own needs.  The video quality is so-so – it's just the filming of Scott teaching a seminar with students, so it's not optimal as an instructional DVD – but the content is still good.  BodyFlow also includes a brief explanation of the intricacies of Biomechanical exercise in lecture format.

So, if you want a more open-ended program that will help you decide what is best for your current needs, then BodyFlow will be the way to go.  You will learn a lot more exercises from BodyFlow, but it will be up to you regarding how to best implement them into your program.
I have both programs, and am glad I got both of them.  But I'm also glad I bought FlowFit first, since it had the structure I needed to understand the BodyFlow system.
Something I have noticed in my own personal practice is that BodyFlow exercises really help improve the conditioning of my legs unlike any other program I have tried.  Moving through the 6 degrees of freedom really helps to not only strengthen the muscles and joints, but also bullet-proof the body from injury.
Let me know if you have any more questions, I'd be happy to help. Also, keep in mind that BodyFlow ultimately evolved into Prasara Yoga, so the Prasara products may also be another avenue to look into.
To your health and success,

Fitness Professional and Biomechanical Exercise Aficionado