Meet Derek Mitchell: The 570 Pound Man Who Put a Stake in the Ground to Finally Start Losing Weight, Quit His Soda Addiction, Started Eating Healthier, Finished His First 5k in Dead Last and Then Made a Commitment to Run a 5k Every Month This Year.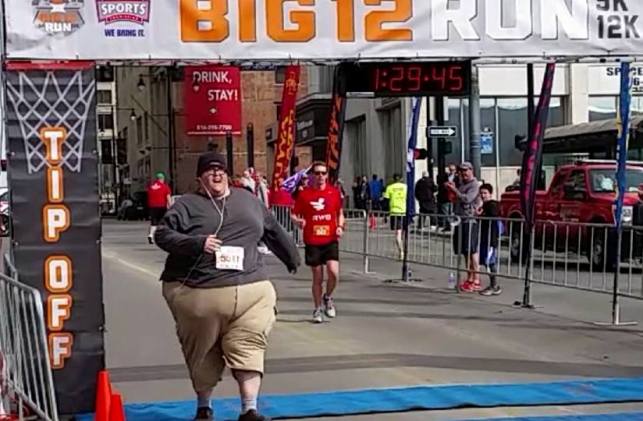 Derek Mitchell may have finished his first 5k race in last place, but he was on Cloud 9 when he crossed the finish line. And in my book, he wins the "most determined" award.
You see, five years ago, Derek was diagnosed with a benign tumor on his pituitary gland. Apparently, it has been there for a long time (likely since childhood) and has caused all sorts of trouble that contributed to him gaining over 600 pounds of weight.
Now that Derek has a diagnosis, he is treating it with medication and testosterone replacement therapy, among other things. But he quickly realized that he'd have to make some other lifestyle changes to lose the weight.
So, earlier this year, Derek committed to making healthier food choices and started by quitting his soda addiction – a New Year's resolution. He also started walking.
At 34 years old and around 570 pounds, Derek said, "I just knew I had to do something if I had hope for a future or anything like that."
"I started just walking around in my neighborhood, and I started at a mile and then worked my way up to a little over two miles a day." – Source.
And after some encouragement from his sister, who is a marathon runner, Derek decided to sign up to walk a local 5k race – the Kansas City Big 12 5k.
He didn't care how long it took. His goal was simply to finish the race. It didn't matter that the road crews were reopening intersections right after he walked through them or that he was being tailed by a police car (just in case). Derek kept going despite the pain. As he approached the final stretch, Runners World reports that "Mitchell's feet and knees were 'killing' him." But with a steady stream of high-fives from the 12k race finishers and a word of encouragement from a gentleman to "finish strong," that's exactly what Derek did.
"As soon as I saw that finish line and heard everybody yelling, all the pain that I'd been feeling up until that point vanished," Mitchell said. "I booked it. I couldn't go as fast as I'd wanted to because I'd already lost some weight and my pants started falling down. But it was just amazing." – Source.
Finally, after about an hour and a half, he finished in last place. But he walked away with a new perspective of what is possible, especially since he dropped out of the last 5k race he entered (i.e. he DNF, which he says took him "down a notch or two." – Source).
"I wanted to cross the finish line with my hands up, because that's how it felt! It was pretty awesome," Derek told Fox4KC.
After his triumphant finish, Derek set himself on a mission to tackle another 5k race every month this year. He has completed two so far and has signed up for several others. He also has a goal of shaving 5 minutes off his time each month and also losing 250 pounds by the end of the year.
After posting some Youtube videos and sharing his daily walks and some of his diet choices on a Facebook page that his sister setup for him, Derek now has thousands of fans cheering him on. He says, "Now I have so many eyes on me, and because of this following I can't quit now."
Derek wants the world to know that…
"If I can walk a 5K, anybody can. All it takes is just to go out for a walk and get active and get your body moving. Even if you can only walk to the end of the block, walk to the end of the block, because at least that's something."- Source
And with that, let's get to the interview!
Interview with Derek Mitchell about his 5k Mission to Lose Weight and Get Healthier
After I found out about Derek's story, I sent him a quick email asking if I could interview him. He quickly agreed. So, I sent him some questions and here's what he sent back.

1) Could you start by just telling us a little about yourself? What's your story?
Around 5 years ago, I was diagnosed with a noncancerous tumor on my pituitary gland. This tumor secretes an enzyme called prolactin that blocks my body's ability to produce testosterone, causing a severe testosterone deficiency. This deficiency causes my metabolism to be extremely low, and also affects my energy levels and drive, making it very difficult to lose weight. The doctor said I have basically had this since I was supposed to go through puberty, which is when I started gaining weight.
2) What prompted you to put a stake in the ground and start losing weight?
Last November I hit 625. That's when I decided that I couldn't wait any longer, that I had to make a change.
3) Can you give us an idea of what your life was like before you began this journey?
I hardly exercised, drank a lot of soda, and didn't really pay attention to what I ate, a lot of fast food.
4) Did you try any weight loss strategies in the past that didn't work?
In the past, I've tried the atkins, the low-carb, the no carb, the no sugar, and several others. I would lose around 30 pounds, then plateau.
5) What kind of changes have you made so far? And what do you think has contributed the most to your success?
In January, I cut out soda, started eating healthier and smaller portions. Then I started walking every day and made plans for all of my 5k's. I think the biggest thing that contributed to the most was just the continual walking.
6) What is the biggest challenge you've faced so far? And how have you dealt with it?
I recently stopped eating fast food, basically anything with a drive thru, and that's been difficult.
7) Which of your achievements are you the most proud of?
Simply, the fact that I've walked 2 5k's in 2 months so far…lol.
8) Now that you're on this new journey, how is your life different?
I always have to remember to make time for my walks, plus it's weird and a little overwhelming sometimes getting messages from all over the world, encouraging me to move further.
9) I saw in a news story that you said, "If I can walk a 5K, anyone can, and I'm living proof of that now." So, if you had to share any advice with someone who is trying to make positive changes in their life, what would you tell them?
Start small. If you can't walk a mile, walk to the end of the block, but don't give up, keep at it, and your reward will be well worth it.
10) What does the future have in store for Derek Mitchell? And what goals are you planning to tackle?
For this year, I'm going to continue at least one 5k per month. I've already agreed to walking a half-marathon next April, so that will be a pretty hefty goal to take on.
11) Where is the best place to learn more about you and follow your journey?
I have a page on Facebook called The Derek Mitchell Story, where people can follow my story. I post pics of my walks and updates on my weight loss.
Wrap-Up
Derek, thank you for putting yourself out there and sharing some of your journey with us here today. You are an inspiration and have demonstrated a lot of courage by stepping up to this ambitious goal. I wish the you best of success this year and beyond. With the mindset and habits you're cultivating, you have a bright future ahead of you, indeed. Keep up the good work.
Before we wrap things up, here's one last thing before you go. This is an interview Derek did shortly after completing that first 5k race where you can see the footage of him "booking it" to the finish line. Go, Derek!
500+ Pound Derek Mitchell Finishes 5K Road Race

If you found this article helpful, please share it with your friends:

Health-First Fitness Coach
P.S. If you liked this post, then please signup for the newsletter, or follow me on Facebook or Twitter for daily updates and other interesting info.