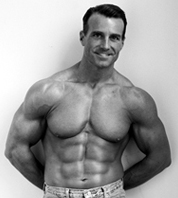 I just posted a new interview with Tom Venuto on the BurnTheFat.com website. I cannot repost it here because it is copyrighted, but I wanted to let all my blog readers know about it because it's a real gem.
7th Anniversary Interview with Tom Venuto
Here's some of the info that was covered:
old bodybuilding photos pulled out of Tom's photo albums!
The story of how Burn The Fat was originally developed
Tom's "man boobs" story
The most important fat loss strategies Tom uses with a new client
The difference between male and female fat loss strategies
3 things that mess up your results
How to get rid of the last bits of stubborn fat
7th Anniversary Interview with Tom Venuto
Tom kindly requests that no one make any wisecracks about the "man boobs" thing!!!
Enjoy the interview, and feel free to discuss it here.
To your health and success,

Fitness Professional and Manager of BurnTheFat.com