I've seen a recurring theme about exercise in some media outlets recently, both in mainstream and smaller sources. It's the notion that exercise somehow makes you fatter, or similarly, that it won't actually help you get thinner. If that wasn't outrageous enough, I've even seen claims that exercise doesn't improve fitness at all. Of course, it's all complete nonsense, and in some cases, blatant lies. Humanity has known for a long, LONG time all about the various benefits of exercise. And if millennia of culture, tradition, and common sense isn't convincing enough for you, then you can scour the research archives that have grown to a monstrous level over the past several decades. Of course, the overwhelming evidence is that exercise is extremely good for us, and for the most part, people have been doing it just fine all along.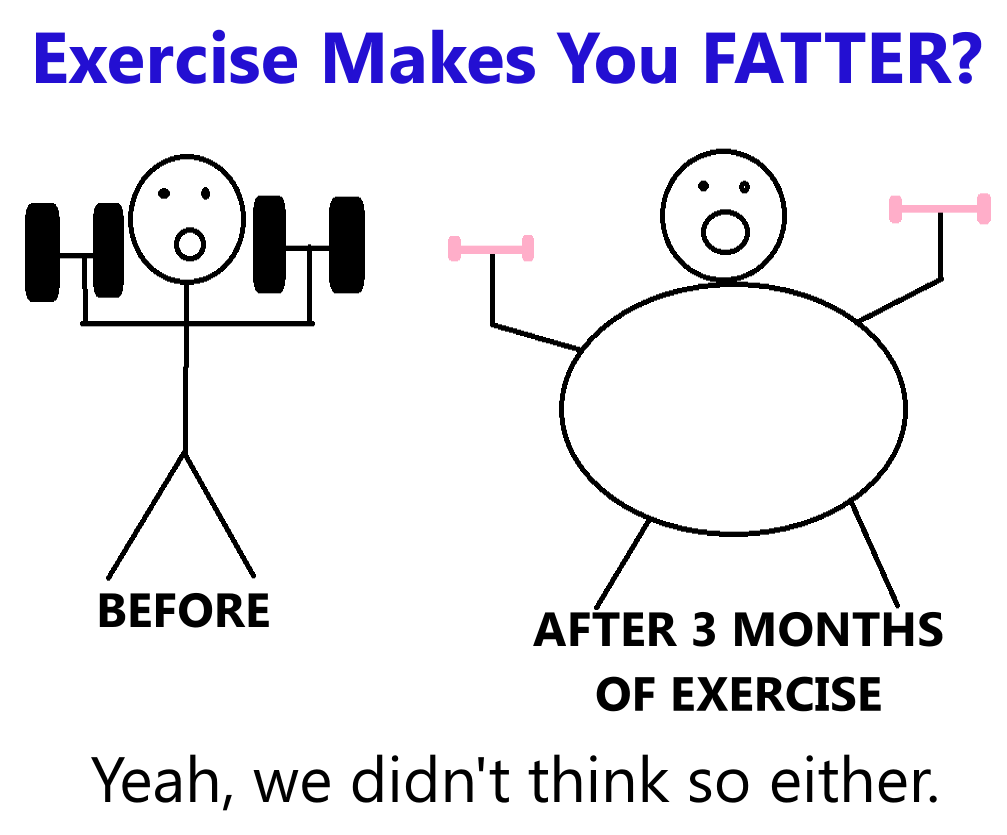 In fact, the many benefits of exercise are now extremely well-documented. It is an indisputable fact that exercise, or to be even more general – physical activity – is good for us and that it comes with a myriad of physical and mental benefits, among many other things. It is arguably the single best thing you could do to improve your health, fitness, body composition, and quality of life. Anyone who says otherwise, or even hints otherwise, should immediately be dismissed as someone who is misinformed, but more likely a complete quack who is not worth a moment of your attention. You see, it's one thing to investigate an issue that may have some loopholes that we just haven't figured out yet, and report on that. But it's quite another to do that while also ignoring logic, reason, and the massive quantity of evidence in the research data that has already been compiled and verified in peer-reviewed journals. Yet, this seems to be happening more and more often, and not just from fringe groups either. Does TIME magazine ring a bell?

Not too long ago, TIME magazine published an article titled, "Why Exercise Won't Make You Thin." I'm going from memory, but the author basically suggested that since exercise uses up energy, it also increases your appetite and results in over-eating. Thus, it is only reasonable to assume that exercise leads to weight gain. Now, I hope I don't have to tell you that there are so many flaws to that logic, and honestly, I won't even give the argument the time of day (see below for someone who already has, though).
That article was the first one that I know of that brought this type of issue to mainstream attention, but this has happened elsewhere for years, and I was reminded of it this morning when a "scare tactic" type email proposed the very same thing. Wanna guess what they were after? My money – plain and simple. What else could they possibly want from me? They definitely don't want to help you or I, and if they do, then I would guess they have a distorted perspective. Essentially, someone was twisting the truth so much that they were lying and misleading people – and using their position of authority to abuse the truth. Obviously, this happens all the time – not just in the fitness industry.
This has got to stop, and now. I'm tired of being lied to. I'm tired of hearing the unfounded, outrageous claims. And I'm tired of seeing other people tricked into believing these claims, or being so confused from all the misinformation and conflicting views.
Is exercise good or bad for us?
Is low carb or low fat better?
Does running cause injuries or not?
Is saturated fat an artery-clogging, heart stopper or an important nutrient that is essential for human health?
These are the types of questions that plague many well-meaning people who are struggling to live a healthy life. There are many barriers facing those with health and fitness goals, and knowledge of both what and how to accomplish those goals is one of them. Without knowledge, we can only guess at what the best course of action is. Knowledge is essential. It is the enabler – the crux we must depend on when life gets complicated and the answers aren't always obvious.
Someone may have been struggling their whole life to figure something out. It could be to lose some weight, eliminate pain or injury, or just feel better in their own skin, and knowledge of just one thing may mean the difference between getting what they truly desire and struggling for the rest of their life. So, you can imagine how frustrating it can be when one has to navigate through a wilderness of conflicting information, half-truths, and lies when trying to find an answer. I know I've gotten frustrated many times myself. Fortunately, there is a wealth of good knowledge already available at our fingertips, but that hasn't stopped some bozo's from still trying to take advantage of what the general public doesn't know.
That's why I think it's not just criminal to publish blatantly misleading information, but irresponsible to publish anything that is even borderline without first making it extremely clear of the difference between theory and fact, and also when an opinion is being shared (as opposed to fact). Now, there's an important distinction to be made here. There's a difference between making a mistake (ie publishing something inaccurate) and directly fudging the truth. The former is the equivalent of an accident, and the latter is the equivalent of a crime. Case in point: I've made plenty of mistakes, and have been wrong about who knows how many things before. My training philosophy changes constantly based on the new things I'm learning and using. But I would never, and will never, publish information that I believe to be inaccurate. In my world view, there is nothing to be gained from lying, and bringing attention to half truths rarely results in anything valuable or worthwhile. Accidents will happen, and they can be forgiven.
So, I have a message to those who make claims like "exercise makes you fat" or any other similar statement that is  the intellectual equivalent of elephant dung.
If you're reading this, then I hope you will do some serious introspection and reevaluate how you share information, and ultimately, conduct business. What makes you think, for a second, that people can't handle the truth? It's not just people's wallets that you're playing around with – it's their very lives. If you are going to repeatedly lie, cheat, and swindle, then we want nothing to do with you. You'll have to creep around with other like-minded people who are bent on those practices, collectively scrounging around for more money. I hope that makes you happy.
OK, all that said, here's the thing. This may just be the pessimist in me, but I'm not one who really thinks that this industry-wide problem will just go away on its own. In fact, I think it's going to continue to get even worse and even harder to distinguish the quality information from the junk. So, the important thing for you and I is to be careful who you listen to, and always do your own due diligence. Check the facts. If something sounds outrageous, it probably is. In those cases, either just walk away or demand the facts (send a public message and hope that it isn't censored). If there are no facts or no response, then don't just walk – run away!
And for those who are still scratching their heads about the whole "exercise makes you fat" claim, check out this extremely well-written message to the editors of TIME magazine from my colleague, Tom Venuto. I'd say Tom has settled that debate once and for all. In fact, I think I can hear the hammer pounding the last nail into the coffin…
You see that list of references at the end? Yeah, Tom does his research, and knowing him, he read not just every single one of those studies – the full studies – from start to finish, but many more prior to writing and publishing his article. So, don't worry, he's one of the good guys…
If you found this article helpful, please share it with your friends and tweeps:

CST Coach, CST-KS
Health-First Fitness Coach
P.S. If you liked this post, then please signup for the newsletter, or follow me on Facebook or Twitter for daily updates and other interesting info.