We finally had our first significant snowfall today. I think we got just over 12 inches (approx 30cm). My wife came home from work a little early and we took our dog, Ronin, to Clough State Park for some gallivanting. Realizing I had a compadre who could hold the camera, I thought it would be a great opportunity for my first barefoot run in the snow. That, and since I've never done this before, I thought it would be a good idea if someone else was there… er, in case, you know, I slipped and died or something.
Here is a video account of the run. You can decide if I'm crazy, stupid, or daring…
Barefoot Running in the Snow

So, I ran 1 mile barefoot, twice as far as I had expected to make it. Quite honestly, I figured that the cold would be too much for me and that I would wimp out. But I set my mind on completing the task no matter what, and after a half mile I felt like I could go much longer. I was dressed plenty warm and my body temperature stayed warm throughout the short run. Actually, the longer I had been running, the warmer my feet got.
I think 1 mile was a good starting point for me personally. Having the endurance to run several miles is great, but it's safer to progress as gradually as possible whenever changing one of the variables.
I don't recommend that anyone just jump right into barefoot running, and especially not going barefoot in the snow. It's a skill that must be developed incrementally. I've spent the entire year going barefoot and my intuition assured me that I was ready for something of this nature. If you'd like some more information about going barefoot, feel free to read my Definitive Guide to Going Barefoot.
On the other hand, if you HAVE been running barefoot already. If your feet and body are conditioned for shodless running, and you think that you're ready for a barefoot run in the snow, here are some tips that may help.
5 Tips to Help You Make the Most of a Barefoot Run in the Snow
1) Get warm BEFORE your feet hit the snow – do a very thorough warmup before you even take your shoes off. You can even do this indoors. RMAX Powered Running is a great resource for runners that are looking for running-specific drills for warmups and cooldowns. I recommend performing the exercises before you even go outside to get your body temperature up. Even if you walk or jog in the snow for a few minutes with footwear on just to get your body temp up – that's ok. It's better to be extra prepared.
And it should go without saying, dress appropriately. Err on the side of staying too warm.
2) Keep moving – stay bouncy and ensure that you are pumping plenty of blood down into your feet while you are running. If you're using optimal running technique, you should be fine. A forefoot strike (aka midfoot or ball-of-foot strike) is best for running technique, and it's of paramount importance when running in the snow since it keeps blood moving through your feet. Essentially, your body should be heating up your blood enough so that it stays warm as it travels down and back up your legs.
3) Build up speed gradually – Your first barefoot run in the snow isn't a time for heroics or setting personal bests for speed, time or distance. Try to think of it as a completely new skill that has the potential of being mastered quickly (if you've already mastered running, that is). Just because it seems easy, doesn't mean you should push yourself too hard.
Your first run should be an easy run. When you finish, just cool down, go home, see how you feel over the next 48 hours and reevaluate your potential for progression during your next run.
4) Commit to at least 5 minutes of running, even if the cold termites start a full-out assault – OK, so you've geared up for your first barefoot run in the snow. You're dressed, hydrated, all warmed up, and just took your shoes and socks off. You are ready to slay monsters and crush weakness! You step outside and as soon as your feet hit the white, the countless nerve endings in your feet send a swift, direct message to your brain. The message is…
NO FREAKING WAY!
Seriously, don't set yourself up for failure. You have to commit beforehand to see your first run through. No doubt, it will be cold. You may have never felt that cold of a sensation on your skin in your life – not to mention on the bottom of your feet. You have to trust yourself, trust the precautions you're taking, and be extra diligent with your warmups. Adopt the mindset of assured success. Take your first step knowing that you will make it to the end.
5) Don't run alone – this should be common sense. No, you might not be able to convince your running buddy to go barefoot, but I'm sure you can get them to come along for a good run. Your first barefoot run shouldn't be deep on a woodland trail under moonlight. Be smart, 'nuf said.
Related Posts:
How to Run Better for the Perfect Run: 5 Things That I Do Differently Now That I Know Better
John races his dog Ronin in a barefoot sprint contest (video)
Barefoot hike up New Englands tallest peak, Mt. Washington – John's Climbing Trip Report
Watch the Barefoot Sensei in Action
My Definitive Guide to Going Barefoot
To your health and success,

CST, CST-KS, NSCA-CPT
Fitness Professional
P.S. I recommend RMAX Powered Running for running-specific warmup and cooldown drills: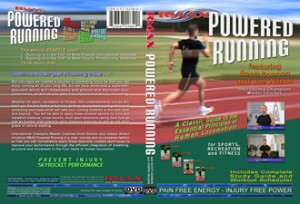 (Visited 1,840 times, 4 visits today)