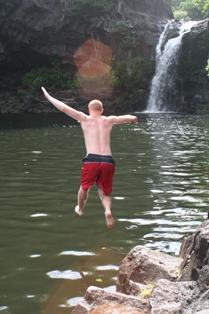 The blog is taking a turn, or rather, an addition.
In the next several weeks and months, I will be featuring my own personal body transformation with clubbell training, using the Circular Strength Training (CST) system by Scott Sonnon.
You will get an up-close look at my training schedule and activities since I will be using this blog to journal my progress.  I will update you on my training schedule, my progress, my goals, before and after photos, and some training highlight videos among other things.  At the end, I will give you an in-depth review of my experiences using CST.
Don't worry, I am NOT replacing the blog with my training journal.  I will continue to update with posts about strength training, Q+A's, joint mobility, (etc.) as I have been all along.
What I am hoping is for you to see an example of a complete strength training program in practice, and what kind of results it can accomplish.
Why am I doing this?
I'm putting CST to the ultimate test using a Body Transformation – you can consider this the ultimate review of a training system and it's various facets.  I have several goals that I want to accomplish, and I want to see how many of them can be done using CST, which espouses itself as the only health-first, complete fitness system in the world.
The more I have learned about CST, the more it resonates with me as a fitness professional and an athlete.  It makes so much sense, and since I've been studying it for roughly three years, I think it's about time to put it to the ultimate test, in as much entirety as I can apply.  Granted, I am not a CST coach or instructor.  I am merely a student.
This blog will serve as my training journal and as a form of accountability for me.  In a way, YOU are my accountability partner during this body transformation.  By updating my blog with my training details, it means I have to train according to my plan – I can't skip sessions, or put in a halfhearted effort. Every detail is important, and I will do my best to stay consistent.
I am most welcome to any critique you would be willing to offer.  I have never officially outlined one of my own training programs for others before, and I welcome your suggestions as to what information to include.
To your health and success,

Fitness Professional and CST Clubbell Athlete
P.S. This body transformation was initiated by Tom Venuto's call to action in his article My Holiday Fitness Challenge to You.
Do you have some goals that you'd like to accomplish by the new year? Please share them below in the comments section.