Best-Selling E-Book, Burn the Fat, Feed the Muscle Just Released For First Time In New
Hard Cover Edition by Random House, World's Largest English-Language Publisher…
Insiders Predict: "Health And Fitness Book of The Year"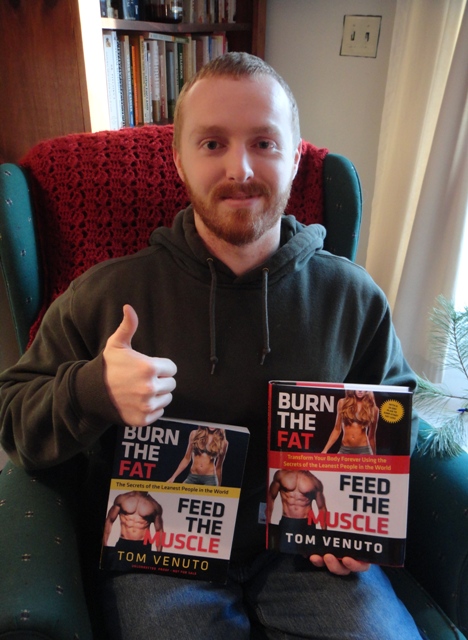 All I can say is that it's about TIME!
But enough with the foreplay! Let's cut right to the chase. If you're reading my website, and I do believe you are, AND if you're at all interested in fat loss, muscle building, body transformation, or health and fitness, in general, then you owe it to yourself to – at the very least – check out this amazing new book by Tom Venuto, especially before the launch sale is over and the special bonuses disappear.
And just between you and me, chances are very high that you really need this book (I'll tell you why in a minute). Or, at the very least, you'd benefit greatly from reading it. Seriously, Burn The Fat Feed The Muscle could be the best $16.20 you ever spend on yourself (advertised sale price for hardcover edition during its launch week sale).
"But what is Burn The Fat Feed The Muscle and how could it ever help me," you ask. Seriously? Have you been living under a rock for the past ten years?
Burn The Fat Feed The Muscle (BFFM) is one of the most successful self-published e-books in Internet history that has helped over 300,000 people "burn the fat" together over the past ten years. After its initial release in 2003, it sat comfortably in the number one spot of e-book sales charts for five years straight, and it is still to this day, one of the highest-selling e-books of all time. But Burn The Fat Feed The Muscle is an e-book no more.
And today, you can buy a brand-spankin' new hardcover edition of BFFM that has been fully-updated, revised, and dare I say – nearly perfected. Never before has this powerful system been not only so accessible, but also so inexpensive.
Now, please excuse my lack of subtlety, but if you want to lose some fat, transform your body, or just get healthier, in general, then reading this book could very well change your life (no cliché!). Just take a look at some of the reviews that have been posted about it in the first 24 hours of its release.
This book changed my life.
– Brian E. Nordberg
This book saved my life.
– Tim Nelson
Tom Venuto's Burn the Fat Feed the Muscle book changed my life! Thank you, Tom!
– Lillian
This Is The Real Deal
– Carlos DeJesus
I prescribe this book to my patients. I don't do that lightly.
– Laurie Marbas
Do not start another diet EVER without first reading this book!
– Jacquelynn
note: click the links to read the rest of their Amazon review.
The Bottom Line
In all seriousness, I don't offer a recommendation for a health, fitness, or weight loss related product lightly. And come to think of it, it's not often that I give an unapologetic, emphatic, across-the-board endorsement. But that's exactly what I'm doing with this book.
And usually, when I do give a recommendation, I also clarify who I'm making that recommendation for. And it's true that I do offer some specific criteria about who BFFM is best-suited for in my own Amazon review, but the truth is that ANYONE who is even remotely interested in health, fitness, fat loss, or body transformation would benefit greatly from reading this book. I don't care who you are. It's just that good. And if you're reading this, then I'd strongly recommend taking a look at it. Like… now.
More Info + Special Offer That Expires This Week
You can learn more about it and get most of your questions answered at the official site www.BurnTheFatFeedTheMuscle.com.
Or, you can pick up a copy on Amazon.com here: Burn the Fat, Feed the Muscle: Transform Your Body Forever Using the Secrets of the Leanest People in the World
And if you do pick up a copy, make sure you SAVE YOUR RECEIPT NUMBER because if  you order before Monday, December 16th, 2013, then you'll also receive a huge collection of additional bonuses worth over $500 as part of the launch week sale. Don't forget!
And if it helps, you can check out my 5-star review
on the Amazon sales page, where I share why Burn The Fat Feed The Muscle is worth every single one of those stars. And as usual in typical Siffer-fashion, I think I've won the longest review award – at least so far. I tend to go on and on. But truth be told, there is so much more I could have said. Seriously. I barely even scratched the surface of all the things I like about this book, and how it can help you completely transform your body permanently and naturally for life.
But I've blabbed on long enough. So, just get over there and buy this book already! You can thank me later.
Siff, out!
If you found this article helpful, please share it with your friends and tweeps:

Health-First Fitness Coach
Diehard fan of Burn The Fat Feed The Muscle Since 2006

P.S. If you liked this post, then please signup for the newsletter, or follow me on Facebook or Twitter for daily updates and other interesting info.