The question has been posed in many different ways and from several different angles. Is running a dangerous and destructive activity that recklessly creates problems and injuries in the human body or could running actually be considered the fountain of youth? Well, you're about to discover a compelling argument for why running does not cause injuries and shouldn't hurt. Period. Despite the fact that an estimated 50-75% of runners are reported to experience injuries.
So, if you want to stay injury-free so that you can become a healthy, strong, and resilient runner who joyfully experiences all that running has to offer, then study the seven all-too-common mistakes that runners make contained in the article below and keep your mind's eye open to the deeper lesson contained in this article. It's true that running has been given a bad name because it's often been associated with high injury risk, but it's also true that every single runner can dramatically improve their health, performance, and results using new evolving training methods that are rapidly becoming more available today. Just one idea from this article has the potential to be the key you need to be one of them.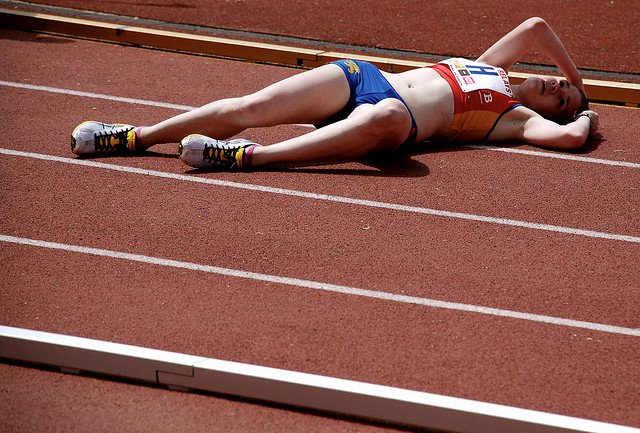 Note: The other day, I got a question from one of my readers on this article: 5 Ways to Run Effortlessly Using Lessons From Persistence Hunting. Now, I don't usually answer questions on older posts like this because of time constraints, but I did want to highlight this one because it sheds light on a growing [incorrect] belief concerning running – a belief that I would like to completely and utterly demolish in this blogpost.
Question:
I ran off and on from high school until I was about 34 years old and basically had to quit because I had worn down my ankle cartilages. I only walk on a treadmill now with 5 pound "heavy hands" (no pain next day as with running). My theory is that all runners are doing damage to their joints (ankles, knees, or hips) and don't know it and "sports doctors" either don't know it or won't tell them. There is a huge difference between a "running step" and a "walking step" at the moment of impact. Today, I am 64 years old and if I had tried to continue running for the last 30 years I'd probably have had to have ankle replacements. It appears at this point in my life that I will probably be able to continue walking 6 days a week on a tread mill (4.5 speed and 10 degree slope basically) and burning 800 plus calories at 200 lbs. Your evidently a strong advocate of running (even barefoot) and I would like to hear your comments that I've made here about running being more destructive over time compared to walking or bike riding etc.
Thanks,
Jim Stover
Here's My Answer:
Running in-and-of-itself is not a destructive activity – at least no more than any other activity, and much less so than many others. That said, we do see tremendous evidence to the contrary with injury rates among runners often estimated between 50-75%, and some sources estimate even higher rates. For anyone reading this, if the staggering nature of those numbers doesn't utterly shock you, then consider that 5-8 out of ten runners you may know are probably injured to some extent, or have been as a direct result of running. So, this isn't just a fringe minority of people who can't seem to get it right. The truth is that the vast majority of runners are running wounded. We see countless cases of IT band syndrome, lower back pain, hip problems, plantar fasciitis, achilles problems, and the all-too-familiar "runners knee," among others. The truth is that healthy, fit, and strong runners are actually a rarity today, and especially so when looking at older demographics.
My (Abbreviated) Story of Triumph Over Multiple Running Injuries
And I'm no stranger to these problems either, having suffered many of them myself in high school and college. For those who don't know my story, I got injured from long distance running – injuries that hadn't healed even after nearly three years of weekly physical therapy. I had it all, and tried it all to fix the problems I created. But it wasn't until I identified the source of the problem that I got anywhere – and this happened long after I got kicked out of physical therapy (another story for another time perhaps).
So, this perspective rests on my experience of becoming an injured, and eventually disabled runner, who was told by two "experts" (ie doctors) that he would never be able to run again – and who has not only recovered from those injuries but now runs regularly – and without a single injury since 2009, if I may say so myself. So, on top of my right to an opinion, I've got reasons for my opinion, too – reasons that are based on my personal experience, research, and ongoing health and fitness practices.
Why We Can't Blame Running On So-Called "Running Injuries"
Now, to reiterate my point: running is not a destructive or injurious activity in-and-of-itself, especially when we account for the laws of conditioning in our training program (SAID principle, laws of outcome, adaptation, and especially progress – click here and scroll down for more info on these laws). Something we need to remember is that all forms of exercise are "destructive" to the body in a sense, in that they break the body down through use. Regardless of what we do on a day to day basis – regardless of how we use our body – the body is constantly in a process of repair to try and reach homeostasis. And this is true whether we subject our body to use, disuse, or misuse. This is a good thing, too, because it's how we get stronger through adaptation: we break the body down through training to make it even stronger next time. That's kindof the whole point of exercise, after all.
So, sure, it's true that running wears on the body in a sense – as does every other form of exercise. And the higher the intensity, the greater the complexity, or the more difficulty we face due to other training variables, the more wear and tear we subject our body to. In this sense, running creates more stress on the body than walking, and so on and so forth. But we don't run into problems unless that wear and tear cannot be properly and fully recovered from.
And I think this is the crux of why many runners are injured: runners are not recovering enough between their runs. Furthermore, many runners are guilty of doing things that further compound the problem and place excessive recovery demands on their body that most reasonable persons couldn't recover from in a timely manner anyways. So, essentially, a runner goes out for a run, breaks their body down in some way, shape, or form, and then goes out for another run before enough recovery has taken place. And on top of that, during and between their runs, they're doing things that make this problem even worse. This cycle perpetuates and eventually results in a tangible problem (e.g. injury).
So, the seemingly-obvious solution would be to get more rest between runs to account for the recovery deficit, but unfortunately, it's not quite that simple. Even if that is a good theory, the overall problem is not something that can be fixed with a couple quick-fix solutions. Adequate rest is usually a good suggestion, but this is only the beginning and may not address the fundamental problem at all.
Let me explain this phenomenon using an example…
Why Johnny Boy Will Never Be A Healthy, Strong Runner
Johnny boy is a dedicated little runner. He read an article in Runner's World and started running every day using one of the prescribed programs. He even signed up for a local 5k road race. After a couple of weeks, though, Johnny boy started to feel a little burned out. So, he took a day off from his running to give his body a much-needed rest, and then got right back to his program the next day. However, only a few days later, he was feeling burned out again. He figured it was just because he was a little over-worked at his job and probably wasn't getting enough sleep. So, he started going to bed a half hour earlier each night. But still, the problem persisted. So, he did some research online, which told him that he needed to warmup and cooldown properly to boost his energy and his recovery. So, he added some dynamic warmups and stretches to his runs. Unfortunately, this didn't abate the problem either. So, he aimlessly went on to try a whole bunch of other solutions – more rest days, more sleep, running at different times of the day, and he even tried a few different running programs, but to no avail. Naturally, Johnny boy was starting to get really discouraged.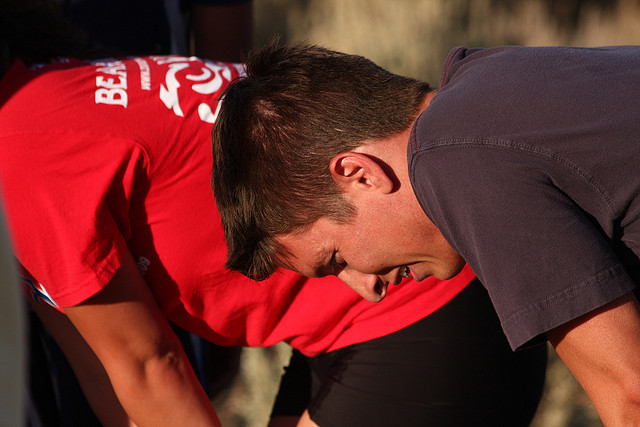 You see, good ol' Johnny boy thought he had tried just about everything to solve his problem, but what he didn't realize is that the real issue was right under his nose. In this case, there were two major problems that had gone unnoticed and unaddressed. First off all, Johnny boy never really learned how to run, and his running technique was horrendous. He was using an inefficient and ineffective running gait without even knowing it, and putting a lot of excess stress on his body that was accumulating into problems – and he didn't even know it because he wasn't an expert in running technique or human bio-mechanics for that matter, and had never been taught from someone who was. On top of that, Johnny wasn't exactly what you'd call a healthy eater. He didn't think much about nutrition. He just ate what he always had been – even though it wasn't supportive of good health, fitness, and especially a running hobby. So, not only was he doing damage to his body from improper running technique, but he also wasn't fueling himself with the nutrition he needed to recover and heal from that excessive trauma.
When these two problems compounded, they manifested as burnout initially, but they eventually led to some aches and pains, and then a few of those nagging injuries that won't seem to go away. Johnny boy did get to run in his 5k race, but he had to take a whole week off afterwards to recover from the trauma. And his first day back on the road, he was dealing with exhaustion, burnout, and those same injuries that creeped up on him several weeks ago. He just couldn't figure out how to kick it.
A Primer On The 7 Building Blocks Of A Healthy, Successful Runner
You see, improper running (ie misuse) can and often does lead to injury at a rapid rate. This increases recovery demands dramatically because not only are you fatiguing the body from physical activity, you're also creating additional, unnecessary stress on the body from running improperly. And I would propose to you that around 50-75% of runners are practicing and training improperly to some degree, and this is one of the many reasons why we see such widespread problems that stem from our increasingly disconnected sense of physicality. On top of that, there are many other lifestyle factors that contribute to running success and injury prevention, and neglecting any one of them can compound pre-existing problems or create new problems entirely.
So, it's important to keep in mind that there are many things that contribute to healthy, successful running that builds strong, resilient runners. Here are the seven of them that I'd like to highlight for you:
1) Proper Running Technique – This refers to being able to not just run correctly, but optimally. If you aren't running with good technique, then an injury is inevitable because improper technique produces excessive strain and stress on the body in an unnatural way. And generally speaking, the worse your running technique, the greater the injuries will be and the sooner they will arrive. This one is pretty (un)common sense, but it's one of the most common contributors to running injuries because most people have never been taught how to run properly. We tend to assume that because we're humans, who should be able to run, that we are able to run properly. But just because running is a natural human movement, doesn't mean that all humans can run optimally without practice, and nowadays, most people could use some professional instruction.
2) Proper Running Programming – This refers to using proper program design strategies in a running program or hobby. For example, running too much, too soon, too fast, etc. can all contribute to injury risk because it subjects the body to stimuli outside of its ability. This, too, is common sense, but it's human nature to try and push the body past it's current abilities to see "what we're made of," and this is usually complicated because of other contributing problems in the runner's habits and lifestyle. A good running program should be progressive, adaptable, flexible, and individualized to each particular runners needs, circumstances, and goals. Sadly, most commonly-available running programs are generic templates of a "cookie-cutter" nature, and are not exactly optimal for the runners who use them. And if you combine a poor running program with poor running technique, then you'll have a recipe for creating injuries faster than you can say Usain Bolt.
3) Proper Cross Training (And Strength Training) – This refers to performing other physical activities outside of the realm of running. Common examples are cycling, swimming, and strength training (ie resistance training, weight lifting, etc.). There are inherent risks of specializing in one physical activity like running that can contribute to the detriment of your health and fitness. And the more you specialize, the greater your risk. So, runners who run regularly, but do not engage in other forms of physical activity will be at a greater risk of problems due to repetitive stress and overuse injuries that can develop from running. Cross training helps to establish more balance in the body to decrease the risks that come with over-specialization.
4) Proper Use Of Intuition When Training – This refers to using physiological and psychological insights to dictate how to train, and particularly how to deviate from pre-planned training variables that aren't appropriate when the rubber meets the road. One of the other reasons that I think runners get injured is because they get accustomed to following their plan no matter what – even if their body needs a break or a different kind of stimulus entirely. Optimal performance in training/practice involves going right to your edge, and no further. And the closer you get to optimal performance, the higher the risk of getting something wrong, and the more important intuition becomes. Our bodies have been equipped with the ability to convey important information to us about our physical experience when exercising, and if we would only listen to that little voice that's trying to help us, we would see much lower injury rates in runners today. So, when the plan is to run 8 miles today at a moderate pace, and you know that is going to be too much for you to handle today – then listen to that intuition and back off a bit. Similarly, when the plan says 8 miles and you feel like you can do 10, by all means, go for it, if that's what your intuition is telling you. Our plans and programs should serve as a general guide, not absolutes, because they cannot account for every factor a runner faces.
5) Proper Use Of Recovery – This refers to making sure you fully recover before, during, after, and between runs. If you don't get proactive about your recovery needs, let alone even allow for full recovery to take place on a day to day basis, then you will always – ALWAYS – run into problems eventually. It's not enough to just sleep, though getting adequate quality sleep will likely yield better results than any other habit. But on top of proper sleep habits, you should explore the myriad of other recovery strategies to make sure you can handle additional stress from progressively more challenging runs.
6) Proper Injury-Prevention Techniques – This refers to taking into account other lifestyle and training factors that may contribute to injuries. You see, we live in a day and age where our daily lives, habits, social structure, and environment are totally unsupportive of healthy running. For example, if you have a sedentary lifestyle (e.g. sit down for hours every day at work or home, etc.), then that is going to cause some problems in your body, that if not addressed, will lead to bigger problems and eventually injury. Sitting down, in particular, tends to tighten the hip flexor muscles, deactivate and weaken the glute and hamstring muscles, and overall – just produce all sorts of problems all throughout the body. Disuse is one of the primary contributing factors to injuries we are seeing today – in runners and other populations. So, it's important to have specific injury-prevention strategies in place to account for this. If this is all starting to seem tedious, then realize that this is the price we pay for our modern-day predicament. If we were living 100 years ago, for instance, we'd be facing much different problems, and one of them would most certainly NOT be inactivity. Specific injury prevention techniques might involve restoring and refining basic joint ranges of motion, stretching tight muscles to restore normal flexibility, and strengthening weak muscle groups and movement patterns, among other things. The good news is that some of this can be addressed using cross training and strength training. In some more difficult cases, additional intervention may be required.
7) Proper Nutrition For Your Health And Running Hobby – If you aren't even eating the nutrients that you need to fully recover from your runs (and the rest of your lifestyle), then full recovery becomes impossible. The cold, hard truth is that full recovery is impossible without proper nutrition. So, fueling your body with the right nutrients to promote recovery, healing, and performance enhancement is not optional, it's essential. It's true that some runners appear to get by with eating whatever they want, but they do so in spite of their eating habits, not because of it. And more often than not, this behavior catches up to them eventually. Speaking of which…
Why Most Runners Get Injured + Why Some Exceptions Don't
Usually, running injuries come about because of a combination of factors from the categories above. It might be a combination of poor recovery and following a lousy running program, or it could be poor nutrition and following a cookie-cutter program too closely without using any intuition. Or, it could be that not only is one over-specializing in running and avoiding cross-training in general, but they're also neglecting to apply any injury-prevention strategies to account for this specialization.
In a similar sense, these different areas serve as a form of checks and balances for each other. So, one person may get by fine despite their poor running technique because they have all of the other healthy running and lifestyle habits in place. Or, someone may be a great runner, follow a great program, and ensure adequate rest and recovery, but eat absolutely whatever they want – and nobody would think they're any worse for the wear.
So, what I'm trying to say is that it's all relative. Whether or not you get injured from running depends on a lot of different factors, and the good news is that we can control almost all of them.
How 50-75% Of Runners Get Injured
Why, isn't it obvious by now? Neglecting any one of the categories listed above has the potential to lead to an injury, and most of them practically guarantee an injury will happen eventually. And our culture isn't exactly helping things either. We have a lack of physical activity that is prevalent in our culture, sedentary jobs and lifestyles being the new norm, an increasingly low quality food supply, rising food costs for the "healthy foods," weakening economic conditions, fewer schools teaching physical education, busier schedules, more stress, less sleep, a growing trend of specialization in sports, among many other things. It seems as though everything is working against us.
And so, it starts to make sense why 50-75% of runners are neglecting to account for the needs of all the categories listed above. It means completely changing many things about your life and going against the flow of our entire society – even against typical running culture (because conventional running culture leads to 50-75% injury rates).
Being a strong, healthy, resilient runner means you have to do things very differently. It takes a radical departure from convention.
The Running Risk Spectrum
Something that shouldn't go unmentioned is that like life, running is risky business. You take a risk every single time you go out for a run. Sure, you could get hit by a car, slip on some ice, or get trampled by stampeding water buffaloes. Those are all distinct possibilities depending on your environment. However, you also take a risk of running poorly or improperly. You take the risk of getting it wrong – or at least, not getting it right – or perfect.
So, if running seems too risky for you – if you're afraid of the impact it might place on your joints, or anything else for that matter – then you could choose to play it safe and just walk instead. Or, you could always just stay home in bed to play it really safe (I crack myself up…). And if that suits you, then have at it. Just know that even walking comes with risks, too, and many of the same risks that running has – just perhaps to a lesser degree due to the lower intensity of the activity, among other things. But in the end, we're all aging – some faster than others – and have a short time here on Earth. So, do what you want.
Ah, but now I see that this is quickly turning into a book. So, I'm going to wrap this up soon…
Final Words
Running is one of the countless activities that have the potential to be the fountain of youth, but running can also be a destructive form of exercise and recreation. Much of this depends on how you run, and every single lifestyle factor in any one person's life contributes to this phenomenon. It's all relevant. Only when you have taken into account all of the major factors and addressed each one individually and collectively, can you expect a synergy to be made that will contribute to healthy, strong, joyful running.
It's important to remember that change is hard, and takes time. So, most people cannot expect to become healthy, strong, resilient, and injury-free runners overnight. It took me several years to recover from my running injuries. I hope with this little bit of direction I've provided here, and will continue to provide you as best I can, that you can avoid some of my mistakes and succeed much faster than I did.
So, what injured runners need to do is look at not just their running, but at their entire lifestyle to see what, if anything, could be causing the problems they're experiencing. Once they've identified the potential issues, decide which ones are likely to make the biggest difference and start to systematically address those issues to see what kind of results you get.
But in the end, just do the best you can with what you've got, and don't sweat the details too much. And lastly, be patient with yourself. This stuff takes time, and you're working against some of the greatest social constructs of our culture. So, be careful because it's a jungle out there, and you'll have to go it alone.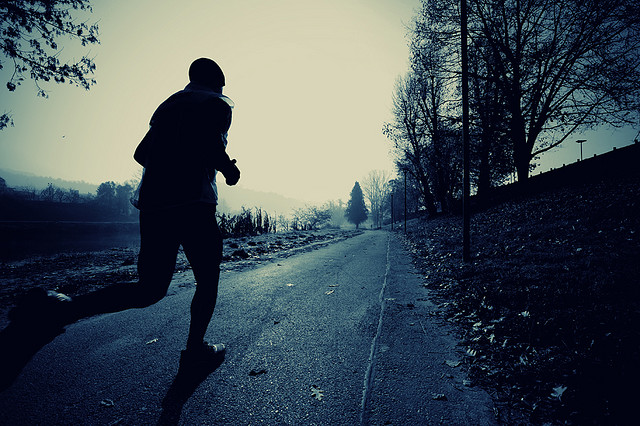 More Info:
An Unconventional Guide On Strength Training For Runners
How to Supercharge Your Long Distance Runs with the new Anti-Comfort Zone Paradigm
100 Lessons I've Learned From 10 Years of Running
5 Ways to Run Effortlessly Using Lessons From Persistence Hunting
The Definitive Guide for Transitioning to Barefoot Running
Interview With Jason Fitzgerald About Strength Running
If you found this article helpful, please share it with your friends and tweeps:

CST Coach, CST-KS
Health-First Fitness Coach
P.S. If you liked this post, then please signup for the newsletter, or follow me on Facebook or Twitter for daily updates and other interesting info.
P.P.S. Photo credit: http://www.flickr.com/photos/thatpicturetakr/, http://www.flickr.com/photos/tomsaint/, http://www.flickr.com/photos/kaneda99/