The Little-Known Secret To Perseverance That Anyone Can Learn Overnight
I'd like to start a discussion about a serious subject if you're game for it, and it's gonna get a little personal if that's ok with you. You see, all my life, I've been a rigorous planner. At face value, that sounds like a good thing, and it is. But here's the thing: being a planner is not only one of my greatest assets, but also one of my greatest stumbling blocks. It's like my Achilles Heel.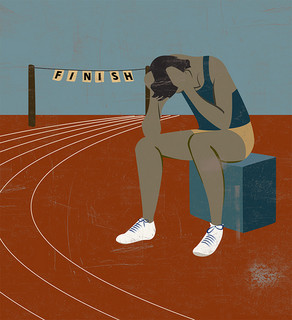 You see, I'm the guy who sets very specific, well-thought out goals, and then comes up with an elaborate master plan to achieve them. I've been like this, in some form or another, since I was a kid. You should see some of the training programs I've written for myself and my clients over the years. I'm just the type of person who covers all the bases beforehand. So, my problem has never been the planning. My problem has been when it comes down to decision making time, and it seemed like I would always screw up when I had to actually make the choice – even though I always knew exactly what needed to be done. All the planning in the world couldn't seem to help my problem of not taking action and just doing the work when it needed to be done.
So, today, I'm going to open up and share about how I've leveraged a unique perspective to overcome this challenge I've faced all my life. Nowadays, when I'm faced with a hard choice, and the possibility of failure in the heat of the moment, I'm much more likely to succeed when I apply this simple mental tactic, and I bet it'll work well for you, too.
This is arguably one of the most ignored elements of success, but I've found it to be absolutely essential. I'd even go so far to say that without this critical element, it is extremely unlikely that you will be successful in your fitness program, or in any endeavor for that matter. It's just one of the fundamental steps that needs to be taken in order to succeed again and again.
The simple truth is that it's not enough to only know WHAT you want and HOW to get it. Even the best goals, and plans of action to achieve those goals can be completely derailed when it comes down to the moment of decision. Everything can come unhinged when it's time to make a choice. But there's a secret to overcoming that hurdle and making the hard, right choice, instead of the easy, wrong one. And yet, nobody seems to talk about this one, which is why I wanted to open up a discussion about it here.
So, I'll go first…
Thoughts?
If you found this article helpful, please share it with your friends and tweeps:

CST Coach, CST-KS
Health-First Fitness Coach
P.S. If you liked this post, then please signup for the newsletter to claim my complete goal setting system – my gift to you. Or, follow me on Facebook or Twitter for daily updates and other interesting info.
P.P.S. Photo credit: http://www.flickr.com/photos/nimbupani/