What Scientists, Researchers, And Fitness Coaches Think About How Long To Hold A Plank: Including Official And Unofficial Standards, Average Plank Exercise Test Results, And The Latest World Records (Plus, Two Free Programs to Help You Increase Your Plank Time)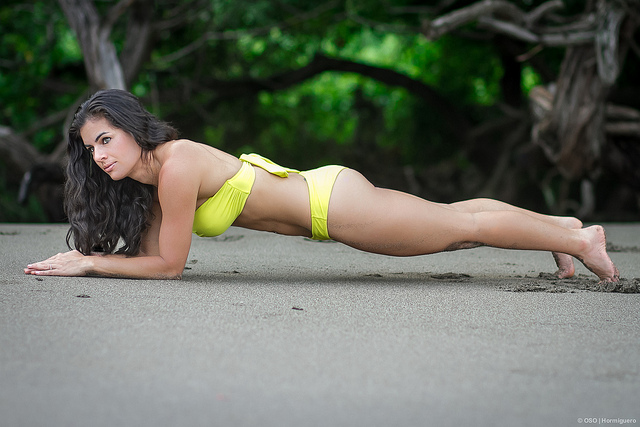 Note: This post is sponsored by SpecForce Abs.
I've had a lot of people ask me about how long to hold the plank exercise. And I always say the same thing, "it depends." You know, on your goals, conditioning level, which plank you're doing, etc. It just depends. That said, there are some general standards you can use to gauge your performance.

For example, Dr. Stuart McGill (PhD), who is a world-renowned spine biomechanics specialist and is considered a leading authority on core development, says that two minutes is a good goal to shoot for in the standard abdominal plank on your elbows (1). Holding the plank exercise for that long indicates that you have a reasonably strong core – and most others tend to agree with that assertion, myself included.
Also, a recent study on 168 college students found that your average college-aged female has a plank time of about 1 minute, 30 seconds, while an average college-aged male has a plank time of about 1 minute, 46 seconds (2). That said, you should know that most of these students were considered athletic to begin with, and they all volunteered for the study. Also interesting to note is that the longest plank time held by a female in that study was about 4 minutes. And the longest plank time held by a male was about 7.5 minutes. However, the researchers concluded that any time held for over 2 minutes (roughly) is considered excellent.
And I think for most people, that's an acceptable goal. In fact, after you've hit two minutes, I think it'd be a great idea to move on to more difficult plank exercises like these: 30 Days to a 5 Minute Plank and Rock-Hard Abs.
In the same breath, there's no reason you have to settle for the 2 minute goal. Why not raise the bar and try for 3 minutes or even 5 minutes? That'll put you in the upper echelon of performance and will give you a mega confidence boost – not to mention even better physical results. In fact, I've known some ladies who in their late 50's and early 60's have held a plank for 45 minutes – yes, FORTY-FIVE. They're the Siffer-ladies I talked about in this post here, Janice and Deedee, and they're not training for world records. I also oversaw a 5 minute plank challenge at the Burn The Fat: Inner Circle (in addition to the one I hosted here on PhysicalLiving.com), and nearly 20 people achieved the 5 minute plank in short order.
So, don't set your goal too low either. Speaking of which…
Important Point: 2 minutes may be considered excellent by some standards, but let's keep in mind who is making those standards and how they're doing it. Because as much as I hate to say it, as Americans, we aren't exactly the fittest people on Earth, if you know what I mean – even if you are an "athletic" college-aged student and some researchers in lab coats claim that you're among the elite. Suffice to say that the standards have been lowered in recent times and what may be considered "excellent" nowadays was probably average or even below average in days past. Don't forget that whenever setting your own fitness goals.
So, I wanted to tell you that before I revealed my own plank standards. They certainly aren't official, but I kinda like them.
John Sifferman's Totally Unofficial Plank Time Standards
Newbie: 30+ seconds
Beginner: 1+ minute
Intermediate: 3+ minutes
Advanced: 5+ minutes
Expert: 10+ minutes
Master: 20+ minutes
Wicked Sick: 30+ minutes
Superhuman: 40+ minutes
Olympian: 50+ minutes
Plank Immortal: 1 hour or longer
Oh, and by the way, I thought you might want to know that as of November 2014…
The Men's World Record for "The longest time in an abdominal plank position is 4 hours 26 minutes and was achieved by Mao Weidong (China) in Beijing, China on 26 September 2014." (source here)
And the Women's World Record for "The longest time spent in the abdominal plank position (female) is 1 hr 20 min 02 sec and was achieved by Gabi Ury (USA) in Boulder, Colorado, USA, on 19 April 2014." (source here)
Note: Gabi happened to be just 16 years old when she doubled the Guinness World Record for the longest plank, and she also has some physical handicaps that made her feat even more impressive. You can learn more about her incredible story here: 16 Year Old Girl Totally Shatters The Plank World Record.
---

Loading ...
---
The Bottom Line
So, even though the experts say that 2 minutes is satisfactory – even excellent – let's get one thing straight. Because if we've got teenagers holding planks for over an hour, Marine veterans lasting multiple hours at a time, and your average fit ladies in their late 50's and 60's holding planks for 45 minutes at a time, then just between you and me, I think you could easily reach 5 or even 10 minutes in the plank exercise and achieve advanced or expert status in a relatively short period of time. I'm just sayin'.
Now, in all seriousness, if you're performing the plank exercise – and it's many variations – properly, then most of the fitness benefits you'll receive will occur in the first few minutes of training. After that, it's really just gravy. Of course, you will absolutely improve your core strength, stability, and endurance, among other things if you continue past this point. But just between you and me, most people don't really need to. Plus, many times, an even better strategy is to increase the difficulty of the plank exercise (e.g. like holding the elbow plank on one arm instead of two) rather than just holding an easier variation for longer.
That said, I do recommend testing your maximum plank duration using the traditional front elbow plank since this is the standard plank variation used in most testing situations. But you can certainly test with any of the other variations, like the ones in this program here: 30 Days to a 5 Minute Plank and Rock-Hard Abs, and this workout here: The 5 Minute Plank for Core Strength, Stability, and Rock-Hard Abs.
John's Recommendation: Personally, I've been recommending to my clients for awhile now that they set a goal of holding a front elbow plank for five minutes. In my mind, that's an ambitious, yet doable goal for most people to work towards that will not only give you tremendous core strength results, but will also feel like a giant accomplishment once you finally do it. Most people never get beyond the 1-3 minute range. So, five minutes will be pretty special.
Closing Thoughts
So, the question is, will you settle for a beginner or intermediate level performance, or go for the coveted advanced and expert status? Or, will you abandon any semblance of sanity and work towards the elite levels – the mastery, superhuman, or even the Earth-shaking Plank Immortal level?
Well, I don't know about Earth-shaking, but YOU will most certainly be shaking like a jackhammer by the time you get there. But whatever your ultimate goal – whatever your "end-game" performance is – whether it's just one minute or one whole hour, just between you and me, I think you can do it.
So, go get it.
Now, if you care, and I doubt that you do, my longest plank performance to date is this one, in which I held the top of the pushup position for five minutes. It's nothing to write home about, but I'll take it. Maybe someday, I'll raise the bar a little higher. It has been over four years since I did that, after all.
Want To Increase Your Plank Time?
Check out my free program on how to work up to a 5 minute plank and beyond: 30 Days to a 5 Minute Plank and Rock-Hard Abs: A Complete Abs Workout Program to Help You Get Ripped and Dramatically Improve Your Core Strength Using a Unique Twist on the Plank Exercise (for all skill levels).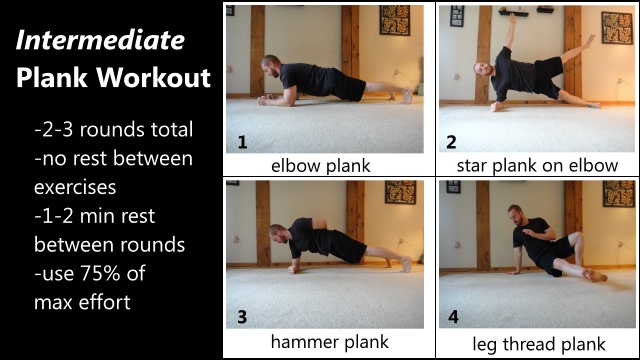 If you found this article helpful, please share it with your friends:

Health-First Fitness Coach
P.S. If you liked this post, then please signup for the newsletter, or follow me on Facebook or Twitter for daily updates and other interesting info.
Related Posts
References:
1) http://www.menshealth.com/fitness/3-simple-fitness-tests
2) http://digitalcommons.linfield.edu/symposium/2014/all/8/
Photo credit: 1.
Note: this post is sponsored by SpecForce Abs