What The Experts Say About How Many Pull Ups You Should Be Able To Do: Including Official And Unofficial Pull Up Standards, Average Pull Up Test Results, The Latest World Records, And More (Plus, A Free Program To Help You Do More Pull-ups!)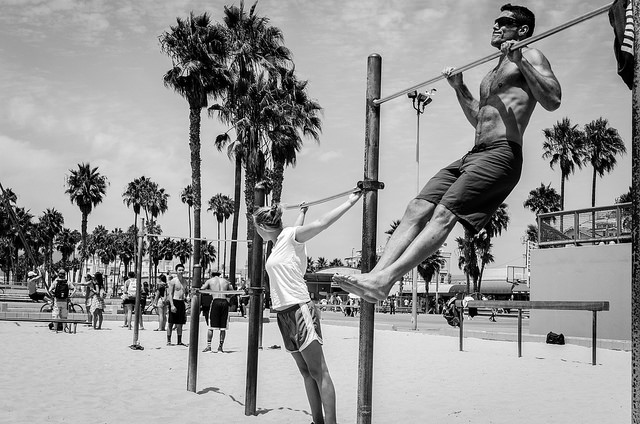 How many pull ups should you be able to do? And how many pull ups is good? This post will show how you stack up and give you a good goal to aim for.
If you want to be a United States Marine, you have to perform at least 3 pull-ups (i.e. males only, for now). That's a minimum passing grade. If you want to be a U.S. Army Ranger, you have to perform at least 6 pull-ups (12+ is recommended). And if you want to be a Navy SEAL, you have to perform a minimum of 8 reps to get into BUD/S training, but 15-20+ reps is recommended, and necessary if you want to be competitive among your class mates. Those are some good general standards for soldiers who need a broad base of fitness in a lot of different categories.
Of course, if you specialize in calisthenics or even just strength training, you can blow these numbers out of the water. You've got guys like the Barstarzz knocking out sets of 20, 30, even 50 pull-ups at a time. And a quick Youtube search will reveal some dudes who can do quite a bit more than that (like some of these guys). I know a handful of guys who have nailed 40, even 50+ pull-ups in one go (like my colleague, Hugo Rivera).
But how many pull-ups should the average man or woman be able to do, and how many pull-ups is good? This post will answer those questions.

How many pull ups can the average man (or woman) do?
The short answer: We don't really know because there are so many different sources of conflicting information. But here's what we do know…
Our fitness levels have declined dramatically over the past several decades. We just aren't as fit as we used to be. As a result, some organizations have either lowered their standards or even dropped pull-ups completely from their lineup of fitness tests so that nobody's feelings get hurt. And I'm sure you all know how I feel about that!
Fortunately, the President's Council on Fitness, Sports, and Nutrition has some standards we can go by (Source):
Children – 6-12 years of age should be able to perform between 1-2 pull-ups (i.e. 50th percentile).
Teens – boys 13-18 years of age should be able to perform between 3-8 pull-ups (i.e. 50th percentile, and the older you are, the more reps you have to do to keep up with the average), and girls 13-18 years of age should be able to perform 1 pull-up or a 5-9 second flexed arm hang.
Adults – Data for adults is harder to come by, but my research has led me to conclude the following. Men should be able to perform at least 8 pull-ups, and 13-17 reps is considered fit and strong. And women should be able to perform between 1-3 pull-ups, and 5-9 reps is considered fit and strong.
We also have some data from the Candidate Fitness Assessment, which is used to determine the fitness levels of those seeking to enter the U.S. military.
According to the CFA, the average number of pullups performed by men is nine and by women is three. Men who are able to perform 18 consecutive pullups and women who can perform seven are considered to possess a high level of fitness. (Source)
Keep in mind that military candidates likely have some physical training under their belt and will probably perform better than the average Joe or Jane.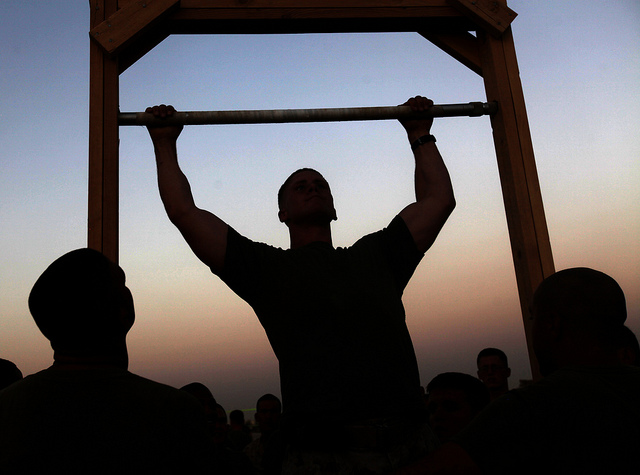 Also, an informal and very unscientific survey on Bodybuilding.com revealed that roughly half of all males can do between 1-5 pull-ups, a quarter of them can do between 6-10 reps, and the other quarter can do more than 10 reps. (Source) In other words, being able to do more than 10 reps is pretty rare these days.
And of course, many a debate has been started in forums all around the web where keyboard warriors like to point out how many pull-ups they can do when they're not typing so fast.

The Bottom Line



Regardless of your thoughts on these so-called "official" pull-up standards from the experts and armchair quarterbacks alike, here are two important things to keep in mind.
1) Generally, men can do more pull-ups than women because men have more muscle mass, and especially in their upper body.
Tim Hewitt, the director of sports medicine research at Ohio State University, has explained that MRI studies have shown that "women have about 40 percent less upper-body mass than men do…This means that, in general, a woman's natural upper body is only about 50 to 60 percent as strong as a man's" (Source). Thus, the disparity between pull-up scores. Of course, women CAN do pull-ups, too (click here for some proof). And many women do them better than most men can. It all depends on your training, which brings me to my next point.
2) Regardless of your age or gender, you can do as many pull-ups as you want – within certain limits – if you train for them.
The bottom line is that you can work up to doing as many pull-ups as you want to. It just depends on how hard you're willing to work. That's the greatest contributing factor. I've known many men and women who can blow the numbers listed above out of the water. So, don't let the averages put a cap on your potential. Speaking of which…
John Sifferman's Totally Unofficial Pull-up Standards
Now, allow me to present my very own pull-up standards. I am the author of The Pull-up Solution, after all. And that's got to count for something.
Men: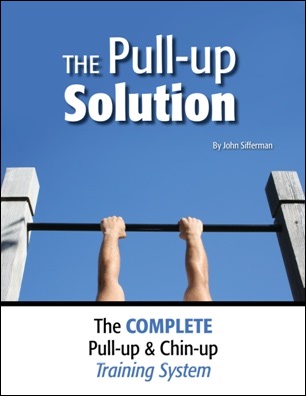 Newbie = 1st unassisted pull-up
Beginner = 2-5 repetitions
Intermediate = 6-10 repetitions
Advanced = 11-15 repetitions
Expert = 16-20 repetitions
Master = 21-25 repetitions
Wicked Sick = 26-30 repetitions
Superhuman = 30+ repetitions
Olympian = 40+ repetitions
Pull-up Immortal = 50+ repetitions
Women:
Newbie = 1st unassisted pull-up
Beginner = 2-3 repetitions
Intermediate = 4-6 repetitions
Advanced = 7-9 repetitions
Expert = 10-12 repetitions
Master = 13-16 repetitions
Wicked Sick = 17-20 repetitions
Superhuman = 21-24 repetitions
Olympian = 25-29 repetitions
Pull-up Immortal = 30+ repetitions
Note: these standards are for strict, deadhang pull-ups, not kipping pull-ups, which is an entirely different exercise.
Also note: I have also posted my weighted pull-up standards in this post here, for those interested.
John's Recommendation: I think that an ultimate goal of 15-20 reps for men and 8-12 reps for women are ambitious, yet very achievable targets for most people.
World Records For The Most Consecutive Pull-ups Without Dismounting From The Bar
Male: Jan Kareš from the Czech Republic who did 232 pull-ups on the 19th of June in 2010. – Source
Female: Irina Rudometkina from the USA who did 48 pull-ups on the 18th of December in 2014. – Source
Note: I posted a little commentary on Irina's achievement here.
How Many Pull-ups Can YOU Do? (SURVEY)
---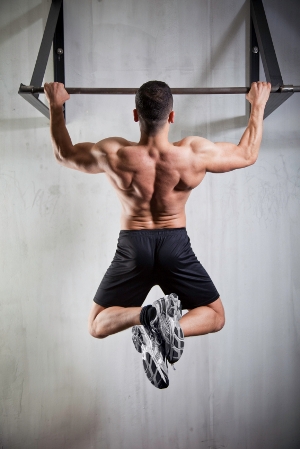 Loading ...
---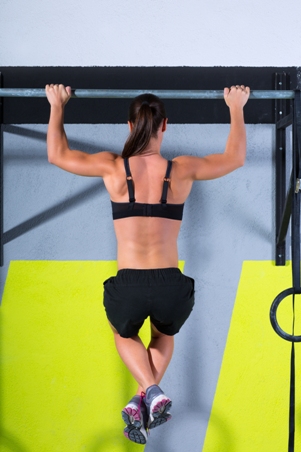 Loading ...
---
Wrap-up
Not that you care, but here's a fairly recent video of me doing 30 pull-ups, which gives me a solid "Wicked Sick" rating. I was trying to tie my all-time PR of 31 reps, which would have squeaked me into the Superhuman category. But unfortunately, that last rep didn't count!
So, what's the highest amount of pull-ups you've ever done in one set? Let us know in the comments below!
---
Want to do more pull-ups?
Could I interest you in a complete 3-month pull-up workout program that has helped thousands of people increase their pull-up numbers using a unique twist on pull-up training? Oh, and did I mention it's free? Check it out…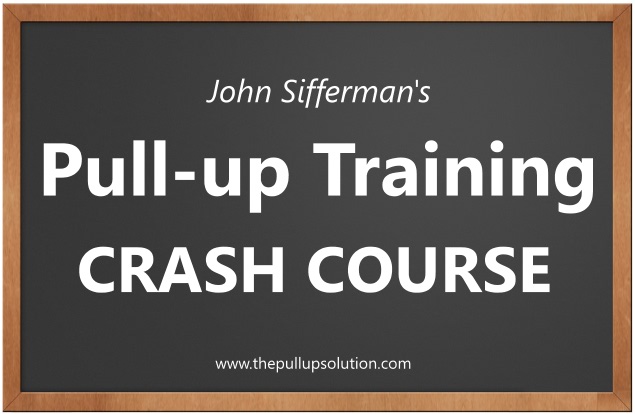 ---
If you found this article helpful, please share it with your friends:

Health-First Fitness Coach
P.S. If you liked this post, then please signup for the newsletter, or follow me on Facebook or Twitter for daily updates and other interesting info.
P.P.S. Photo credit: 1.
Related Posts
(Visited 74,201 times, 71 visits today)